RV Recipes
Why steam up the windows cooking in an RV? With these RV recipes for the grill and smoker you'll be outdoors enjoying the scenery and fresh air... and making your RV campground neighbors hungry while you're at it!
Food always seems to taste better when cooked outdoors. And when seeing the country in your motorhome or travel trailer your outdoor view is often spectacular. So why peek out if the (steamy) windows to see those snow-capped mountains, that lovely ocean sunset, or the dry desert dunes? Cook outdoors and make the most of your travels.
RV Recipes For The Smoker
By using a simple technique you can use your existing RV propane grill as a smoker, barbecuing tasty ribs or chicken with ease. But if you're like me you're attached to your favorite smoker. Mine is my Weber Smoky Mountain Cooker. It's a little awkward to haul around, but when it's time to smoke whole briskets or pork butts, it comes in mighty handy.
If you're in a campground, it's a good idea to let your nearby neighbors know what you're up to before the smoke starts rolling, especially the ones downwind. If you're enjoying one of the many dispersed camping areas in the National Forests, you have nothing to worry about. Unless the bears are hungry!
You can smoke all sorts of great foods while traveling the highways and byways. Use your propane grill, tossing in a couple of foil packs of smoker wood, or bring along your trusty meat smoker. Life is too short to live without smoked foods!
Last week I pulled out my Weber and smoked a whole chicken. I've found that whole chickens take less time if they're prepared in "spatchcock" fashion. This is simply removing the backbone and pressing the chicken flat. It's easy to do, and when the chicken is done it looks great! Try my Sand Flats Smoked Chicken recipe.
If you have only a propane RV grill, you can still make this delicious recipe. Preheat your grill to 300 degrees Fahrenheit. Wrap about 1 cup of smoker wood chips in foil and lay the packet directly over the burner. Apple, cherry or hickory wood are all good smoker wood choices. When it begins to smoke, place the seasoned chicken on the grate, skin side up. At 300 degrees, the chicken should take about an hour and a half to cook.
Tips for Smoking Chicken

I really like the results of butter-basting the chicken. The skin becomes brown, crispy and extremely flavorful. And to know when the chicken is done, use a good meat thermometer. When the internal temperature of the thigh reaches 170 degrees remove the chicken from your grill or smoker. Cover loosely with foil and let it rest for 15 to 20 minutes before serving.
RV Recipes for the Grill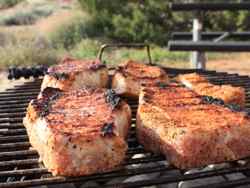 Cooking on the grill, whether it's gas or charcoal, the high temperature browning adds wonderful flavor to meats and vegetables. I enjoy a good, thick grilled pork chop (or two!) every now and then. My grill of choice is my trusty charcoal kettle grill. It fits in the bed of my pickup quite nicely.
Vegetables can be simply grilled with just a light coat of oil and a bit of salt and pepper. Or you can spend some time putting together RV recipes like bacon wrapped asparagus spears, or Jalapeno poppers, or even ricotta stuffed tomatoes.
One of the most healthy choices for RV grilling is fish of any kind. The oily fishes, including salmon and swordfish (try this grilled swordfish recipe) are especially tasty and satisfying to boot!
Chicken breasts are one of my favorite things to grill when I'm traveling. They are easy to prepare, and take just a short time to cook. And pork chops, mmmm.... I usually purchase a whole pork loin, then slice off my chops or steaks as desired, sometimes two inches thick, sometimes just a half-inch thick.
The thinner chops cook very quickly, taking just a few minutes per side. The nice thick ones take a while longer, up to 20 minutes or so. What I like about the thicker chops is they are oh-so-juice when grilled to the correct temperature.
---
The New USDA Pork Cooking Temperature

If you haven't heard, the age-old practice of having to cook pork until it reaches 160 degrees is obsolete. The USDA recently revised their recommended cooking temperatures. Whole cuts of pork are now considered done when reaching just 145 degrees, medium rare for pork.
At that temperature the pork will still be somewhat pink, and it will also be much more juicy and tender. Before serving, be sure to allow the pork to rest for at least three minutes after removing from the heat. This step is included in the new USDA pork temperature guideline.
-- Read More: USDA Revises Pork Cooking Temperature --
---
RV Dessert Recipes
Some of these dessert recipes can be cooked in your grill, while others are best baked in your RV oven. Either way, a meal's not complete without a slice of pie or a brownie to top it off!

RV Apple Pie Recipe -- This is an apple pie I made when camping at Clinton Lake in Kansas. I was darned lucky Mom was with me. She's the queen of making apple pies!
Enjoy these grilled and smoked RV recipes when you can. Travel safe and eat well!






Return to Top: RV Recipes