---
Welcome To The BlueSmoke Gazette!
A big hello and welcome to all of the new subscribers to the BlueSmoke Gazette. I would like to personally thank you for your interest in my newsletter.



Today Is The First Day Of Summer

Get out your sunglasses and sunscreen, it's time to do some serious outdoor grilling and smoking! Today, we here in the Northern Hemisphere experience the summer solstice, the longest day of the year. It's also when serious heat starts to bear down on a lot of us...but I haven't experienced that yet here in my new home, 1800 miles away from the winds of Kansas. Here in Western Washington, the weather has been nice and cool. As I'm writing now, the outdoor temperature is 61 degrees, with a high predicted of 70 for the day. And goodness, Saturday we will be experiencing a heat wave. Eighty degrees is the predicted high. Ouch! I don't think I can take it! But wherever you are, be it hot, cool, or just right, I hope you have a great summer (and a great winter, to my Southern friends).






---
In This Issue You'll Find
Grilled Whole Onions
Investment and Return
Spicy Hot Spare Ribs
Homemade Chili Powder
Soy Garlic Shrimp
Troy's Grilled Rosemary Salmon
---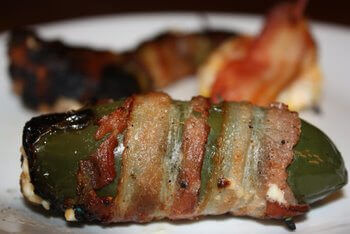 Grilled Whole Onions Recipe
Over the weekend, I attended a barbecue and had the pleasure of cooking in a Traeger pellet grill/smoker and a Vermont Castings natural gas grill. Both were a pleasure to use. In the Vermont Castings grill, I cooked up some buttery grilled whole white onions. Man, they were good! Here's how it went...

Buy four nice, large white onions and some real butter. A little salt and pepper are the only other ingredients you'll need. Trim the root ends of the onions carefully...just take enough off to smooth up the bottom. Slice the top off of the onions, but leave on the dry skins. They'll protect the onions as they cook.

Very carefully, cut out the center of the onion, without cutting through the bottom. If you cut through the bottom of the onion, it's ruined for grilling. Get another one and start over.

Season the onions with a little salt, and a little pepper. Now, shove about a tablespoon of butter into the center of each onion. If there's room for more, push it in. These onions can't get enough butter!

Read the rest of the page here



---
Investment and Return
A wise investment of time and resources can provide you with profit, pleasure, or both. If you've ever had the desire to have your own website, your own home-based business, I highly recommend...

It's how I built Smoker-Cooking.com. All the tools are provided for you to build a website that can earn you some extra money each month.
Take advantage of the SBI trial. If you're not fully satisfied, you'll get your money back.
(And now through July 1, you can take advantage of the Graduation Special. Buy one SBI at its regular price, and for $100 more, you get a second one.)
---
Spicy Hot Spare Ribs
This recipe was inspired by my love of hot and spicy foods. The special ingredient that makes these so good is fresh-ground, homemade chili powder.
To make Spicy Hot Ribs, start out with a Kansas City style slab of pork ribs. Other ingredients you will need are two tablespoons of homemade chili powder, two tablespoons of dried brown sugar, two teaspoons of vinegar, and six ounces of tomato sauce.
Season the slab with two teaspoons of the fresh chili powder (don't worry, I'll give you the recipe for the chili powder, too). While the ribs are smoking, combine the remaining ingredients in a small saucepan and simmer for five minutes, then cover and remove from heat.
Smoke the ribs at 225-250 degrees Fahrenheit until tender, then brush on the sauce. Give the ribs another half-hour in the smoker, then serve 'em up! Cold drinks all around for this one!
---
Homemade Chili Powder
This chili powder recipe is the secret that makes the hot spicy ribs so good. If you've never made any of your own seasonings from whole spices, this is a good place to start. An electric spice mill is one piece of equipment that you'll need.
The larger chili peppers may need to be pre-ground in a blender. Large pieces may be difficult for some spice mills to handle effectively. The peppers must be dry enough to break easily when you bend them.
Read The Entire Chili Powder Recipe Here



---
Soy Garlic Shrimp
I tried this grill recipe, and I tell you, it made the best tasting shrimp I think I've ever eaten. No lie! It's easy to prepare, and quick-cooking.
All you'll need for this one is a hot grill, colossal shrimp, soy sauce, brown sugar and fresh garlic. A quick soak in the marinade and a few minutes on the grill is all it takes.
---
Troy's Grilled Lemon Rosemary Salmon
Copper River Salmon is one of the richest, most flavorful salmons available. This recipe makes the most of the wonderful flavor of these fish.
The fillet is grilled in a foil "fish envelope", and is seasoned with lemon, rosemary and sage. A little bit of butter is added for good measure.
---


Thanks again for subscribing to The BlueSmoke Gazette, the official newsletter of Smoker-Cooking.com. Enjoy the Summer.
---