Grill Smoked Lemon Rosemary Salmon Recipe

If you like salmon, you're gonna love this grilled lemon rosemary salmon. It's rich, it's full of flavor, and a quick, easy way to prepare luscious Copper River salmon. Preparing this recipe is a real treat. Starting with Copper River Salmon and Rosemary, you can't go wrong.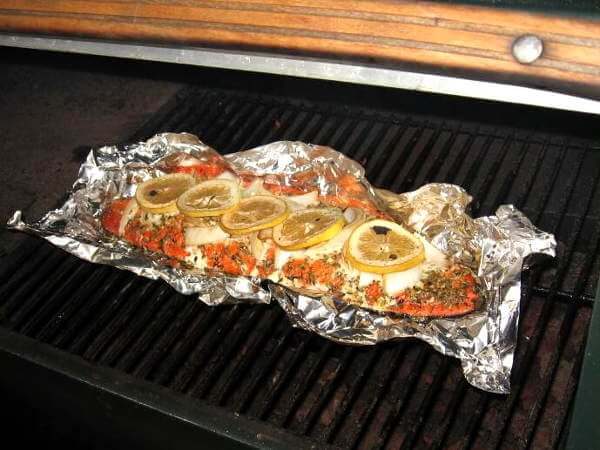 By adding fresh lemons and herbs you'll soon discover why this recipe is something special. Cut a piece of aluminum foil much larger than the fillet, about 18" x 24".
Place your Copper River salmon fillet in the center of the foil. Next, place pats of butter evenly over the salmon. Break up the Rosemary and place anywhere you like, it's delicious!!
Squeeze a large slice of lemon over the salmon fillet while topping it off with 5 more slices of lemon, decorating the top. Finally, drop a few leaves of sage onto the salmon before forming the foil into a pouch.
Follow the "fish tent" instruction below.
Grilled Lemon Rosemary Salmon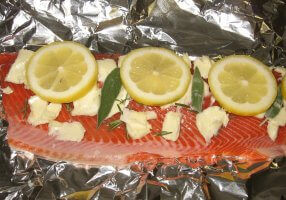 Ingredients
2 lbs  Copper River Salmon
2  Sprigs of Rosemary
1  Lemon
2 Tablespoons of butter
3  leaves of fresh Sage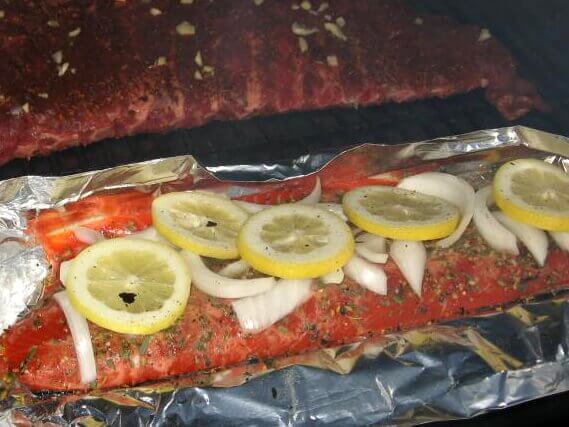 Onions Were Added To This Salmon Fillet
The Foil Fish Tent
Fold the foil length-wise around the lemon rosemary salmon leaving breathing room for it to cook in the steam directly above the fish. Fold in the outer edges.Be sure you do not fold them tightly.
This enables the heat to travel through the outside of the foil and be trapped in the middle, and creates a steam vent.
This recipe can also be cooked in the smoker, leaving the foil open so the fish catches onto some of that great smoky flavor.

Cook in a closed grill for about 15 minutes on medium low. Don't overcook your salmon fillet. It's ready to remove when the flesh just turns opaque and the fish flakes when tested with a fork.

I used my Weber Q propane grill for this grilled salmon recipe. This very versatile gas grill features a heavy cast iron grate that heats evenly.

It can be used as a tabletop grill, or it can be mounted on an optional wheeled base. Another great feature is that it can be fueled with disposable propane bottles or with a standard refillable propane tank.