November 17, 2017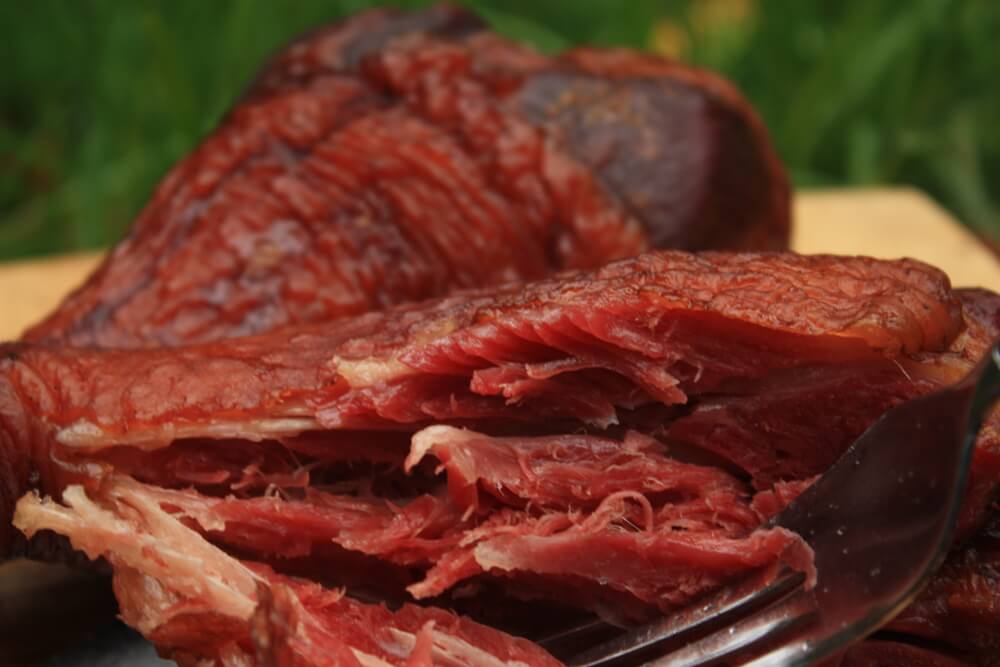 Turkey Smoking Tips, Techniques and Recipes
Just a Few Days Until Thanksgiving!
I couldn't wait until Thanksgiving to enjoy the taste of smoked turkey, so a couple days ago I started brining a batch of turkey drumsticks. At 5:00 yesterday morning they were in the smoker, and the smoked turkey legs were done cooking well before lunchtime. And it was a darned good lunch! I considered smoking a cranberry-apple brined turkey breast to cure my urge, but I just wasn't in the mood for healthy white meat, if you know what I mean.


This newsletter highlights several articles that just might answer one or two of your turkey smoking questions. Enjoy the reading, and I wish you all a Happy Thanksgiving. See you next month!

Bill




Brining Turkeys For The Smoker




Whether it's a whole turkey, a breast or a dozen legs, brining the turkey is a step that shouldn't be neglected. A great tasting smoked turkey brine recipe will add an interesting layer of flavor to your Thanksgiving turkey. To efficiently brine your turkey, a brining container is something you'll definitely need.






A Plethora of Turkey Smoking Methods



Following a basic turkey smoking technique is a great idea, but there are other ways to cook one. Turkeys can be grill-smoked on a gas grill or even grilled in a Weber Kettle. And something I've done many times is smoke a turkey in my Weber Smokey Mountain Cooker. Turned out great every time!





Tips For Turkey Bowling - Not!




To the best of my knowledge I've only been in one turkey bowling match, and that was many years ago. Now it would probably be considered animal cruelty to sling a frozen turkey down the aisle between pallet racks. Oh, how the world has changed!


But this ain't about turkey bowling. It's all about turkey smoking and the tips that'll help give you an edge. A turkey can be smoked with basic equipment, but there are a few accessories that make smoking turkeys a lot easier... like a thermometer so you know when the turkey is done. And someday, you'll pull a package of turkey from freezer and reheat it, and re-live a bit of your glorious turkey-smoking success!







Talkin' Turkey




See those wild turkeys in the picture? They were yelping and gobbling not 50 feet from the back door of the house I grew up in. I never did get one into my smoker! (that little blurry line crossing the hen's head and tom's fanned-out tail is a wire that supports a Concord grape vine)


The links below will take you to some turkey-topic-conversations that visitors to Smoker Cooking participated in a few years ago.




How Long Does It Take to Smoke a Turkey Breast?


Smoking a Turkey - Whole versus Divided Into Sections


Can a Half Turkey Be Smoked?





Super-Fast-Response Handheld Thermometer



The Classic Thermapen thermometer, made by ThermoWorks, is a professional grade thermometer that can sense the inner temp of that turkey breast or thigh in 2 to 3 seconds... And Accurately!




I own the ThermoWorks MK4 thermometer, which is a little more expensive than the Thermapen, but has a few more bells and whistles. As far as reading the temperature goes, they are identical in performance.


ThermoWorks thermometers do cost more than the competition, but their quality and the warranty provided reflect that price difference. You'll notice that the links go directly to the manufacturer and not Amazon. Because of the thermometer's popularity, non-reputable (shady!) businesses were making counterfeits of their products, hurting the end consumer. ThermoWorks no longer sells on Amazon for that reason, and instead, sell their products directly through their corporate website. Better for them, and safer for you.


NOTE: If you've ever watched "America's Test Kitchen", or "Cook's Country" on PBS, this is the thermometer they use and recommend.