A Homemade Andouille Sausage You Can Make At Home
This easy to make andouille sausage recipe can be hot smoked or cooked fresh, but is best when cold smoked, which gives the sausage a deep, smoky flavor.
Extended cold smoking also removes some moisture from the sausages, concentrating flavor and giving the andouille a firmer texture.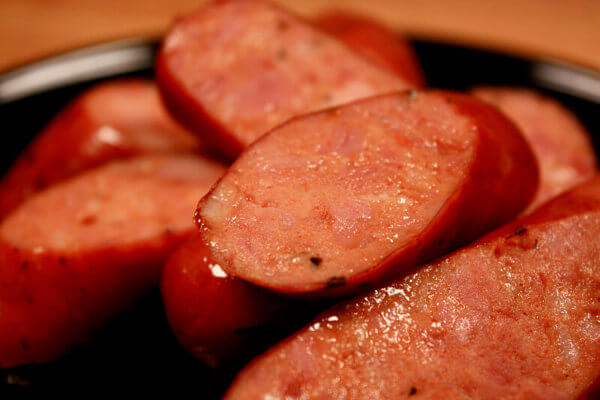 Andouille is a pork sausage, with the meat being coarsely ground and heavily seasoned. The sausages are traditionally stuffed into natural casings and cold smoked for many hours, which gives them the strong smoke flavor they are famous for.
Great for flavoring all sorts of tasty dishes, this andouille sausage recipe will make lots of spicy, smoky sausage that you can use to flavor your gumbo, jambalaya, and red beans and rice.
Homemade Andouille Sausage Recipe

HOMEMADE ANDOUILLE SAUSAGE INGREDIENTS



5 pounds pork butt, cut into 1 inch cubes
3 Tbs sweet paprika
2 Tbs plus 2 tsp of Morton's Tender Quick Home Meat Cure

2 Tbs finely chopped garlic
1 Tbs kosher salt
1 Tbs white sugar
1 Tbs coarsely ground black pepper
2 tsp ground red pepper
1 tsp red pepper flakes
1/2 tsp dried thyme
1/4 tsp ground mace
1/2 cup ice cold water
hog casings

* * * * *
---
SAUSAGE RECIPE INSTRUCTIONS

---
Combine all dry ingredients: the spices, salt, sugar and Tender Quick.


Cut up the pork butt, separating the pork fat from the the lean meat. Section into 1 inch cubes.


In separate bowls, coat the meat and fat with the spice mixture, rubbing it in well. Mix in the chopped garlic. Refrigerate for 24 hours.


To give the sausage the correct texture, the meat and fat should be coarsely ground. Use a 3/8 inch plate to grind the meat, and a 1/4 inch plate for the fat.


Combine the meat with the fat, add the cold water, and knead until all the water is absorbed.


Stuff the ground pork mixture into the hog casing, twisting off into 4 inch lengths.


Cold smoke the sausages at just under 100˚ F for 10 to 12 hours, or hot smoke at 175-200 degrees for 3 to 5 hours or until the internal temperature reaches 155 degrees Fahrenheit.
* * * * *
Prep Time: 4 hours
Cook time: 12 hours
Yield: 20 sausages
Andouille Recipe Tips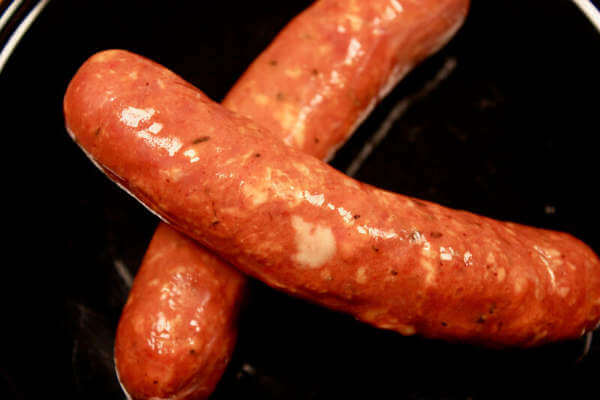 For the best flavor the andouille should be cold smoked at just under 100 degrees for 10 to 12 hours. This will give them a bold, smoky taste, which makes them the perfect addition to your Creole and Cajun recipes. The cold smoked sausages are cured, but still uncooked and must be fully cooked before eating.
If you don't want to take the time cold smoking requires, you can hot smoke them at 175-200 degrees for 3 to 5 hours, or until the internal temperature reaches 155 degrees Fahrenheit. At that point the sausages can be eaten as-is, or used as a recipe ingredient.
The sausages can be safely refrigerated for up to five days and will keep in the freezer for up 2 months... if any of 'em last that long!
Recipe Ideas For Your Homemade Andouille Sausage
Andouille sausage is a required ingredient for many Cajun and Creole dishes, and can be used in other recipes wherever smoked sausage is called for as an ingredient. The heavily seasoned sausage will add great flavor to just about any dish.
Louisiana gumbo and jambalaya just wouldn't taste right without a good amount of andouille added to the pot. And the smokiness of the sausage add to red beans and rice subtle complexity.
Andouille can be used in your every day cooking, too. Chop a bit up and sauté it in a skillet for a few minutes, and then crack a few eggs into the pan.
That'll make your breakfast simply delicious! Andouille can be a great addition to your soups, stews, and pasta. It adds fantastic flavor to macaroni and cheese, too.
Even if you don't make your own homemade andouille sausage, you should buy some and try adding it to a few of your dishes.