These Smoked Chicken Recipes Have Fantastic Flavor!
Short on time? Then one of these smoked chicken recipes would be a good way to go. Chicken can be smoked in less time than many other meats, and is often inexpensive.
It also pairs well with a variety of seasonings and flavors. These are all good reasons to make smoked chicken on a regular basis.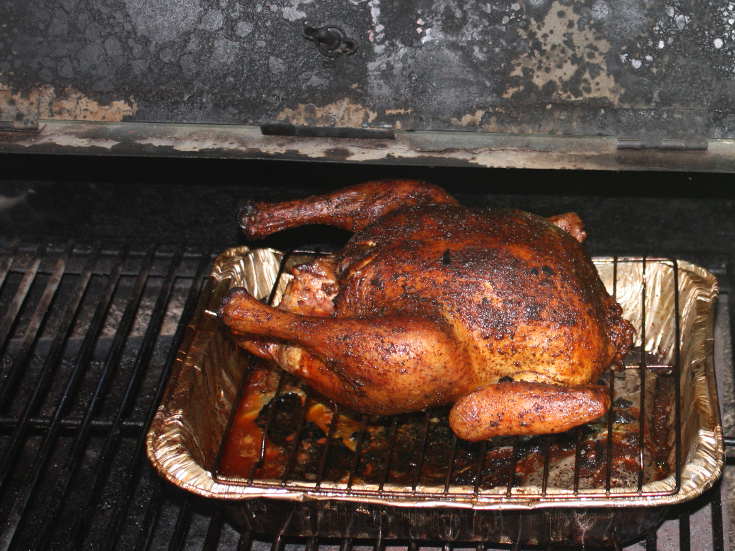 NICE LOOKIN' CHICKEN!
Choosing Chicken For Your Recipes

There so many options when buying chicken it can be difficult to choose. Boneless, skinless, free-range, organic, industrially raised, breasts, thighs, drumsticks, leg quarters, or whole chickens - each requires a little different technique, but all taste great.
Packaged chicken parts are usually ready to season and smoke right from the package. Sure, you might need to trim off a little fat or skin, but that's a small price to pay for getting the exact portion you want for your chicken recipe
Be Attentive To Your (Previously) Feathered Friends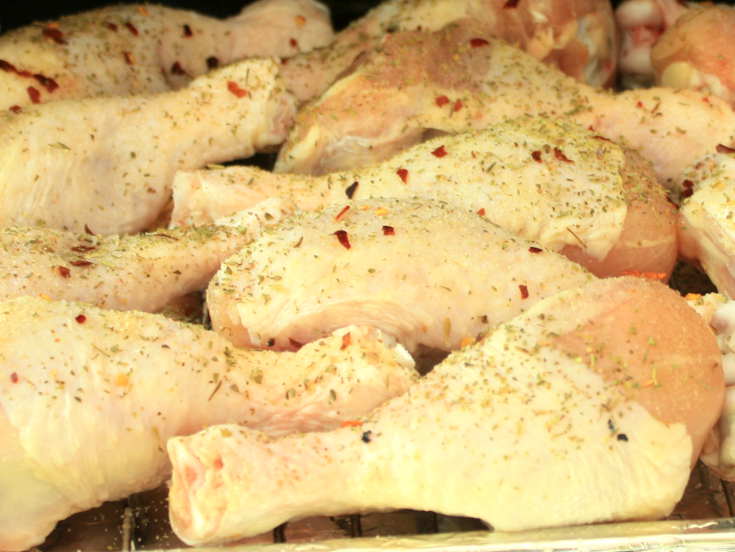 Seasoned Legs In The Smoker
Whole chickens require a little more attention. Some will have giblets and the neck stuffed inside the body cavity, and there's usually quite a bit of excess skin and fat to remove. Whole smoked chickens have an impressive look!
And with the whole birds you have the option to butterfly them, cooking them spatchcock-style. Using this method shortens cooking time and allows for more even distribution of seasoning.
Whole Smoked Chicken Recipes: Juice Filled and Flavor Packed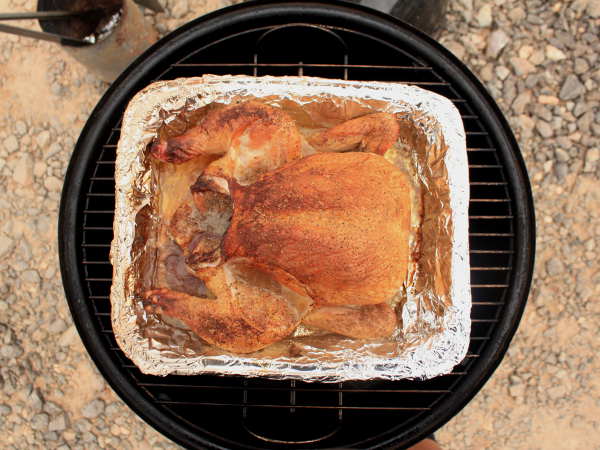 Save Gravy Juice By Smoking Chicken In a Pan
If you want to save a few bucks, whole fryers and baking hens are often the least expensive way to buy chicken. They can be seasoned and smoked whole or separated into the individual parts with a sharp knife and a bit of skill.
Chickens smoked upright on a can tend to cook more evenly. This chicken recipe helps the breast remain moist.

To prevent the wing tips from charring, wrap them in foil after the first hour of smoking.

Spatchcocked Chickens, aka Butterflied Birds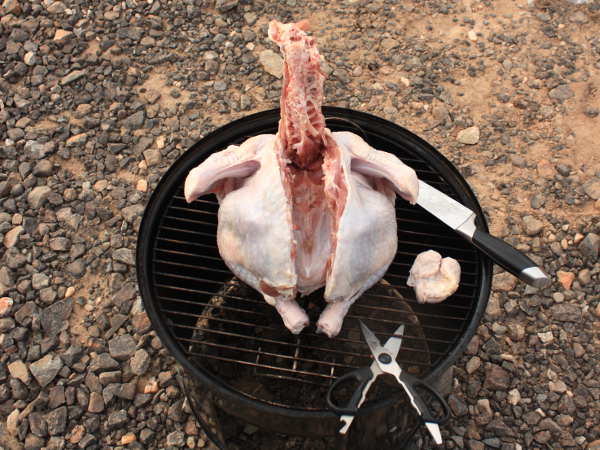 The Butterflying Process Works on Turkeys, Too
Look at those spineless chickens! That's what a spatchcock is - take a pair of kitchen shears, cut away the back bone, then flatten it out. When prepared this way, they cook a little quicker and more evenly, too.

By opening the chicken and laying it flat on the smoker grate, this chicken recipe cooks in less time than a whole chicken.

Smoking Whole or Boneless-Skinless Chicken Breasts: Which Is Better?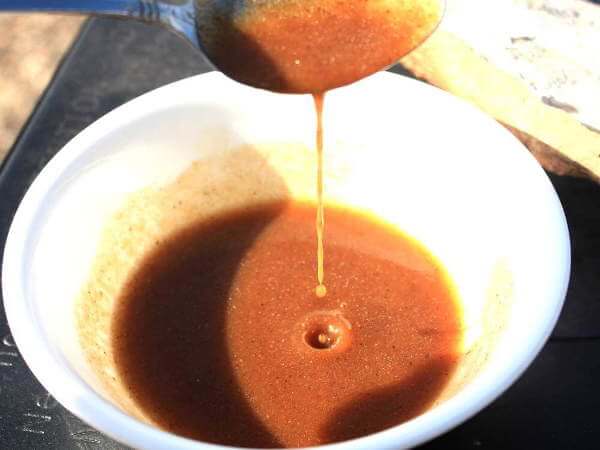 Smoked Chicken Basting Liquid
Preferred by many, the white breast meat is lower in both fat and calories than the dark meat.
For more flavor and moistness it helps to baste the chicken a couple times as it's cooking, especially when smoking boneless, skinless breasts. Oil or fat added to the basting liquid prevents drying and will give the chicken a nice sheen when it's finished.

Whole skin-on, bone-in breasts will have richer flavor. The rib bones and skin also help prevent the meat from drying.
If You Prefer Dark Meat, Try These Smoked Chicken Thigh and Leg Quarter Recipes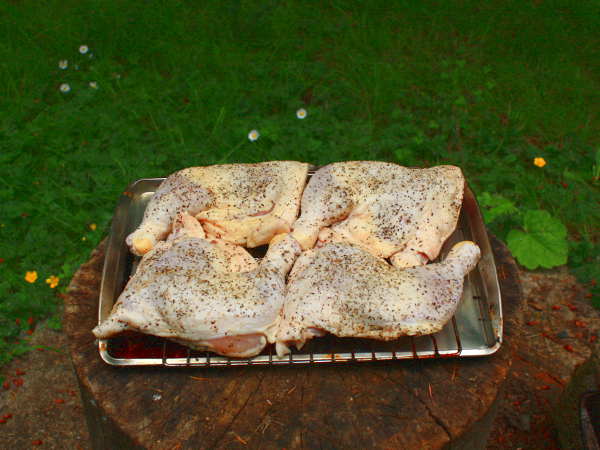 A Quartet of Quarters
Chicken thighs and legs are more forgiving and can be cooked to a higher temperature without becoming dry. All chicken parts are safe to eat when the internal temperature reaches 165 degrees, but I prefer the flavor and texture of dark meat when it's cooked to 175 degrees or more.
After removing the bones and skin, these thighs were wrapped with bacon slices. Very tasty!

Adding Flavor To Smoked Chicken With Brines and Dry Rubs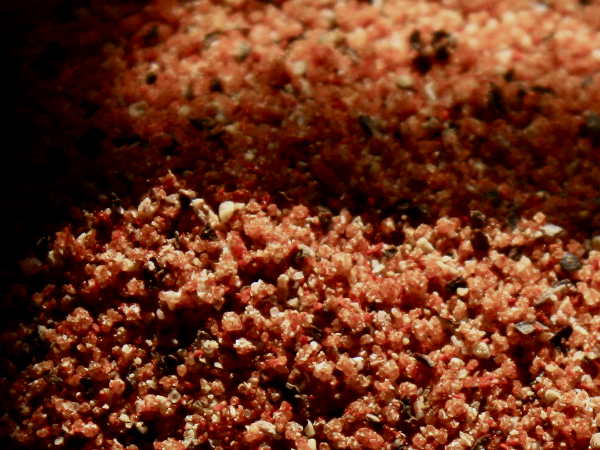 Homemade Dry Rub In Detail
It's important to brine chicken before it's cooked in the grill or smoker. While brining adds flavor, it also causes changes to the meat fibers that help in holding moisture in place. And using a flavorful dry rub seasoning on the chicken is always a good idea.
Chicken Dry Rub Recipes Can Be Either Subtle, or Screamin' With Flavor

Brining Chicken For The Smoker Makes a Huge Difference In Flavor and Texture

By first simmering the seasonings in water when putting together a brine, more flavor is released from the herbs and spices.

Smoked Chicken Recipes - Cooking Tips and Helpful Information

You Are Here: &nbsp

Home

> &nbsp