Delicious Smoked Chicken Recipes For The Smoker or Grill

Don't have a lot of time for cooking? Then one of these smoked chicken recipes would be a good way to go. Chicken can be smoked in less time than many other meats and it goes well with many types of seasonings, from basic and simple to bold and spicy. No wonder chicken is so popular!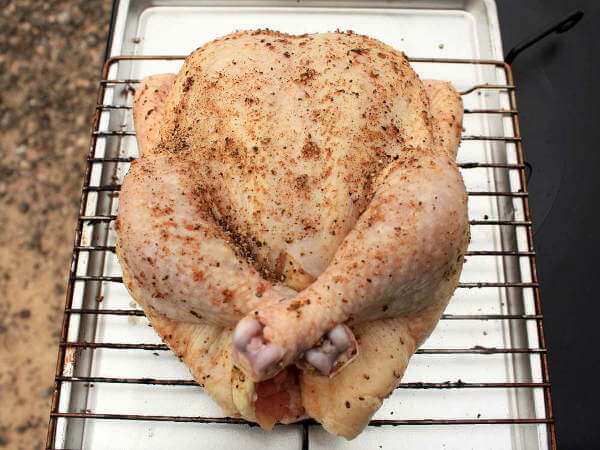 There so many options when buying chicken it can be difficult to choose. Boneless, skinless, free-range, organic, industrially raised, breasts, thighs, drumsticks, leg quarters, or whole chickens - each requires a little different technique, but all can taste great.

Whole Smoked Chicken Recipes: Juice Filled and Flavor Packed

If you want to save a few bucks, whole fryers and baking hens are often the least expensive way to buy chicken. They can be seasoned and smoked whole or separated into the individual parts with a sharp knife and a bit of skill.
WHOLE CHICKEN
With this smoked chicken recipe you have the option of cooking them whole or cutting them in half for quicker cooking.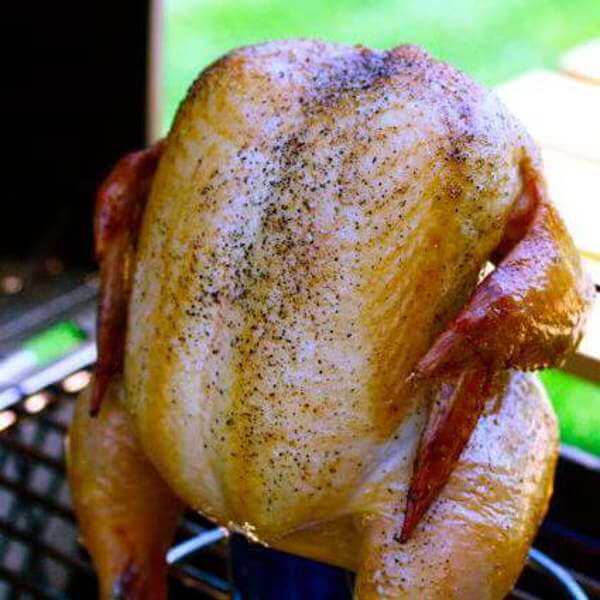 BEER CAN CHICKEN
Chickens smoked upright tend to cook more evenly. This beer can chicken recipe helps the breast remain moist.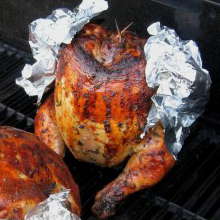 GRILL-SMOKED CHICKEN
To prevent the wing tips from charring when grill-smoking chicken, wrap them in foil after the first hour of smoking.
SANDFLATS SMOKED CHICKEN
By opening the chicken and laying it flat on the smoker grate, this chicken recipe cooks in less time than a whole chicken.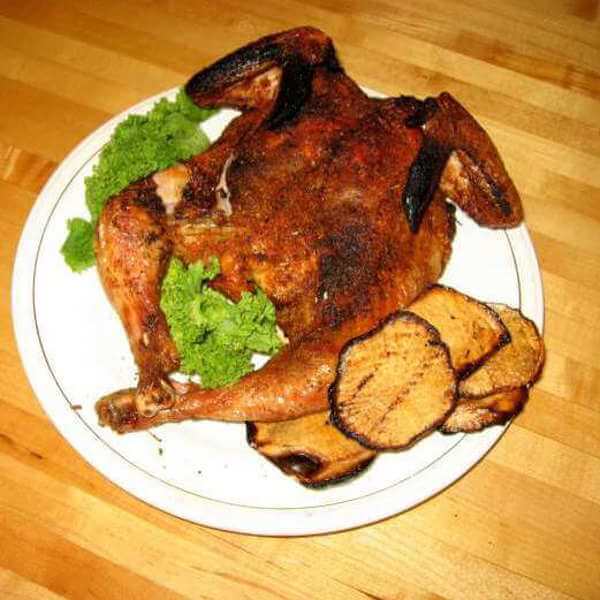 SPATCHCOCK CHICKEN
To prepare a spatchcock chicken, separate the backbone from the ribs and flatten it out. This recipe was grill-smoked in my Weber kettle.
Smoking Whole or Boneless-Skinless Chicken Breasts: Which Is Better?

SMOKED CHICKEN BASTING LIQUID
Preferred by many, the white breast meat is lower in both fat and calories than the dark meat. For more flavor and moistness it helps to baste the chicken a couple times as it's cooking, especially when smoking boneless, skinless breasts. Oil or fat added to the basting liquid prevents drying and will give the chicken a nice sheen when it's finished.

Whole skin-on, bone-in breasts will have richer flavor. The rib bones and skin also help prevent the meat from drying.
GRILL-SMOKED BREASTS
Adding smoke flavor when using a grill isn't difficult. Step by step instructions for grill-smoking chicken breasts.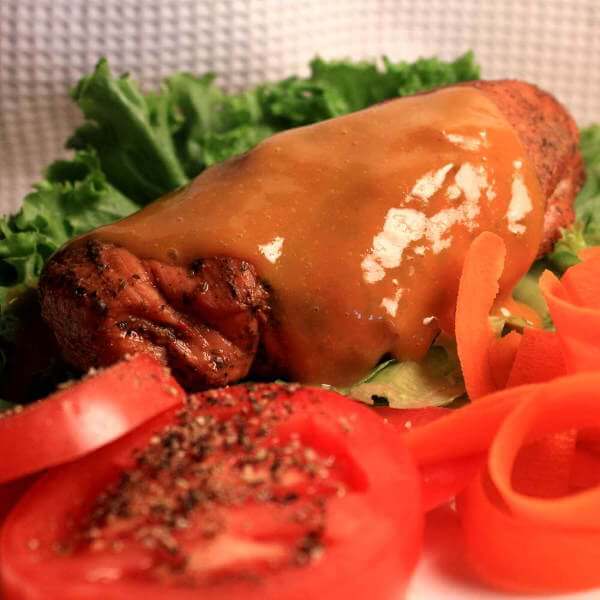 SEASONED WITH ROSEMARY
Instead of being topped with a white sauce, this recipe for rosemary chicken breasts was served with a tangy mustard sauce.

If You Prefer Dark Meat, Try These Smoked Thigh and Leg Quarter Recipes

Chicken thighs and legs are more forgiving and can be cooked to a higher temperature without becoming dry. All chicken parts are safe to eat when the internal temperature reaches 165 degrees, but I prefer the flavor and texture of dark meat when it's cooked to 175 degrees or more.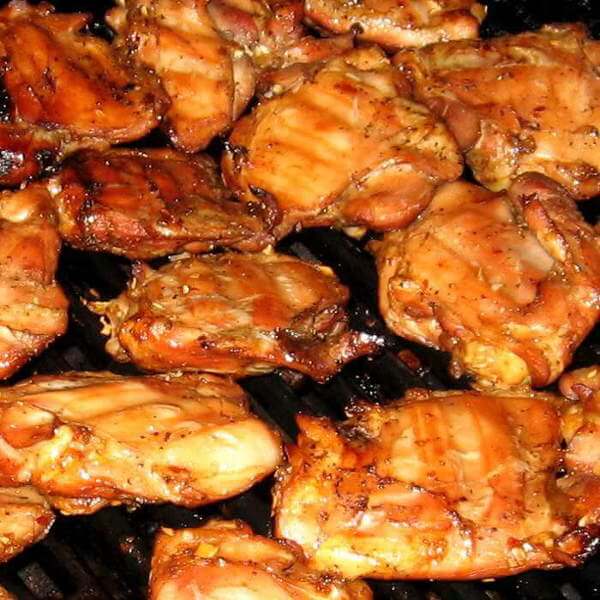 SMOKED CHICKEN THIGHS
A few foil packs of apple wood chips added flavor to these smoked chicken thighs when they were grilled.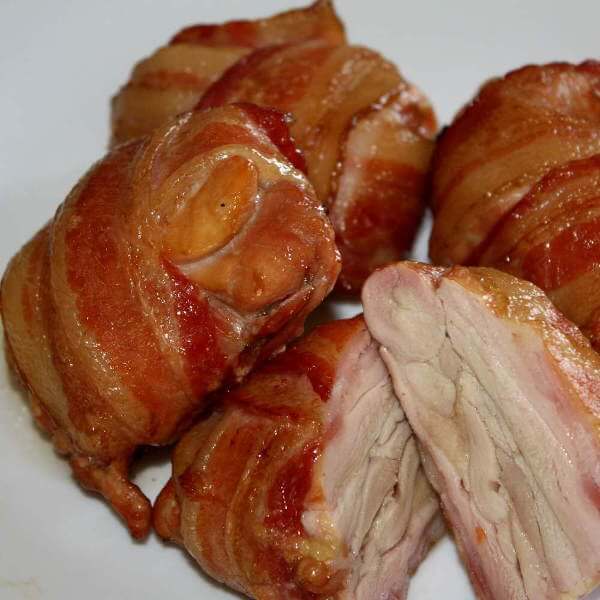 BACON WRAPPED THIGHS
After removing the bones and skin, these thighs were wrapped with bacon slices. Very tasty!
JAMAICAN JERK
Chicken thighs are marinated in a spicy Jamaican jerk paste before being smoked
Adding Flavor To Smoked Chicken With Brines and Dry Rubs

It's important to brine chicken before it's cooked in the grill or smoker. While brining adds flavor, it also causes changes to the meat fibers that help in holding moisture in place. And using a flavorful dry rub seasoning on the chicken is always a good idea.
Chicken Dry Rub Recipes Can Be Either Subtle, or Screamin' With Flavor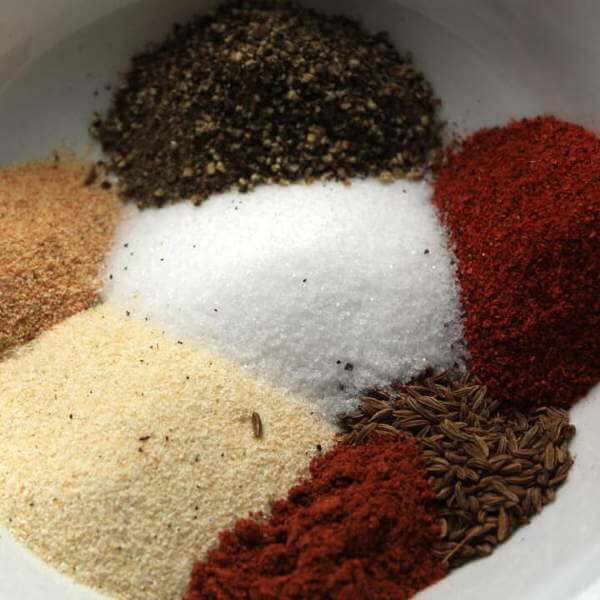 CHICKEN DRY RUB
A variety of ingredients can be used in chicken dry rub recipes. There are a few caraway seeds in this bowl of ingredients.

SMOKED CHICKEN RUB INGREDIENTS
Placing some of this Cajun style chicken rub between the skin and flesh will provide a more intense flavor.
Brining Chicken For The Smoker Makes a Huge Difference In Flavor and Texture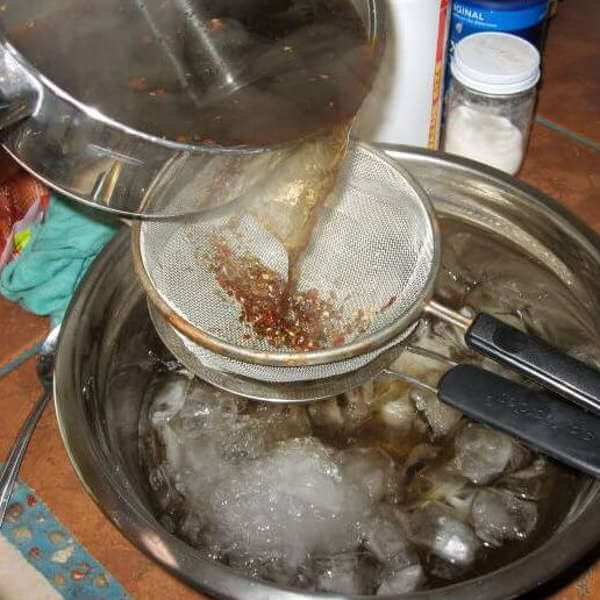 MAKING BRINE
By first simmering the seasonings in water when putting together a brine, more flavor is released.
HOW TO BRINE CHICKEN
An explanation of how brining works, and how to go about using brine with chicken.
BRINING CHICKEN
Brining chicken takes 30 minutes to one hour for smaller skinless pieces. A whole chicken will require up to 4 hours for the best results.
Smoked Chicken Recipes - Cooking Tips and Helpful Information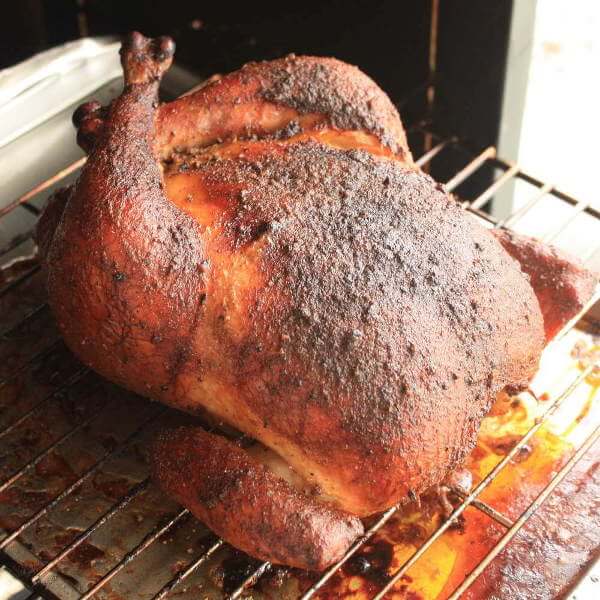 SMOKING WHOLE CHICKEN
Learn how to smoke whole chickens that are tender and juicy.
CHICKEN LEG QUARTERS
Leg quarters are great whether grill-smoked or cooked on the smoker.

WHOLE CHICKEN BREASTS
Information about preparing, brining, seasoning and smoking whole chicken breasts.
CHICKEN TEMPERATURE?
Why does the internal temperature of these chicken breasts  quit rising when it reaches 148 degrees?
---
You Are Here: &nbsp

Home

> &nbsp