These Smoked Beef Recipes Have Loads of Flavor!

If you have plans to smoke back ribs, a roast or a brisket, one of these smoked beef recipes might come in handy. Some cuts are best cooked to rare or medium rare using a higher smoker temperature.
Others require hours of low and slow cooking. Either way, beef is a good option for the smoker.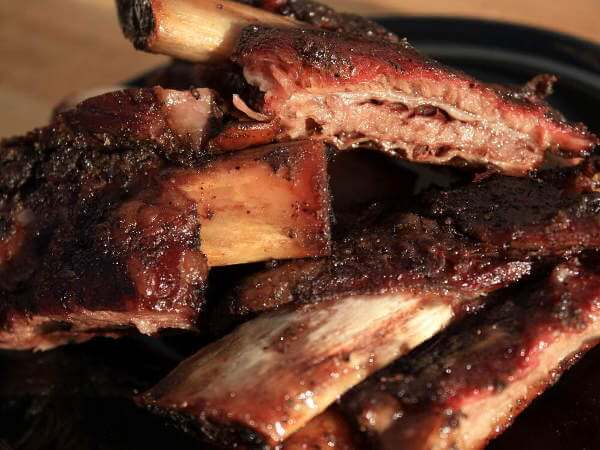 Plate Full Of Mesquite Smoked Beef Ribs
There are lots of beef cuts great for smoking. Some of my favorites include chuck roasts, rib eye steaks and tri-tip roasts, and that's just the tip of the iceberg when it comes to the number of available cuts.
Some of the tougher cuts, like briskets, chuck roasts and ribs need to be cooked low and slow in order to bring out maximum flavor and tenderness.
Cuts like rib roasts, tenderloins and steaks are best cooked at a higher temperature, and served at rare to medium.

Flavors used with these smoke beef recipes can be as simple as a dash of salt and pepper, or might include marinating for hours, then resting with a coat of dry rub seasoning for up to a day before going into the smoker.
Smoked Beef Recipes

Smoked Beef Roast Recipes

A Santa Maria tri tip is cooked using traditional Californian seasonings, with oak-smoke for flavor. Smoked to medium-rare, it's tender and juicy.
Seasoned with salt, pepper and garlic, this recipe for a standing rib roast is then slow smoked using fruit wood, either apple or pear, until it reaches rare to medium-rare perfection.
There are several different cuts of beef chuck, and all are great for smoking. In this recipe the chuck roast is wrapped in foil after a few hours of smoking to shorten cook time.
A true prime rib is an expensive cut that's worth the expense. The beef is dry aged in the refrigerator before smoking to help concentrate flavor and increase tenderness.
Smoke a chuck roast for hours and hours, shred it and add some sauce. Plop a gob on a white bread bun for sandwich that will definitely satisfy your hunger!
Beef Back Ribs

Mesquite Smoked Beef Ribs

The picture above is of a few leftover ribs from two slabs of mesquite smoked ribs I cooked up today. I was fighting to keep the wind off of my Char-Broil gas smoker, but in the final analysis, the ribs turned out pretty darned good!
These ribs need to be cooked for a l-o-n-g time, which breaks down the connective tissue, melts away the fat, and releases all the great flavor hidden inside.
Smoked Ground Beef Recipes

Stuffed Sweet Bell Peppers Are The Full Meal Deal

This recipe for stuffed peppers is cooked in the smoker, and is a great main course dish. The moist filling is mildly spicy from the addition of chili powder and black pepper and it has a nice texture. The peppers are cooked until just-tender, and the flavor is great!
Cheeseburgers Are Great With a Little Smoky Flavor

There are many possibilities with ground beef as the main ingredients. One of the most basic is smoking up a batch of cheeseburgers. The smoke adds a great layer of flavor to this classic dish.
Smoking the coarse ground beef is what gives this chili recipe great flavor. Top with shredded cheddar cheese and sour cream. Beans are optional.
Beef Brisket Recipes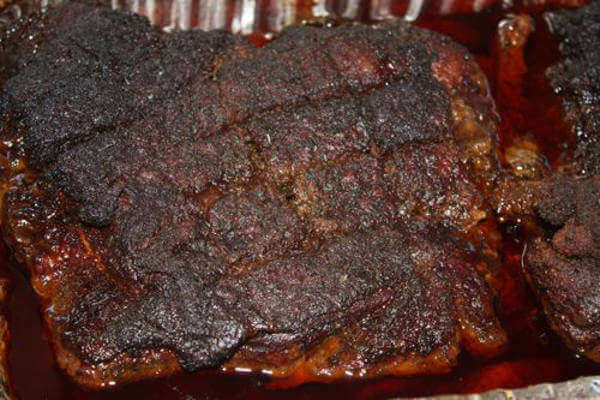 Brisket is always a special treat, especially when it's smoked. And although they take a long time, smoked brisket is well worth the wait.
Grill-Smoking Beef Is a Different Way to Do It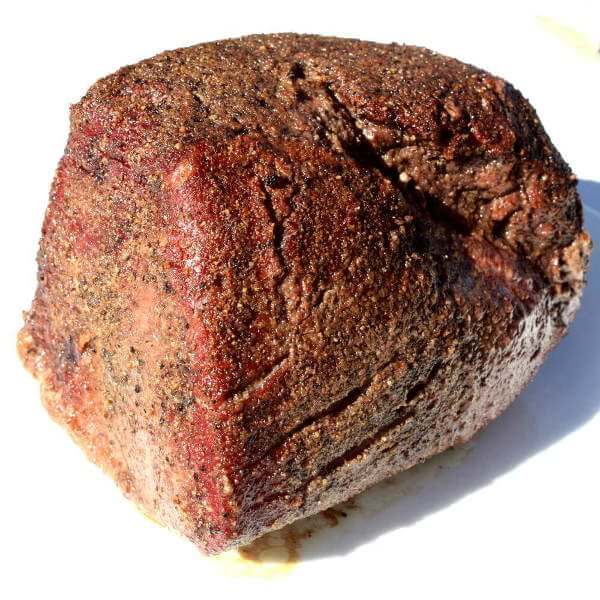 Beef can get a nice, smoky flavor when it's cooked in the grill, too. The picture above is a grilled top round roast.
Making A Wood Chip Foil Pack For Grill-Smoking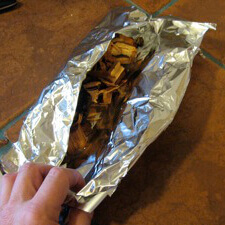 WRAP WOOD CHIPS IN FOIL
PUNCTURE HOLE IN TOP OF FOIL PAK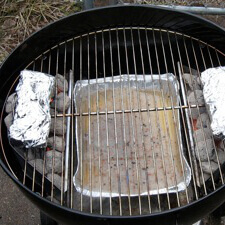 POSITION FOIL PAK OVER CHARCOAL
If you don't have a smoker, you can use your gas grill as a smoker. Or if you're a Weber kettle user, try this grill smoking technique. Most anything you grill can have added smoke flavor by just adding a foil pack or two of smoker wood chips.
Try One of These Grill Smoked Beef Recipes

And excellent quick cooking appetizer, these grilled steak skewers are marinated before they hit the grill, and are finished cooking in minutes.
Chuck eye is a bit fattier and a little tougher than a rib roast, but it has great flavor. Another plus is that it's usually quite a bit cheaper than the premium cuts of beef.
Filet mignon is an extremely tender cut of beef, sliced from a tenderloin. Because of its mild flavor, it's customary to wrap the sides of the small steak with a slice of bacon.
A rib roast is a lower quality version of a beef prime rib. There's less fat marbling, which means a somewhat less flavorful, less juicy cut of meat. But cooked right, it still tastes great.
You Are Here: &nbsp

Home

> &nbsp