Smoked Pork Recipes For Shoulders, Chops and Loins

If ya got a hankerin' for some pork, these smoked pork recipes will surely satisfy your cravings. Pork is known as the "Other White Meat", but not for us smokers. Perfectly smoked pork should have a beautiful pink smoke ring encompassing the surface.
There are lots of pork cuts that can be smoked. Pork loins and tenderloins, shoulders and shanks, fresh hams and picnics, pork chops and steaks; all are great cooked in the meat smoker.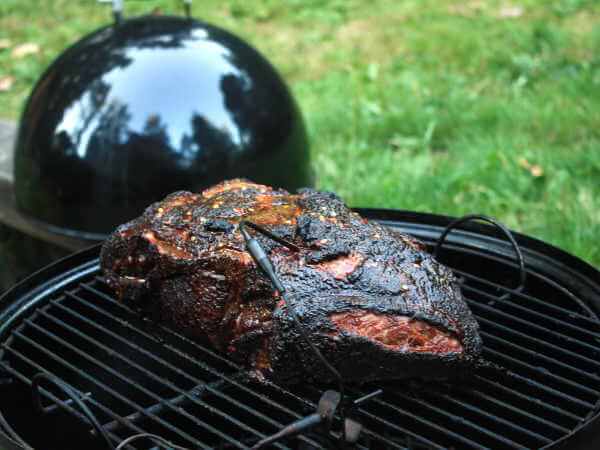 You might even try smoking up a batch of neck bones sometime. I did, and they're pretty tasty. You have to work to eat 'em, but they do taste good! Great for soup, too.

And pork is inexpensive. I just bought a pair on really nice pork shoulder picnics for $1.19 per pound. (time of this writing: August 9, 2008) Granted, it takes $8.00 worth of charcoal to cook 'em, but it's worth it!
(2018 update)
Pork is still one of the best deals at the meat market. I regularly buy whole pork loins for $1.99 per pound, picnic shoulders for $1.49 per pound and just last week I found baby back ribs on sale for only $2.25 per pound. During the Easter sale I purchased a couple of butt portion hams for only 79 cents per pound. Pork seems to be inflation-proof!

Smoked Pork Recipes
Now that I've got your attention, why not check out one or two of my smoker recipes for pork? Down a little further you'll find informative pages related to smoking pork that should be helpful in your quest for the perfect smoked pork!

Smoked Ham Bone Bean Soup Recipe
With this recipe, you get every last bit of goodness from what's left of that ham you smoked. Pinto beans, carrots, onions and a ham bone create a great tasting ham 'n bean soup that's rich in flavor.
Smoked Pulled Pork Recipe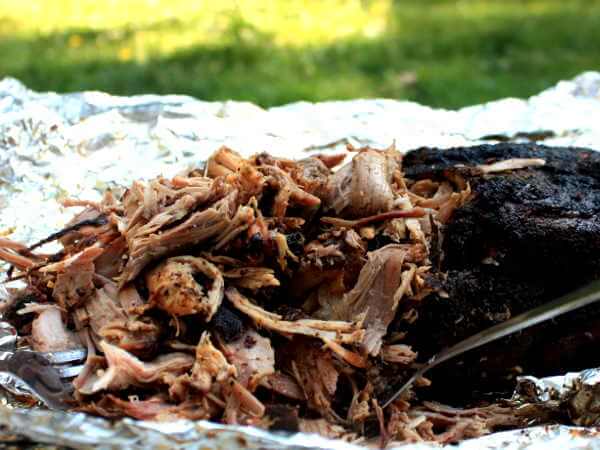 North Carolina Pulled Pork - Pulled pork is traditionally shredded pork shoulder meat, but smaller cuts can be used. Pork butts and picnics are both good candidates for pulled pork sandwiches. This recipe uses a traditional vinegar sauce for tangy flavor.
Double Smoke a Ham For More Smoky Flavor
Easy Smoked Ham Recipe - Next time you buy a precooked ham, try heating it up in the smoker. You'll be surprised how much better a ham tastes when it's seasoned a little and given an extra shot of smoke flavor.
Pork Loins Don't Take Long In The Smoker
Apple Smoked Pork Loin - This is one cut of pork you don't smoke to falling-apart tenderness. When the internal temperature reaches 145˚F, it's ready to serve.

Smoked Pork Chops Really Hit The Spot!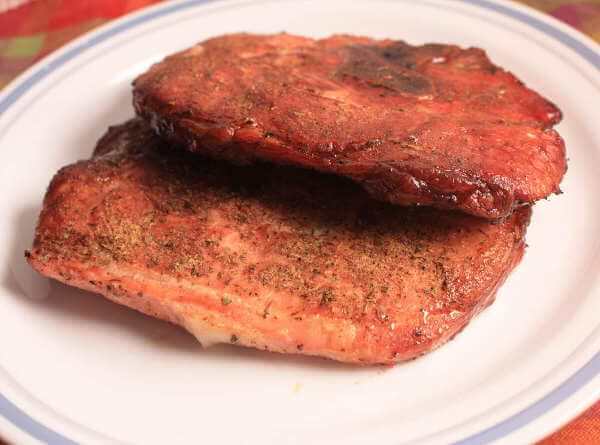 Smoked Pork Chops - Marinated in a fruity brine, these chops take on great flavor. A light smokiness is all these pork chops need.
More Smoked Pork Recipes
Loin Chops - Grilled with or without using smoker wood chips, these are seasoned up using Allegro Original marinade. Great tasting and quick-cooking.

Boston Butt - When this section of the pork shoulder is smoked until falling apart tender, it makes some of the best pulled pork around!

Grilled Loin  - This loin is soaked in a white wine based marinade before it's cooked.  Onions, garlic, rosemary and parsley add a great taste to this grill smoked pork loin recipe.
Double Smoked Ham - The whole point of this recipe is to add an extra layer of smoke flavor to the pre-cooked, spiral sliced ham. Adding extra seasoning is optional.

Bacon Recipe - Not your traditional bacon made from belly meat, this is a cured, then smoked pork loin. Kinda like Canadian bacon, but smoked.

Tips for Smoking Pork Picnic Shoulders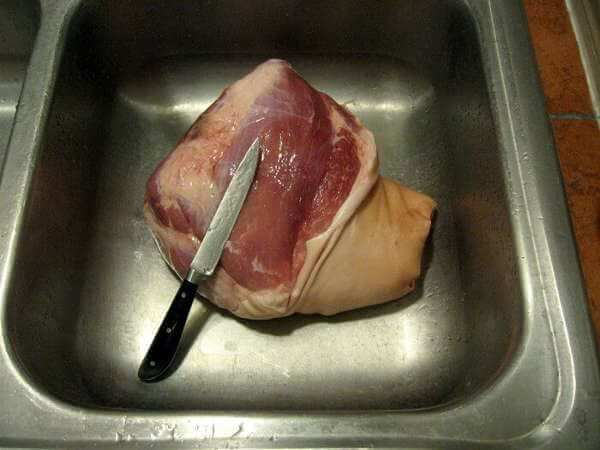 A Fresh Pork Picnic Shoulder
The Pork Picnic Shoulder - Learn all about pork picnics and the best ways to cook 'em. Since they contain quite a bit of connective tissue, they require long smoking times. But ooh, the taste!
Smoking Pork Picnics - Learn the ins and outs of smoking pork picnics. Temperatures, smoking time, basting, resting and serving are all covered.
You Are Here: &nbsp

Home

> &nbsp