Barbecue Sauce Recipes To Pair With Meats of All Kinds

Even though some meats are fine as they are, straight from the smoker, some just taste better with a little sauce. This collection of barbecue sauce recipes provides a range of flavors that pair well with a variety of smoked meats.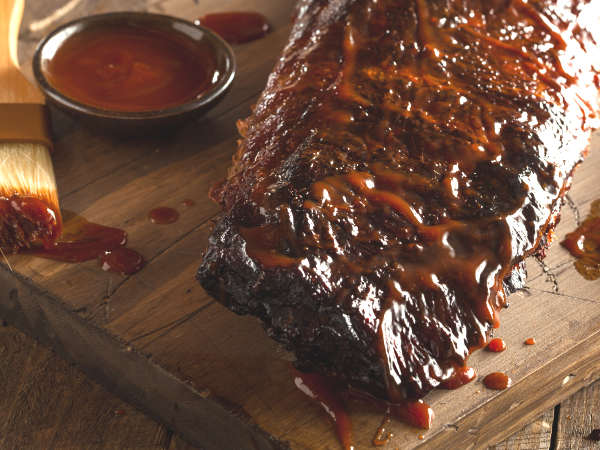 SAUCY BABYBACKS, BABY!
Having the ability to make a delicious sauce is critical in high-class cookery. Making a great tasting barbecue sauce for your smoked ribs might not have the same importance, but a good tasting sauce can sure make a difference.
Many store-bought sauces are fine to use, but you might have to try several mediocre bbq sauces before finding a few that please your discriminating palate. Another option is to make your own homemade barbecue sauce.

A Variety of Barbecue Sauce Recipes for Whatever You're Cookin'!

Sometimes You Just Gotta Slop On The Sauce!

If you'd like to sample something a little different than store-bought sauces, give one or two of these sauce recipes a try. Serving a great tasting sauce that you made with your own two hands with your smoked meats makes the meal all the better!
This East Texas style sauce can be used on any type of smoked meat, including ribs, brisket and sausages. This sauce is sweeter than those common in Central Texas.

One of my favorite non-tomato based sauces, the tangy flavors of mustard and vinegar are balanced with a bit of sugar. Red cayenne pepper adds warmth.

Give me this one for my smoked spare ribs. I love this sweet, thick tomato based KC bbq sauce on brisket, too. It's sweetened with molasses and made with love.

Kansas City's favorite, Gates Bar-B-Q sauce, can be whipped up at home. This is a no-cook recipe, but I find that a bit of simmering makes it better.

Unknown to many, this sauce is mayonnaise based, with added black pepper, vinegar and sugar. It's smooth and sweet, with a touch of tang.

More Barbecue Sauce Recipes That'll Give You Some Options

Booze Makes Barbecue Sauce Better!

A kindly gentleman that loved both Jim Beam bourbon and barbecue was generous enough to share this recipe with me. And now, I will share his special gift with you.

Odds and Ends - Ham Glaze, Mopping Sauce And a Basic Vinegar Sauce

Cherry Mango Salsa Recipe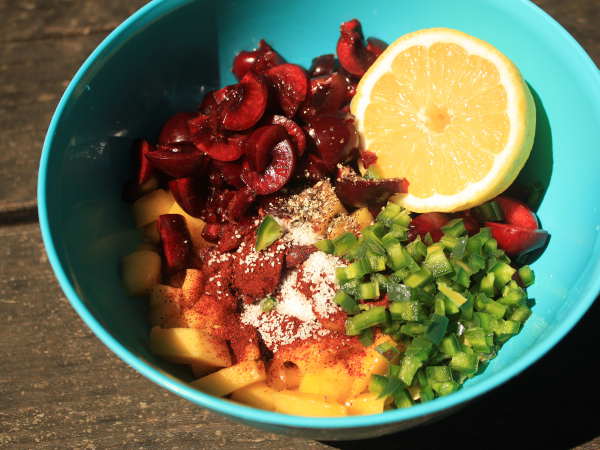 Fruit Salsa With Mango and Cherries
Use it as a topping, a side dish or a dip for chips. This bright cheery fruit salsa recipe goes well with most of your smoked meats

---
When I first made cherry lime ham glaze it was love at first taste! I found that it's great on any type of pork. It's even good on my morning toast!
Most anything you smoke can be basted with a mop sauce, which adds flavor and help build up a nice bark. The vinegar sauce can also be used to baste meats, and is most often used on pork shoulders.

Use this sweet and tangy ham glaze to add flavor to your double smoked hams, and make enough to use at the table, too. A drizzle of this cherry-lime nectar makes your smoky ham slices taste incredible!

A Brand New Barbecue Sauce Recipe - Spicy Cherry Pork Sauce

Homemade Cherry Sauce On Pork Loin Slices
Although it's not technically a barbecue sauce, the cherry sauce I whipped up was the perfect match to the pasilla chile pepper pork loin I smoked yesterday.
Here's the recipe ingredients and instructions.

6 cups pitted and halved sweet red cherries
Juice and zest of 1/2 a lime
2 teaspoons minced fresh ginger
1 teaspoon coarse ground black pepper
3/4 cup white sugar

Combine the cherries, lime zest and juice, ginger, pepper and sugar in a large sauce pan. Bring it all to a gentle boil over medium heat. Continue cooking until it has reduced by half.
Chill it, bottle it, and use it. The cherry sauce (or jam, or preserves... whatever you wanna call it) tasted great on my pork loin slices. The black pepper gave it both flavor and heat, and the ginger was subtle in the background.
It might have been a little too limey, but the extra tartness worked well with the spicy pork. I might cut the amount of lime juice and zest in half next time I make it.
I even tried a spoonful of the sauce in my evening bowl of plain yogurt with walnuts. Pretty tasty!
Refining a Recipe To Make It Your Own

Adding Ingredients For Unique Flavor
Make a barbecue sauce recipe "by the book" the first time, and consider the taste. You might decide it needs a little something more (or less) in the flavor department.
Too sweet? Cut back on the sugar. Lacking that celery taste that the sauce you grew up using had? Add a little celery salt. Not spicy enough? Boost the amount of black pepper or add a pinch of ground cayenne pepper.

And when you've perfected your recipe, put some up in half-pint or pint sized canning jars. A bottle of your special sauce would be a greatly appreciated gift for a birthday or at Christmas time!
Finishing Up With Saucy Tips

Finishing Ribs With a Sweet, Red Glaze
If you brush sauce onto the meat as it's smoking, do so only during the last half-hour. Sweet sauces can burn rather easily. And in this part of the world, letting sauce burn on the ribs is considered rib abuse!
Mopping sauce is included with these barbecue sauce recipes, but is not so much a sauce as it is a basting liquid. It's a lot thinner in consistency and has very little sugar. Mopping it on during the smoking session will keep your smoking brisket nice and moist. It'll add some flavor, too.
You Are Here: &nbsp

Home

> &nbsp