Georgia-Style Beer Can Turkey Recipe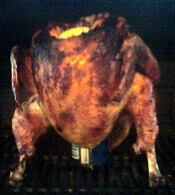 If you've never tried grilling a beer can turkey, this recipe is one you've got to try. It's injected with flavor, seasoned with spices, and perched in the grill on a can of beer.
This recipe was provided by Jared Mock of Sylvania, Georgia, who grilled one of these turkeys on Thanksgiving day, 2009. It looks awesome Jared. Thanks for sharing your recipe. I understand that your beer can turkey was a big hit, picked clean to the bones in 30 minutes. Great job!


Jared's Beer Can Turkey Recipe
The turkey in the picture weighed in at about 13 pounds. You can use any size turkey that will fit into your grill in an upright position. Here's what you'll need:
1 whole turkey, trimmed and rinsed
1 whole onion, medium
1 bottle teriyaki-honey marinade
2 tablespoons KC Masterpiece BBQ Seasoning rub
1 tablespoon onion powder
2 teaspoons salt
1 teaspoon garlic powder
1 teaspoon black pepper
1 tablespoon extra virgin olive oil
1 can of Bud Light beer- Has to be a tallboy or it might get lost up there...

Preheat your grill to 350 degrees, and set it up for indirect cooking. Gas grill? Use the outside burners, and set the turkey in the middle. Charcoal grill? Pile the charcoal on opposite sides of the grill, and place the turkey in the center.
Inject the turkey with the teriyaki-honey marinade, a couple of ounces in each side of the breast, the rest in the thighs and legs.
This KC Masterpiece Honey Teriyaki injectable marinade is just one of many brands available for flavoring your grilled turkey.

Combine the dry ingredients. Rub the outside of the turkey with the extra virgin olive oil, then season it inside and out with the rub mixture.
Cut the onion in half, and put one half into the neck cavity. By doing this, the neck opening is closed, and the steam from the beer can remains inside the turkey. Chop the other half up coarsely and distribute it under the turkey's skin. The onion adds incredible flavor to the beer can turkey.
Pop open a tall boy and drink half of it down, then insert the can carefully into the turkey's body cavity. Set the turkey on the grill and close the lid. Grill it at 350 degrees until done, which will take about 3 hours.
Remove the turkey from the grill, and carefully remove the can. It's always a good idea to let turkeys rest for 20 to 30 minutes after taking them out of the grill.
Now, the most important part. Carve the grilled beer can turkey and serve with copious quantities of ice cold Bud Light beer. Soon, you'll experience the spirit of Thanksgiving, no matter what time of year it is.