This Grilled Buffalo Shrimp Recipe is Hot Stuff!

When you serve this grill smoked buffalo shrimp recipe to your guests during the big game, they are sure to be distracted from the football action until every last shrimp is devoured!
The spicy tang of the hot sauce is tempered by a dip into cool, bleu cheese dressing.
These can be made fairly quickly on the barbecue grill in a few easy steps.
Quick Guide for Making Seasoned, Grilled Shrimp

Light the charcoal in the chimney, or turn on the gas grill

Assemble the marinade and pour over the shrimp

Prepare the grill for grill-smoking

Place the shrimp on the grill grate and cover

Make the finishing sauce

Remove the grill smoked shrimp, drizzle with sauce, and serve with blue cheese dressing.
Gratifying Grill Smoked Buffalo Shrimp Recipe

INGREDIENTS
2 pounds shelled jumbo shrimp

1/4 cup soy sauce

1/4 cup vegetable oil

2 tablespoons hot sauce

1 teaspoon chopped garlic

1 teaspoon lemon juice

1/2 teaspoon cracked black pepper

1/2 teaspoon salt
Place the shrimp in a medium mixing bowl. Combine the other ingredients and pour over the shrimp. Give them a gentle toss so those big shrimp are completely covered with the marinade. Marinate for up to 1 hour.
Prepare your bbq grill for indirect grilling. If using charcoal, separate the hot briquettes into two piles, one at each side of the grill. If gas, leave the center burner off, and the adjacent burners turned on high. Allow the grill to preheat.
Remove the shrimp from the marinade and drain, discarding the remaining liquid. In a single layer, place the shrimp onto the center of the grill.
Place a small handful of soaked woodchips on each pile of charcoal, or place a foil pack of smoke wood over one of the hot gas burners. Cover the grill.
How To Make Buffalo Sauce That Bites Back!

Melt one stick or cube of butter in a saucepan and add one-quarter cup of your favorite hot sauce to the hot butter and stir well. Franks's © Red Hot Sauce is my favorite for making buffalo sauce, whether it's used for chicken wings or shrimp.
Serve Your Appetizing Shrimp Appetizers With Cool Stuff!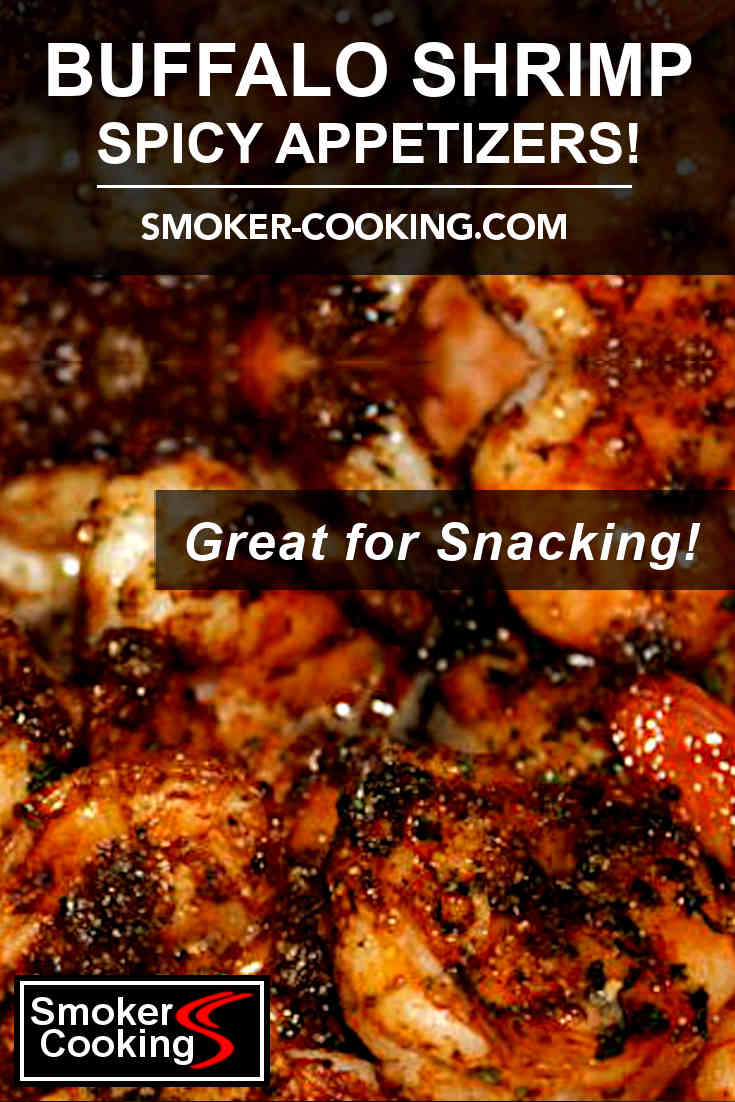 Remove the buffalo shrimp to a platter. Drizzle the buffalo sauce onto them. and serve with a bowl of cool, bleu cheese dressing. It's nice to include a side dish of celery sticks and baby carrots along with the shrimp, to help cool the peppery hotness.
To garnish, top the shrimp with a few chopped green onions or fresh cilantro.