This Sweet Cherry Lime Ham Glaze Is Great On Smoked Hams!

Author:  SmokerBill
Last Updated:  July 12, 2019

The perfect ham glaze is both acidic and sweet, and my cherry lime ham glaze covers those bases. It has a rich flavor that goes well with ham, whether it's baked in the oven, heated it in a grill, or given an extra layer of smokiness with a meat smoker.
The ingredients are easy to find and a snap to combine. And I know you'll be tickled cherry-red when you try this glaze recipe!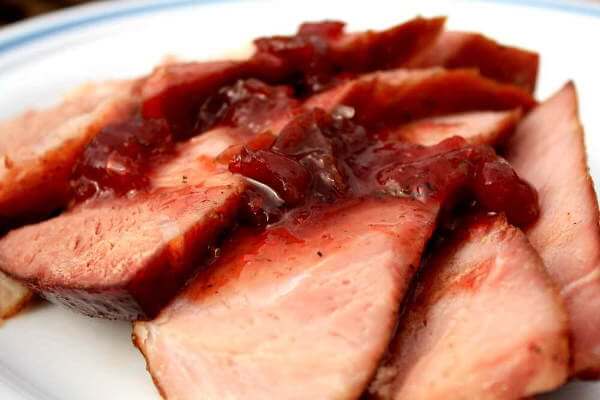 Use This Cherry Lime Glaze As a Sauce, Too
What Is Ham Glaze and Why Does My Ham Need It?
It's not a requirement that hams get the glaze treatment, but putting something on the ham will definitely make it better looking and a lot better tasting.
Glazes and coatings can be very simple or a major production. The choice (of recipe) is yours. This cherry lime ham glaze ranks at the "pretty easy to make" level of difficulty.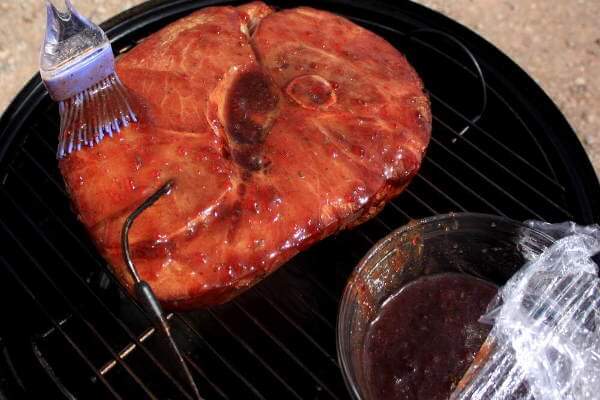 A classic method is to simply pack a layer of brown sugar on a ham when it's close to done. After another 20 minutes in the oven you've got sweetness mingled with the fat - a great combination!
To spice it up (literally), impale the ham's surface with whole cloves spaced a couple inches apart before sugaring it up. The spicy clove-iness is a soul mate to ham.
To go one step further, pin a few pineapple rings onto the ham with toothpicks, and maybe even a few Maraschino cherries.
But Wait! Where's the Ham Glaze?
I'm gettin' there! To continue...  the easiest, but not necessarily the best tasting glazes are pre-made and bottled, sitting right on your grocer's shelf. Try one. You may like it.
The best type of glaze, in my opinion, is the one you make yourself. It will typically contain something sweet - lots of something sweet - and something acidic to balance it out.
Sweeteners include sugar, usually brown, and/or syrups and/or honey. To get the tartness going, citrus juice is commonly used, as is pineapple juice.
A few seasonings can be added - but definitely NO SALT! The ham has plenty as it is. Black or white pepper and various spices and herbs are often used, but not in great amounts. Just enough to hint at their presence.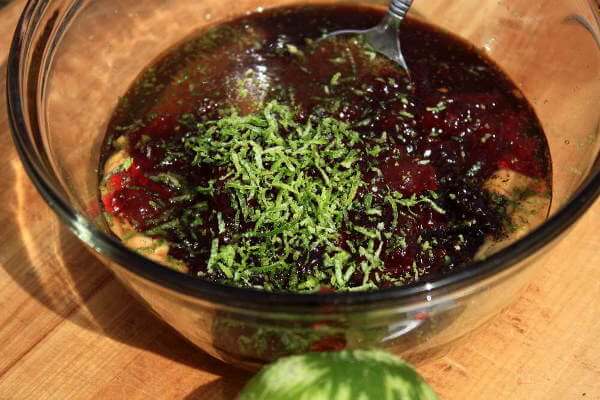 Prepared sauces and condiments can add deeper nuances to the glaze's glorious flavor. Mustard, ketchup, bbq sauce, steak sauce, Worcestershire sauce... you get the picture.
Depending on what you're after, one or two of these might be just what your ham glaze needs.

Now to the fancy stuff! Fruit jellies, jams and preserves give a ham glaze it's real character. Its raison d'être. Fruit and ham go together like, well... like they got that yin-yang thing going on. Perfect harmony of flavor.
And the whole point is harmony. The sweetness and the sour bite of a glaze goes along well with the salty, fatty, porky flavors of the ham. True bliss for the taste buds.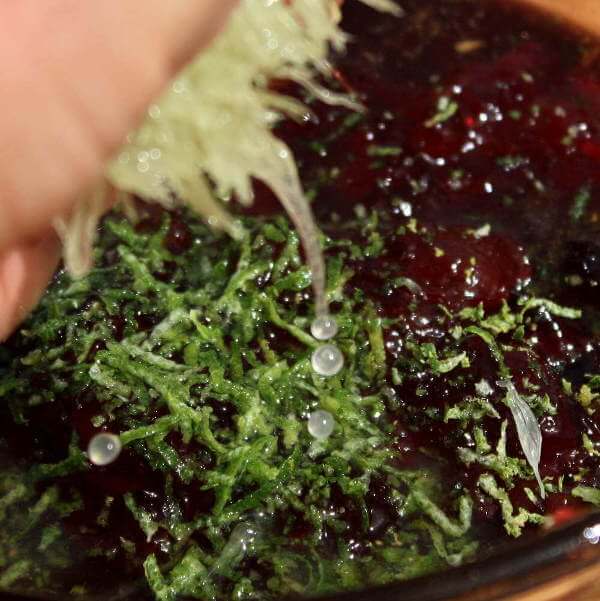 Sublime Cherry Lime Ham Glaze Recipe
Cherry preserves and fresh lime are the stars of this glaze recipe, adding mouthwatering flavor and a beautiful sheen to your baked or smoked ham. It also makes a really good sauce that adds an extra kick of flavor to your ham slice - or your ham slices - on the plate.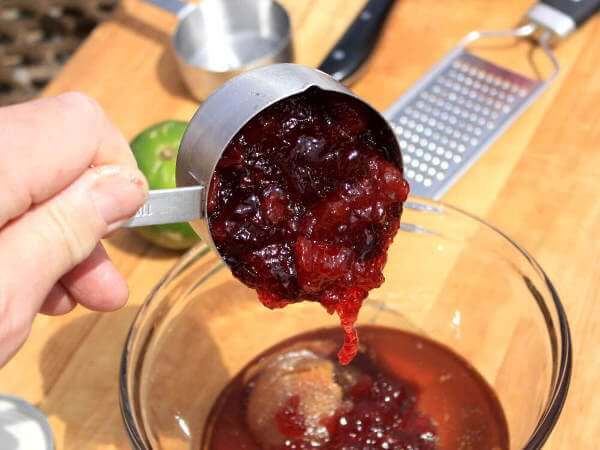 CHERRY LIME HAM GLAZE RECIPE INGREDIENTS



---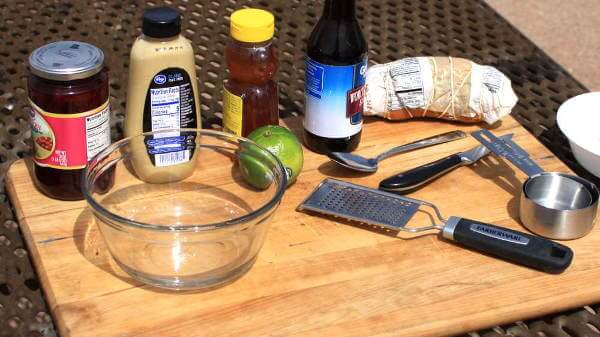 One-half cup of cherry preserves, containing whole cherries

One-quarter cup of dark brown sugar, packed

One-quarter cup of good quality honey. My preference - organic clover honey


2 tablespoons Worcestershire sauce



2 tablespoons Dijon mustard. Grey Poupon works well


One-half teaspoon of finely ground black pepper

Zested skin of half of a lime, approximately one teaspoon


Juice of half of a lime
This recipe makes enough glaze for one eight pound ham. Double the amount if your ham is larger, or if you want dipping sauce at the table.

* * * * *


THE VERY SIMPLE INSTRUCTIONS

---
Add all ingredients to a mixing bowl


Stir until thoroughly combined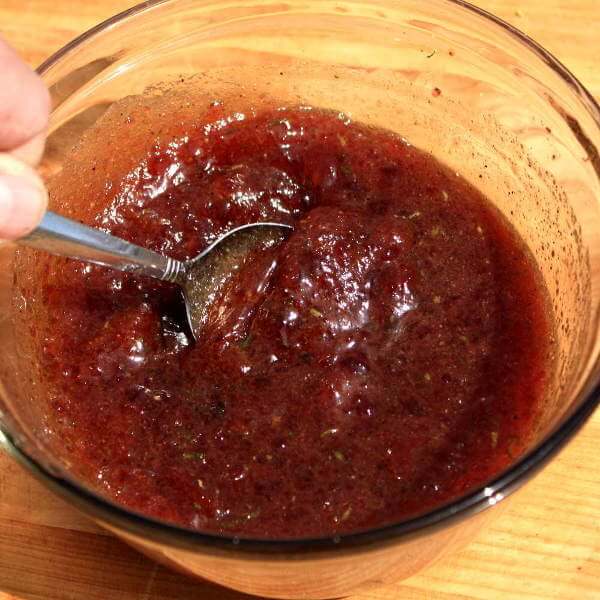 * * * * *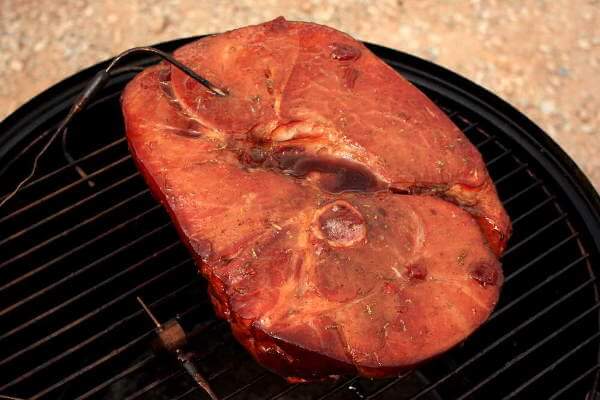 This recipe make about one and one-quarter cups of cherry lime ham glaze - enough to brush two coats on an eight pound butt or shank portion ham. There might even be a little bit left over for dipping.
TIP:  Heat the glaze for 15  seconds (longer if needed) in the microwave to loosen it up before it's brushed on the ham.

Create a Glaze of Another Color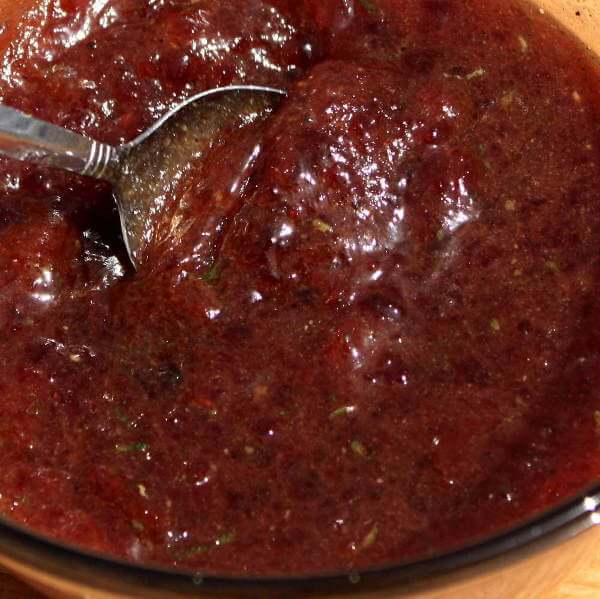 Feeling adventurous? If cherries aren't your thing, you could substitute a different type of preserves in their place. A couple of options include seedless red raspberry jam and apricot preserves.
Since this recipe is heavy on the citrus, I would not recommend using orange marmalade as a substitute.

Take a gander at variety of jams, jellies and preserves available at the store and you might be inspired!
Cherry Lime Ham Glaze Recipe

Category: Sauce
Method: Combine
Time: 30 Minutes
Yield: 1¼ Cups
Source: https://www.smoker-cooking.com

Recipe By: SmokerBill

The tart, sweet flavor of cherry lime ham glaze adds excitement to your smoked or baked hams. Try this recipe. You'll be glad you did!

---
Ingredients and Instructions
One-half cup of cherry preserves

One-quarter cup of dark brown sugar, packed

One-quarter cup of quality honey


2 tablespoons Worcestershire sauce



2 tablespoons Dijon mustard


One-half teaspoon ground black pepper

One teaspoon lime zest


Juice of half of a lime
Measure  ingredients into a mixing bowl.

Stir until thoroughly combined.

Warm cherry lime glaze in microwave for 15 seconds before brushing onto ham.



Feel Free To Share This Recipe File With Friends and Family!