Homemade Cherry Mango Salsa Adds Exciting Flavor To Meals

This sweet, tart and spicy cherry mango salsa recipe has tropical flavors along with the homegrown taste of Washington cherries. It's the perfect accompaniment to a variety of foods, and it's especially tasty when served atop a couple slices of smoked pork loin.

Vibrant Cherry Mango Salsa
It can also be served as a side dish, as a part of most any meal. I've discovered that it's an incredible topping for vanilla ice cream, too!
Try This Cherry Mango Salsa Recipe and
Experience Fresh Flavor

Fresh cherries are typically in season during the months of June, July and August. Mangoes are available year-round, but they are somewhat seasonal too, with harvest times depending on where they're grown.
In July, fresh Washington cherries and mangoes were on sale at the local grocery store so I decided that  it was high time for me to make a couple batches of cherry mango salsa.
Acquire Good Quality Salsa Ingredients

The salsa includes just a few seasonings that enhance the fruit without being overpowering.
kosher salt
coarse ground black pepper
chipotle pepper powder

The powdered chipotle adds just a touch flavor, with a little bite of heat. If you'd rather not include the spicyness, sweet paprika would be a good substitute.
A small amount of vegetable oil is added to give some smoothness to the salsa. Canola oil is ok, but you could use something with more flavor, like a good quality walnut oil.

Fresh Sweet Cherries Are Best For This Salsa Recipe

Sweet cherries are the way to go for this mango salsa. The type I've used are a variety called "Chelan". I'm going to give Bing cherries a try next time I make a batch.
Since mangoes can be acidic if they aren't totally ripe, using sweet cherries balances out the flavor. The lemon or lime juice used also needs some sweet counterpoint.

Pitting Cherries Against The Fork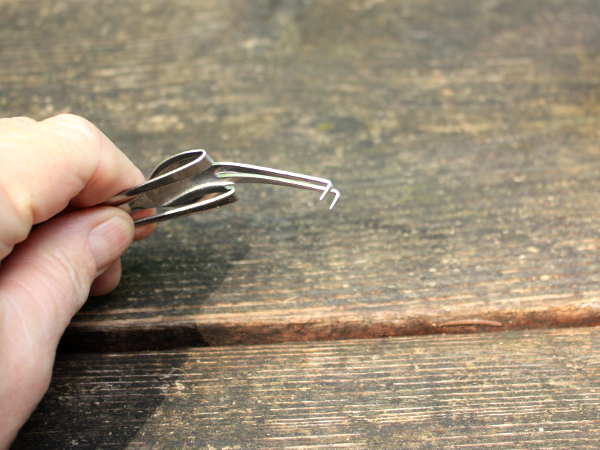 One part of this recipe is a little on the tedious side, and that's pitting the cherries. I didn't have a "real" cherry pitter on hand, so after a search on the internet I found a solution.
By bending the four tines of a flimsy, cheap dinner fork a certain way, a simple cherry pitter can be made. It actually worked pretty well once I got the hang of it. The only downside was that the juice from the dark red cherries stained my fingers. Oh poor, pitiful me!

Mango Mania, Or How to Cube a Mango

Mangoes are pretty new to me. I bought my first one four or five years ago, and still don't get them very often. It's not that I don't like to eat them. It's just that they are so... different than the fruits I usually eat.
The large, oval pit in the middle can be awkward to work around, and once you get the flesh off, dicing it takes some finagling if you don't know the tricks.
Cutting the flesh away from the seed simply a matter of slicing off the two outer-thirds of the fruit. Start at the stem end, with the knife going across the wider dimension of the mango. Slice downward, feeling for the pit, and continue sliding the blade along the pit until you hit the bottom. Repeat on the other side.
To cut it into cubes, take a butter knife to the flesh side, making a series of cuts down to the skin. Without piercing the skin. I make the cuts about 1/4 inch apart, both directions. And then the fun part!
Push on the middle of the skin side, and the flesh side will pop outward, exposing columns of mango fruit that can then be easily cut off into little squares.
I need to buy mangoes more often so I can perfect my skills!

Two More Ingredients To Consider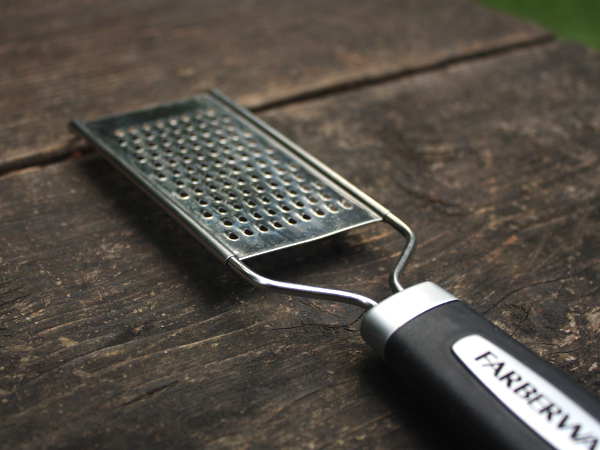 My Citrus Zesting Tool
For the citrus used in this recipe, either lemon or lime can be used. Lime is more traditional, but lemon will work in a pinch.
Using a planer, remove the zest from half the lime or lemon. No planer? Peel off the top layer of skin with a sharp paring knife (no white pith!) and chop it into a fine mince. Cut off the peeled half and squeeze out the juice.

The recipe calls for one teaspoon of chopped jalapeno pepper, but use what you feel is the right amount. Jalapenos vary in hotness. Give yours a taste, then decide how much to add.

Prep The Ingredients and Mix 'em All Up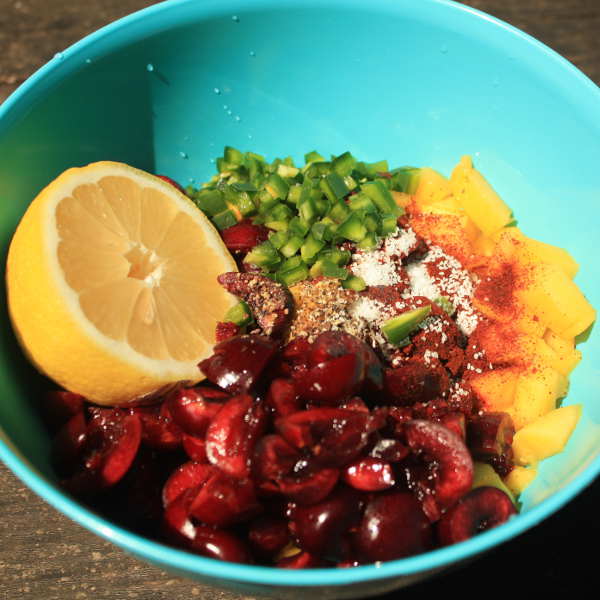 Got it all chopped up? Lime zested and juiced? Put it all in a bowl and mix away!

Serve Cherry Mango Salsa On Top or On The Side

Cherry mango salsa makes a tasty topper for slices of pork or beef, chicken and fish. It's can also be eaten as a side dish. It even makes a dandy dip for a tortilla chip. Or two.

Here's The Recipe!
CHERRY MANGO SALSA RECIPE INGREDIENTS



---
1 ripe mango, cut into quarter-inch cubes
1 cup of pitted, quartered, fresh sweet cherries
1/2 of a lime or lemon, zest and juice
1 tablespoon light vegetable oil
1 teaspoon jalapeno pepper, finely chopped
1/2 teaspoon chipotle pepper powder (or paprika)
1/2 teaspoon kosher salt
1/4 teaspoon ground black pepper

* * * * *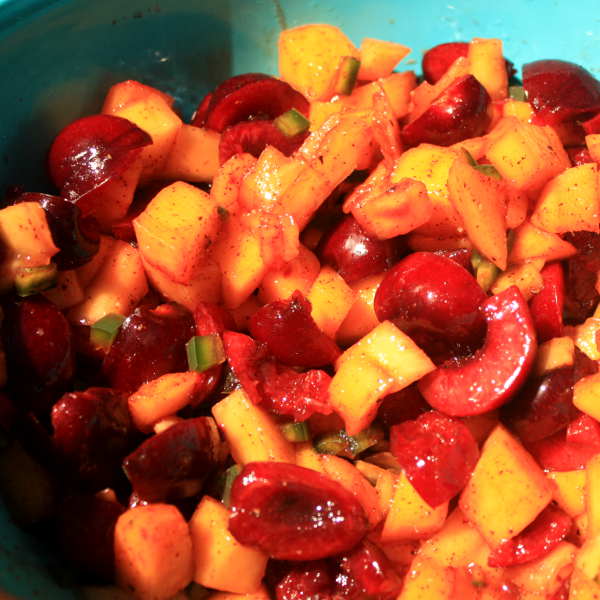 RECIPE INSTRUCTIONS


---
Cut mango into 1/4 inch cubes.


Pit cherries and cut into quarters (or a rough chop).


Zest and juice 1/2 of lime or lemon.


 Mince jalapeno pepper.


Combine all ingredients in bowl, mixing thoroughly.


Serve as desired!

* * * * *