Grill and Smoker User Manuals
Have you lost or misplaced your grill or smoker user manual, or maybe found a great garage sale deal and need instructions on how to use the smoker or grill? Whatever the reason, if you need a user manual for your cooker, this page will guide you to the manufacturers' websites where you'll find the original documentation of many popular grills and meat smokers. Once found, you'll be able to download the PDF file and then print it out if you want.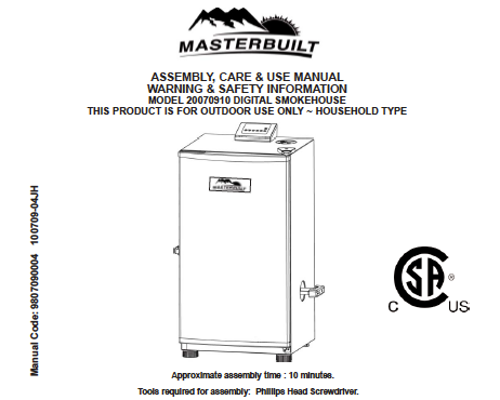 Sample Cover From Masterbuilt Smoker Manual
Manufacturer Manuals For Your Smoker or Grill

Lost Your Manual? Find It Here.

Bradley Smoker Manuals - This will take you directly to the Bradley smoker manual PDF file.

Brinkmann Grill and Smoker Manuals - Brinkmann Corporation has filed for bankruptcy and no longer sells grills or smokers. The Brinkmann website has closed down, so manuals are no longer available from that source.

Kalamazoo Grill Manuals - Manuals for Kalamazoo grills will be found here. Scroll down the page to the "Manuals" section.

Little Chief Smoker Manual - Manuals are no longer available from the Smokehouse products website. However, the Instructions and Recipes manual can be found at the Uncle Dave's Enterprise website, which is a very colorful site indeed!

Masterbuilt Smoker and Grill Manuals - This takes you to the Masterbuilt Search page. Check the boxes for Product Type and Support Type, then enter your grill or smoker model in the search box.

Napoleon Grill Manuals - Find manuals for Napoleon Prestige, Ultra Chef, Freestyle, Apollo, Mirage and Built-in Grills. You'll find the manual on the pages that show details for specific grills.

Smokin Tex Smoker Manuals - Smokin Tex makes a variety of electric smokers for the home, plus several models designed for commercial use. Find the manual you need on this page.

TEC Grill Manuals - Find manuals for the TEC Cherokee, Radiant Wave, Sterling and more here. Click on the "Manuals" button to find your manual.

Traeger Grill Manuals - Traeger pellet grill manuals...get 'em here!

Weber Grill and Smoker Manuals - On this page you choose either charcoal grills, or gas grills to get to your Weber grill manual downloads.

Wolf Grill Manuals - Find the grill manual you want in the "Select Wolf Cooking Product" drop-down list. Included are manuals for Wolf 36 inch and 48 inch grill carts and built-in grills.

On some of these pages, you'll need to do a search for the manual you are looking for. A few of them offer very little information other that one or two general instruction sheets. One or two ask you to contact their customer support department for the manual you want.
At the time I wrote this page, all of the the manuals were offered for free, but since I have no control over the policies of those web sites they may change their terms.

If All Else Fails, Look For Your Smoker or Grill User Manual Here
I found this website recently and it has quite a few user manuals available for smokers, grills and just about anything else you'd want a manual for.
Check out the lists of all brands of smoker manuals available, the charcoal grill manuals available, the gas grill manuals and the manuals for electric grills.
There are also manuals for grill accessories, firepits and turkey fryers. I was able to easily download the files for the smokers I own, however the file for Weber Smokey Mountain Smokers would not download successfully for some reason. I was able to find that one at the Weber website.
You Are Here: &nbsp

Home

> &nbsp