Cheesy Grilled Potato Wedges Have Great Savory Flavor

Red or white potatoes can be used for this grilled potato wedges recipe. The reds have a waxy texture, while the whites are more dry and mealy in texture.
I prefer using red potatoes for this recipe, because they are moister than russets after being grilled.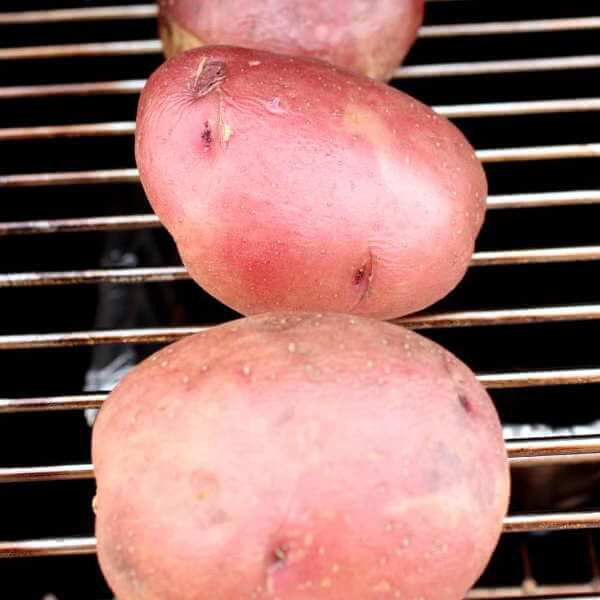 Whole Red Potatoes On The Smoker
Which Potatoes Should I Buy?

I like all potatoes, including red, white, blue, gold and even the sweet ones. And even though I prefer red potatoes most of the time, Russets are probably the most popular.
They have a drier texture when cooked, and that makes them perfect for soaking up good things like butter and bacon grease. And they are more tender than red potatoes and Yukon golds
Whichever type you decide on, pick through the pile for potatoes that are roughly the same size and shape. When cut into wedges they will all be close to the same size, and will cook in the same length of time.
Sweet potatoes and cheese don't mix in my book, but they do grill nicely. Cut them into even size chunks, and after grilling serve them with butter and brown sugar. Or honey. That's tasty!

Preparing Potato Wedges For Grilling
First step is washing the taters. I scrub the heck out of them with a clean washcloth or a vegetable brush. You don't want to bite into any dirt or grit if you can help it.

Cut the potatoes in half lengthwise, then cut each half lengthwise into 2 or 4 wedges, depending on the potatoes' size. I found that you end up with wedges of equal size doing it this way.
I've tried cutting potato halves into three wedges, and they all end up being different widths.

Throw the wedges into a bowl and give them a light coating of oil. Pour the oil over the potato wedges and toss them with a spoon or other utensil.
Combine the dry seasoning ingredients and sprinkle the mix into the oiled wedges. Toss them around until they are all evenly coated with the seasonings.
Ingredients For Potato Wedge Seasoning Mix

6 red or white potatoes
2 tablespoons vegetable oil
1 teaspoon onion powder
1 teaspoon paprika
1/2 teaspoon black pepper
1/2 teaspoon cayenne pepper
1/2 teaspoon of salt

12 ounces of shredded cheddar or jack cheese
Cooking Grilled Potato Wedges

Arrange the wedges on a baking sheet that'll fit into your grill, with the skin sides down. They can be cooked directly on the grill grate, but they tend to dry out a little more that way.

Place the pan in the grill, preheated to 300 degrees, and close the lid. Cook them for 20 to 30 minutes, until lightly browned and tender.
Tip them all over onto their sides, then cover them with the shredded cheese. Continue to grill for another 5 to 10 minutes until the cheese is just melted.

You might want to use a spatula to serve them, so you can scrape up the cheese that's melted onto the pan.