Herb and Garlic Grilled Shrimp Marinade
Full, fresh flavor fills this grilled shrimp marinade with loads of character. Three different fresh chopped herbs combined with oil, citrus juice, garlic, and a touch of chipotle pepper powder for smokiness make this seafood marinade recipe something special.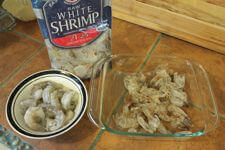 You can use any size of shrimp for this recipe, but for my money it's worth it to go with the big boys...extra jumbo or even colossal size.
The extra jumbos average 18 shrimp per pound, and the colossals weigh more than an ounce each. The large size means fewer shrimp to peel, and hey, giant shrimp (ain't that an oxymoron?!) are just plain impressive!

De-vein and and peel the shrimp prior to adding to the marinade.
Grilled Shrimp Marinade Recipe and Instructions

SHRIMP MARINADE HERBS
This recipe won't work with dried herbs. Gotta have fresh for this one.
MARINADE INGREDIENTS FOR TWO POUNDS OF SHRIMP
1 tablespoon fresh squeezed lemon juice


1 tablespoon lime juice


2 cloves garlic, finely minced


2 teaspoons kosher salt


1/2 teaspoon chipotle pepper powder


2 tablespoons fresh parsley, chopped


2 tablespoons fresh basil, chopped


1 tablespoon fresh oregano, chopped


1/2 cup vegetable oil


2 pounds peeled and de-veined shrimp extra large or larger


Add the lemon juice, lime juice, garlic, salt and chipotle powder to a mixing bowl. Whisk in the vegetable oil to make an emulsion. Stir in the chopped herbs, and it's ready for the shrimp.

Combine the the marinade with 2 pounds of shrimp. Or you can put it all in a gallon freezer storage bag, one of the best marinating containers around.
Marinate the shrimp for 15 minutes, drain, then grill over medium heat until firmed up and opaque. Serve immediately to your waiting guests!