Three Grilled Shrimp Recipes With Fantastic Flavor

Shrimp is a versatile and tasty seafood. The grilled shrimp recipes on this page take advantage of those qualities, preparing them in a variety of delicious styles. There's no better eating than a skewer full of grilled shrimp.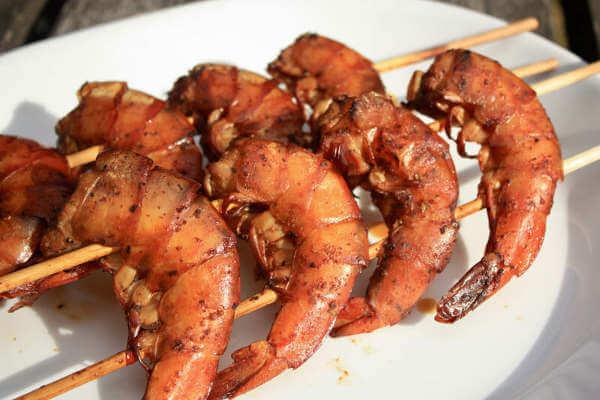 Stir fried with vegetables in China, cooked with garlic, tomato and feta cheese in Greece, or in a Spanish paella, shrimp is a favorite around the world.
It seems that the number of shrimp recipes is endless. Remember Bubba, Forrest Gump's Vietnam buddy? His list of ways to cook shrimp went on, and on, and on…


Types of Shrimp Available For the Grill

There are basically three types of shrimp…cold water shrimp, warm water shrimp, and freshwater shrimp. Most of the shrimp eaten in the United States are warm water shrimp, which includes white shrimp, brown shrimp and tiger shrimp.
The white shrimp is grayish white and turns pink when cooked. The flesh has a sweet taste and a firm texture. Brown shrimp are light brown when raw, and turn deep pink when cooked.
Tiger shrimp have black and gray striped shells, and when cooked turn a deep red color. The flesh of the tiger shrimp has a higher moisture content, and when cooked, shrinks more than the white and brown shrimp.



Buying and Preparing the Shrimp for Grill-Smoking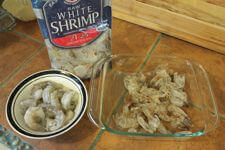 For grilled shrimp recipes, stay away from the small ones. Large, extra large and jumbo are easy to work with and go on skewers nicely.
Extra jumbo and colossal size shrimp are great for cooking individually. One pound of shrimp can serve 2 to 3 persons.
The shrimp can be grilled shell-on, or peeled and deveined before grilling. When cooked with the shell left on, the shrimp shrinks less, and many chefs believe the shell adds a lot of great flavor.
Peeled and deveined shrimp are much easier to eat, and absorb more flavor when seasoned or marinated.
Shrimp cook rapidly on the grill. As soon as the flesh turns white, they're done. And if they're cooked any longer, they quickly become dry and chewy.
Shrimp continue cooking for a short time after they are removed from the grill. Take them off just before the center is completely cooked, and they'll end up done to perfection.
Grilled Shrimp Recipes

Grilled Garlic Shrimp
Marinated in extra virgin olive oil laced with garlic, the shrimp is skewered and quickly grilled. Excellent as appetizers, or added to pasta along with a little salt, black pepper and olive oil. Mmmmm!
2 pounds jumbo shrimp, peeled and de-veined
1/4 cup extra virgin olive oil
6 cloves garlic, finely chopped
2 tablespoons fresh parsley, finely chopped
1/2 teaspoon salt
1/2 teaspoon fresh ground black pepper

Combine the olive oil, garlic, parsley, salt and pepper. Add the shrimp and let them marinate for one hour. Thread the shrimp on skewers and grill over medium high heat for 2 to 3 minutes on each side, or until done.



Skewered shrimp are easier to handle if two skewers are used for each serving. Run one skewer through the head end and another through the tail end of each shrimp. This way, you won't have "spinning shrimp" when you turn the skewers on the grill
Lemon Shrimp
You want big shrimp for this recipe. Colossals in the U/15 or U/12 size range are perfect. (U/15 means 15 or under per pound) Peeled, butterflied, marinated and grilled. It doesn't get any easier than this.
2 pounds of colossal shrimp
1/4 cup vegetable oil
1/4 cup thinly sliced green onions
3 tablespoons fresh lemon juice
2 tablespoons chopped parsley
1 teaspoon basil
1 teaspoon dried mustard
1 teaspoon salt
Peel, de-vein and butterfly the shrimp, leaving on the tails. Combine the remaining ingredients and add to the shrimp, marinating for four hours. Direct grill over medium heat for 2 to 3 minutes, or until done. These are great served on a bed on rice pilaf.


Grill Cooked Cajun Shrimp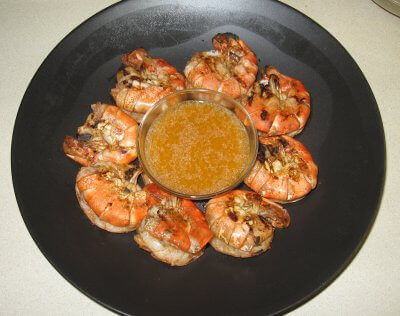 You'll need to make up a batch of Cajun seasoning for this recipe. Make extra because it's nice to have around! The shrimp are grilled shell-on, so eating them becomes an event.
4 pounds of jumbo shrimp, unpeeled
1/2 pound butter, melted
Cajun Seasoning


3 tablespoons paprika
2 tablespoons salt
1 tablespoon onion powder
1 tablespoon dried parsley
2 teaspoons garlic powder
2 teaspoons white sugar
2 teaspoons black pepper
1 teaspoon cayenne pepper(optional)
1 teaspoon basil
1 teaspoon thyme
1/2 teaspoon celery salt
Combine the Cajun seasoning ingredients. Mix two tablespoons of the Cajun seasoning into the shrimp. Place them in the fridge to soak up the flavor as you get the grill fired up.
You'll want direct, medium high heat. Grill the shrimp for 4 to 6 minutes, or until done. Melt the butter and stir in 1 teaspoon of the Cajun seasoning for shrimp dipping.
Serve 'em up on brown paper bags (or on a plate) with a side of red beans and rice and a bit of Cajun shrimp dip.