Liquid Smoke in Brine Recipe For Turkeys
by Geoff Cox
(Asheville NC)
Can you use liquid smoke in a brine recipe for a turkey for roasting in the oven?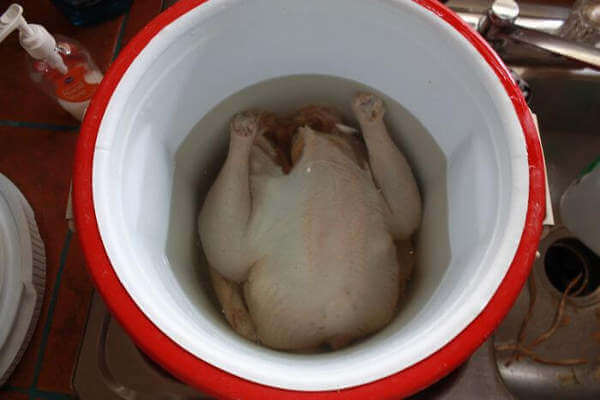 Comments for Liquid Smoke in Brine Recipe

more on liquid smoke
by: Condo cook

Since I've been cooking a smaller bird, 12 to 14 pounds, a lesser amount was called for..i did increase the amount for more flavor (1/4 cup is fine) along with adding apple juice, simply add a large can of frozen apple juice to the mix..along with the liquid smoke you will have folks coming back for more.
Just a reminder to start cooking the bird breast down at least an hour, then turn it breast up. If you don't want to bother, the turkey god will still shine upon you.   
Bon Appetite!
Using Liquid Smoke In Turkey Brine
Liquid smoke Brine
by: Anonymous
I use 4-6 oz of liquid smoke in my brine.I usually have around a 25 lb turkey.
Adding Liquid smoke to Turkey
by: Condo cook
I have added liquid smoke to my brine for several years now. I think its better if you add 1 1/2 tsp to 1 Tbs to the brine..Even after brine is prepared you can adjust it by tasting the liquid after it cools.
Also there are more varieties of smoke flavors on the web. WWW.colgin.com is one. They offer apple, pecan flavors not available in the stores.
I agree its not the same as in a smoker or on the grill,but i get know complaints from our guest.
Liquid smoke in brine recipe followup
by: Geoff C
Well, I added 1 1/2 teaspoons of liquid smoke to the brine and it came out ok, but not enough smoke flavor. Next time i will try 2 or 3 teaspoons. Turkey turned out real moist and did not last 2 days before devoured.
Flavoring Turkey Brine With Liquid Smoke
by: Bill
If you can't cook your turkey in the smoker, or grill-smoke it, using some liquid smoke in the turkey brine is the next best thing. It's not going to taste like a genuine smoked turkey, but it'll be good, just the same.
Use 1 1/2 teaspoons of liquid smoke per gallon of brine, and if that suits your taste, stay at that amount the next time you flavor a turkey with liquid smoke.
If the smoke flavor is too light for your taste, increase the amount of liquid smoke added to the brine.

You Are Here: &nbsp

Home

> &nbsp