Liquid Smoke in Brine Recipe For Turkeys
by Geoff Cox
(Asheville NC)
Can you use liquid smoke in a brine recipe for a turkey that will be roasted in the oven? How much liquid smoke should be added to the brine?
I want to have a smokey tasting turkey for Thanksgiving and I don't have access to a smoker. I've roasted turkeys in the oven many times, so I think that flavoring it with liquid smoke in the brine should work.
Thanks!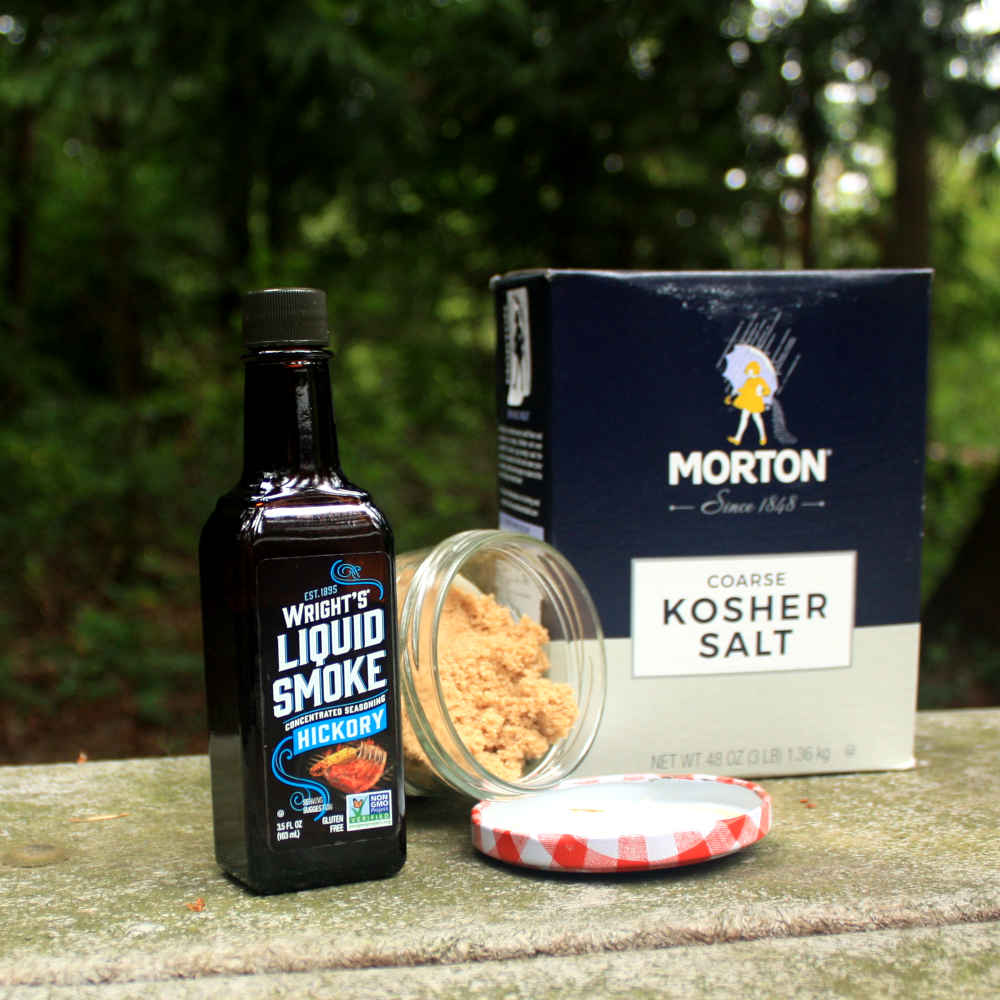 Wright's Liquid Smoke With Sugar and Salt
Comments for Liquid Smoke in Brine Recipe
More on liquid smoke
by: Condo cook

Since I've been cooking a smaller bird of 12 to 14 pounds, a lesser amount was called for. I did increase the amount of liquid smoke for more flavor (1/4 cup is fine) along with adding apple juice.
I simply add a large can of frozen apple juice to the mix along with the liquid smoke. The finished turkey has great flavor and you will have folks coming back for more.
Just a reminder to start cooking the bird breast down at least an hour, then turn it breast up. If you don't want to bother, the turkey god will still shine upon you.   
Bon Appetite!
Adding Flavor to Brine With Liquid Smoke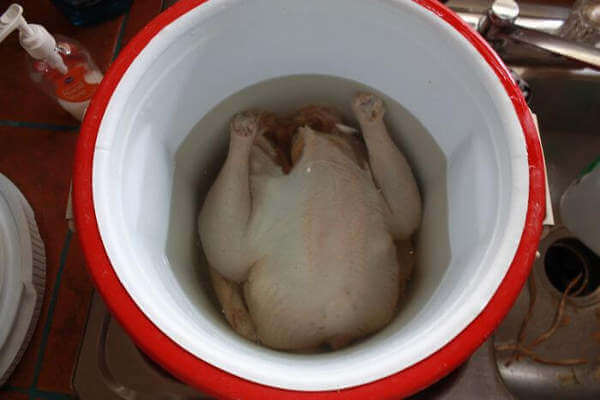 Turkey In Chilled Brine Spiked With Liquid Smoke
Liquid smoke Brine
by: Anonymous
I use 4 to 6 oz of liquid smoke in my turkey brine. And I usually cook a large turkey. 
The last on weighed in at 25 pounds!
Adding Liquid smoke to Turkey
by: Condo cook
I have added liquid smoke to my brine for several years now. I think its better if you add one and one-half  teaspoons to two tablespoons in the brine recipe.
Even after brine is prepared you can adjust it by tasting the liquid after it cools.
Also there are more varieties of smoke flavors on the web. Check out Wright's website. They offer flavors other than hickory online, including apple, mesquite.

I agree it's not the same as in a smoker or on the grill, but I get no complaints from our guests.
Liquid smoke in brine recipe followup
by: Geoff C
Well, I added 1-1/2 teaspoons of liquid smoke to the brine and it came out ok, but not enough smoke flavor.
Next time I will try one or two tablespoons. The turkey turned out really moist and it did not last 2 days before being completely devoured!
Flavoring a Turkey With Liquid Smoke
by: Bill
If you can't cook your turkey in the smoker, or grill-smoke it, using some liquid smoke in the turkey brine is the next best thing. It's not going to taste like a genuine smoked turkey, but it'll be good, just the same.
Use 1 and 1/2 teaspoons of liquid smoke per gallon of brine, and if that suits your taste, stay at that amount the next time you flavor a turkey with liquid smoke.
If the smoke flavor is too light for your taste, increase the amount of liquid smoke added to the brine.

Using Liquid Smoke With a Dry Brined Turkey
Turkeys Can Be Dry Brined, Too!
Dry brining a turkey is much easier than hassling with wet brining. No bucket is needed, but you will need plenty of space in your refrigerator.
There are two ways to apply the liquid smoke flavor when dry brining, brushing it on or using a spray bottle. I prefer spraying it on because it's much easier to get it inside the turkey body cavity.
Mix the liquid smoke with an equal amount of water before application. I use one tablespoon of liquid smoke to flavor a large size turkey of 16 pounds or more. Two teaspoons is about right for smaller turkeys.
After brushing or spraying the turkey with liquid smoke, sprinkle on the correct amount of kosher salt for dry brining, seal the turkey in a leak proof bag and refrigerate the whole thing overnight.
Dry Brining a Turkey
Durable Oven Bags Are Great For Brining
I use about 1/2 teaspoon of kosher salt per pound of turkey weight. A 12 pound bird gets 6 teaspoons, which is the same as 2 tablespoons of salt. Get some of that salt into the body cavity.

I like to use the plastic cooking bags because they are tough! You can find them near the aluminum foil and waxed paper in the grocery store.
You Are Here: &nbsp

Home

> &nbsp