Succulent Smoked Santa Maria Tri Tip Recipe

If you've never experienced the flavor of a smoked Santa Maria tri tip roast, it's high time you did! Originating in 1800's California, this style of cooking beef tri tip roasts has continued in popularity, and for good reason.
Simply seasoned and kissed with smoke from an oak fire, the flavor is incredible!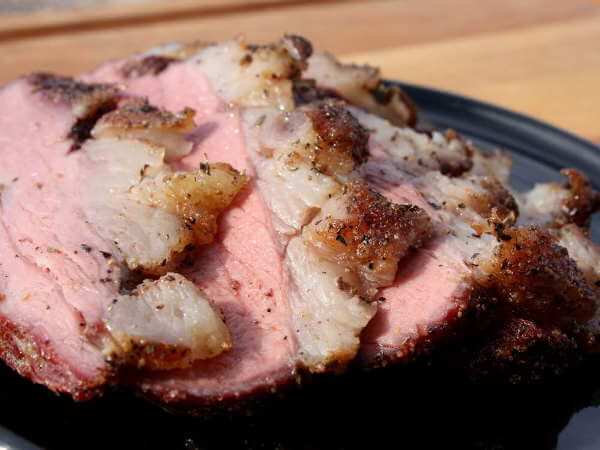 What Is a Santa Maria Tri Tip?

A tri tip is a cut of beef taken from the bottom sirloin of the steer. A layer of fat covers one side  of the roast. Weighing approximately 2 pounds, it's the perfect size for the smoker.
It's a great piece of meat whether it's cooked to rare or to medium doneness, so it doesn't take a long time to finish.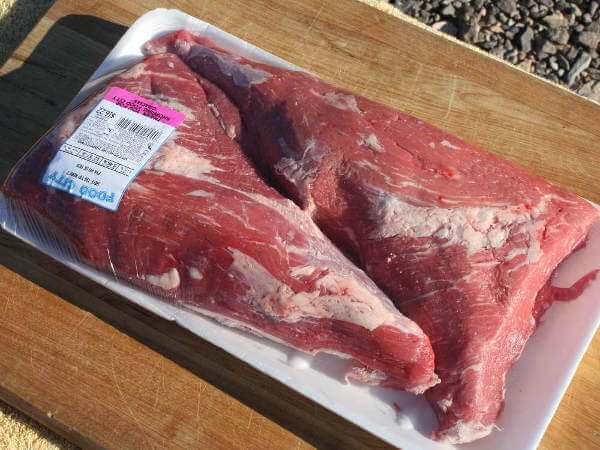 The Santa Maria method of cooking a tri tip consists of grilling the beef, seasoned simply with salt, pepper and garlic, over an open bed of oak coals.
Traditionally served alongside beans, a green salad and toasted French bread, this dish has been enjoyed for many years.
To make a smoked Santa Maria tri tip, adjust your smoker to a higher temperature than you'd use for low-and-slow barbecuing. Use red oak wood chips or chunks to add the great smoky flavor.
SMOKED TRI TIP INGREDIENTS

---

* * * * *
PREPARATION AND SMOKING INSTRUCTIONS

---
Score the fat covering the tri tip in a cross-hatch pattern. Doing this has two benefits - it allows the seasoning flavors to reach the meat and also helps the fat melt more quickly.


Combine the rub components and season the roast on all sides. Wrap in plastic film and set it aside as your prepare your smoker. During this time, the rub flavors will be partially absorbed into the meat.


Set up your smoker to cook at a high temperature, preferably around 300° Fahrenheit. Use red oak wood as a source of smoke flavor.


Place the seasoned tri tip in the smoker, fat side up. As the fat melts during cooking, it bastes the roast with great flavor as it smokes. If you have a remote smoker thermometer, insert the meat probe into the center of the thickest part of the meat.


Smoke the Santa Maria tri tip for 2 to 3 hours, maintaining a light amount of smoke for the entire time.Monitor the meat temperature.


Remove the tri tip to a serving platter at approximately 125° for rare, 135° for medium rare, or 145° for medium. (I prefer mine cooked to medium rare.) Cover loosely with aluminum foil and allow it to rest for about 10 minutes.


Slice and serve along with your favorite side dishes.
* * * * *
My Smoked Santa Maria Tri Tip
To smoke my latest tri tip, I used my newest meat smoker, a Char-Broil gas smoker. It works well, reaching the higher temperate needed for this recipe easily, although I had to devise a wind break to block the gusts of wind here in the Arizona desert.
The actual cooking time for my roast was right at 2.5 hours, and it was cooked to a 130° internal temperature - just between rare and medium rare.
The flavor was great, as was the texture. There were a couple of chewy spots in the roast, but overall it was tender, juicy and flavorful.
Another one of these roasts is hanging out in my freezer, so I predict that I will be enjoying a smoked Santa Maria tri tip again in the near future.