Smoked Bacon Brisket Recipe

A well smoked brisket is a treat indeed, but a smoked bacon brisket takes it to a whole other level. If you like brisket, and if you like the taste of bacon, you'll like what this recipe does for a smoked beef brisket.
This is a fairly simple recipe, with most of the added flavor coming from the bacon. Use a very good quality bacon with this recipe for the best results.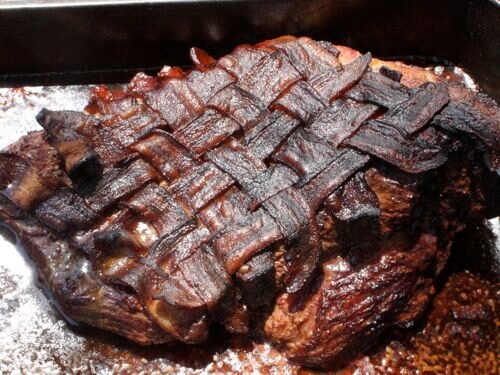 Smoked Bacon Brisket

INGREDIENTS
One large beef brisket
One pound of good bacon, sliced
One large white onion
One tablespoon each of salt, pepper and brown sugar
With a slender bladed sharp knife create a pocket in the center of the brisket. (If you've seen stuffed pork chops, it's the same principle, just on a grander scale.) Push the blade into the thick side of the brisket and make a slit about 4 inches long. Enlarge the slit into a pocket that reaches almost to the ends and the opposite side of the brisket.
Chop the onion and the sliced bacon into half-inch pieces, then stuff them inside the brisket. Try to even the bacon-onion layer out within the pocket. Using a bamboo skewer, "sew" the 4 inch slit closed.
Combine the salt, pepper and brown sugar and use as a simple dry rub on the exterior of the brisket. Place the brisket in your smoker and cook until the internal temperature reaches 190-200 degrees Fahrenheit. You want the brisket to get plenty hot so the bacon fat melts and flavors the meat.
Turn the brisket several times as it smokes so the bacon fat has a chance to flavor both halves as it drips down. Wrapping the brisket in foil after the first four hours of smoking will give the brisket more bacon flavor, and it'll get done sooner, too.

---