Great Tasting Smoked Chili Recipe

After the ice storm last weekend, I decided a pot of smoked chili would hit the spot. I sorely needed a rib sticking, spicy meal to take the chill out of my old bones.
And I figured "heck, if I'm making chili I might as well do it right and smoke the ground beef to make it special".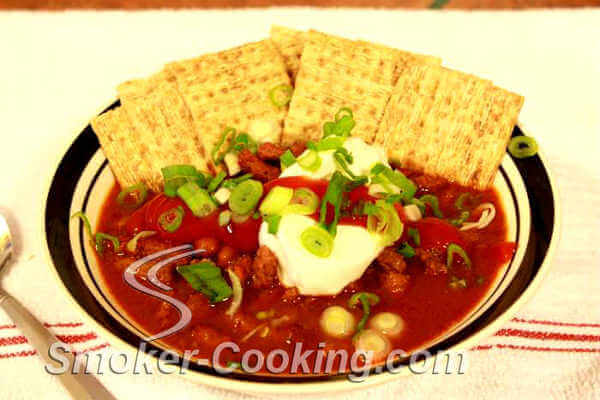 Smoked Chili - Spices and Seasonings
As you can see in the picture, all the dry spices, garlic and onions have been added to my cast iron braising pan. The garlic and onions become tender, and the flavors of the spices open up, or bloom, as chefs might say.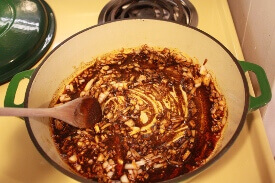 Many of the flavor and aroma components in spices are fat soluble, so when heated in oil all that flavor is released. The heat is set to medium low, and this group of ingredients is sauteed for just a few minutes.

Smoking Chili Meat
The chili meat was place in my new Weber vegetable grilling pan. Setting it on a raised rack placed in a baking sheet kept my Weber grill nice and clean.
I used one charcoal basket filled with pre-lit lump charcoal, and topped it off with a foil packet containing 4 Bradley-style smoker wood Bisquettes - Jim Beam flavor, no less!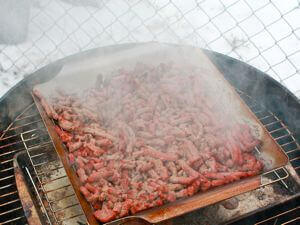 The intake vents at the bottom of the grill were left wide open, and the lid vent closed halfway. An important point to remember is to position the lid vent on the side opposite the basket of charcoal. This assures that the smoke has to travel across the meat before it makes its escape.
Making Smoked Ground Beef

When the ground beef has slightly browned, remove it from the grilling pan to a bowl.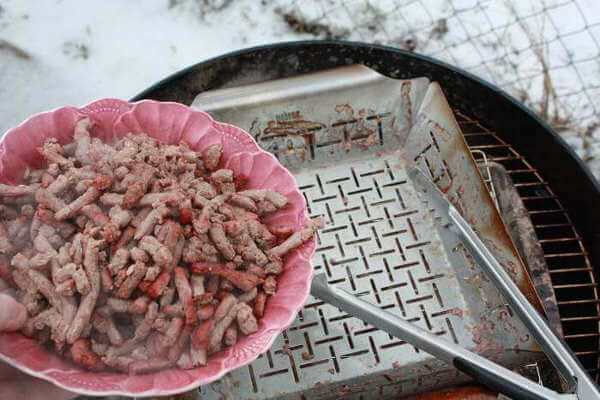 Don't overcook the ground beef. All it needs is 20 or 30 minutes of smoke contact to get a smoky flavor, and during that time it will be almost done.
Any more than that and the meat will become dry, tough, and lose a lot of great flavor from the loss of juices. It will finish cooking when simmered with the rest of the ingredients.

Finishing the Smoky Chili
A few more ingredients go into the spice and oil and garlic and onion mixture now. Add the tomato paste, tomato sauce, chicken stock, a bit of vinegar, sugar and salt.
Now, dump in the meat, and dump in the beans, if you're so inclined (beans are optional, but if not added, cut the amount of chicken stock in half). Gently stir it all up, cover the pot, and let it simmer on low for about a half hour.
Serve with crackers, or even a batch of fresh cornbread hot out of the oven. For me, a dollop of sour cream, a slurp of ketchup and a few chopped green onion pieces make this dish complete. And now the recipe...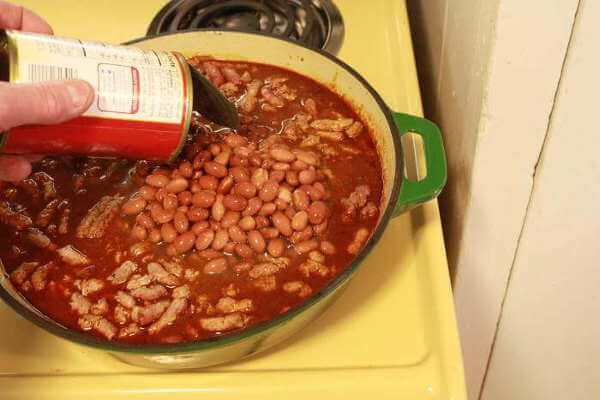 BEANS ARE OPTIONAL!
Smoked Chili Recipe
INGREDIENTS
3 pounds lean ground beef, chili grind
3 T chili powder
3 large cloves garlic, chopped
3 T olive oil
1/2 medium onion, diced
1 tsp black pepper
1/2 tsp salt
1/2 tsp allspice
1/4 tsp cinnamon
1/8 tsp ground red pepper
2 T tomato paste
1 small can tomato sauce
2 cups chicken stock (1 cup if no beans added)
1 tsp sugar
1 tsp vinegar
2 cans red beans, optional
Light charcoal, begin smoking the ground beef.

Preheat cooking vessel, add oil, then garlic and onions and cook for 2 to 3 minutes.

Add all the dry spices, cook another two minutes.

Add tomato products and chicken stock, sugar and vinegar.

Mix thoroughly and keep at a low simmer until ground beef is smoked and ready to add.

Add smoked hamburger and the optional bean, stir, simmer 30 minutes, and enjoy.
One last important point - The smoked chili will be good right off the stove, but it's better if cooled, refrigerated overnight, then reheated the next day. Why, I don't know. But just trust me on this one.
If you want to stretch out all that great flavor, use this smoked chili as a spaghetti topping, Cincinnati style. And don't forget to top the chili with sour cream and chopped green onions.