Smoked Jamaican Jerk Chicken Recipe

With flavors from the Caribbean, this smoked Jamaican jerk chicken has flavor to spare. The wet jerk rub contains a Scotch bonnet pepper for extra flavor and zing.
Use a cut up fryer chicken for this recipe. When the chicken is cut into pieces, more surface area is exposed for maximum flavor from the jerk rub and the smoke.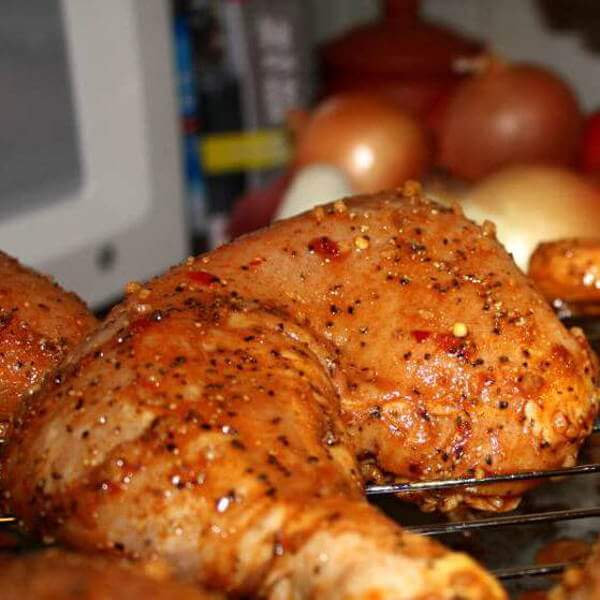 Jerked Chicken Leg Quarters Ready For Smoking
What is Jamaican Jerk Cooking?
There are different thoughts as to the origin of jerk style cooking. It's possible that it originated from the cuisine of slaves that were forced to work on the island.
Without access to the ingredients used in their native homeland, they substituted local, available ingredients that provided a similar flavor.
And there's also a theory that jerk cooking was practiced by the indigenous peoples of the island, and was "discovered" and became more widely known and practiced.
Whichever is correct, it's a good thing that this style of cooking wasn't lost in the pages of history.

Which Chicken Is Best For Jerking?

Chicken halves do well  when cooked with this method, but I prefer using the same pieces that would be used for fried chicken.
Thighs are my favorite. The dark meat has a rich flavor that holds up well to the spicy Jamaican jerk rub.
Smoked Jamaican Jerk Chicken Rub
INGREDIENTS:
One whole white onion, chopped
Six green onions, chopped
Two Jalapeño peppers, chopped
One Scotch bonnet or Habañero pepper, seeded and chopped
Two teaspoons salt
Two teaspoons chopped garlic
One and one-half teaspoons allspice
One teaspoon dried thyme
One teaspoon dried oregano
One teaspoon ground cumin
One teaspoon black pepper
One-half teaspoon nutmeg
One-half teaspoon cinnamon
One-quarter teaspoon ground cloves
Add all ingredients to a blender and process until smooth. If the mixture is too thick, add just enough water to loosen it up.

Preparing The Chicken For Smoking

Jerked chicken halves make for an impressive, and large, serving! Smaller sections of chicken will cook a little quicker, and if you're smoking a single cut of chicken the pieces will all be done at the same time.
Start by trimming off excess skin and fat, then give each piece a generous coating of the rub paste.
Place the seasoned chicken in a covered dish or a large food storage bag and pop it in the refrigerator. Let the chicken marinate in the spicy brew at least four hours, up to overnight.

Smoking Jerk Chicken

Once the chicken has marinated, it's time for the smoker. Position the pieces on the rack of your smoker, preheated to 250° Fahrenheit.
To be truly jerked, the chicken has to be layed directly onto pimento wood sticks or chips, which can be purchased, but they cost a pretty penny. Bay leaves and branches are also used in Jamaica for jerking.
For an alternative to pimento wood, use whole allspice berries and bay leaves as a smoke source. Those will give the chicken something similar to the aroma and taste of authentically prepared jerked meat.
Make a few foil packets containing water-soaked allspice berries and bay leaves, and lay them, one at a time, on top of the charcoal to provide the spicy smoke.
Smoke the chicken until the breasts reach 160° and the thighs and legs reach 170°. To finish, place the chicken onto a hot grill, over direct heat, for long enough to crisp up the skin and get some charring.