Mesquite Smoked Leg of Lamb

Lamb. Some folks love it, and others just don't appreciate the flavor. No matter your mindset, smoked leg of lamb is a recipe you may really enjoy, even if you never really cared for its taste before.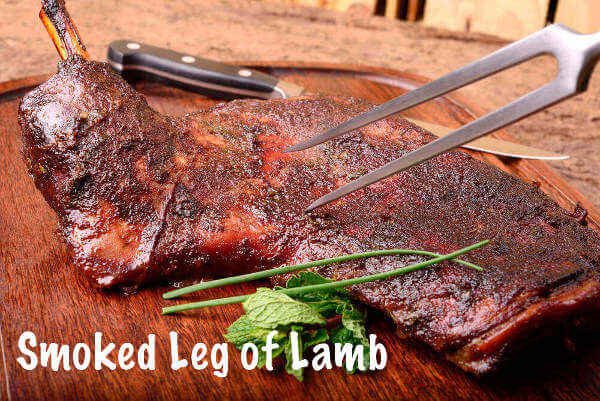 Because of its smaller size, lamb can easily be grill-smoked in a Weber kettle. A boneless leg of lamb can weigh as little as 5 pounds, and fits easily on smaller grills, even when set up for indirect grilling.
The layer of fat on the outside is a nice bonus, which makes it ideal for the grill or smoker. The boneless meat is tied into a uniform shape using string or a string-mesh bag. The consistent shape ensures even cooking.


Smoked Leg of Lamb Recipe
If your boneless leg of lamb had been tied, remove its bindings so it's easier to marinate. After it's been marinated, tie it back together and season its exterior with a bit of herb-rich dry rub.


Leg of Lamb Marinade Recipe
1/2 cup white wine
1/4 cup red wine vinegar
1 tablespoon garlic salt
2 teaspoons sugar
1 teaspoon black pepper
1/2 cup extra virgin olive oil
Untie the leg of lamb, and marinate for 4 to 6 hours. Remove and drain. Tie back together into original shape. Pat exterior dry.


Leg of Lamb Dry Rub Recipe
1 tablespoon onion powder
2 teaspoons dried rosemary leaves, crushed
2 teaspoons dried marjoram
1/2 teaspoon garlic powder
1/2 teaspoon black pepper

Combine ingredients, mix well. Smear a light coating of Dijon mustard (yellow mustard will do) on the lamb, then sprinkle the meat with the dry rub. Why mustard? It acts as sort of a "dry rub glue".


Smoking the Leg of Lamb
When using a smoker, get the smoke chamber temperature up to between 275-300 degrees Fahrenheit if you can. If not, you'll just have to cook for a longer amount of time.
If using your grill, use the indirect grilling method, and aim for a grill temperature of 325 degrees. Place a pan underneath the leg of lamb to catch juices that can be used for a sauce or gravy.
Use a small amount of mesquite wood for smoke (oak if fine too). Burning rosemary adds a unique flavor. You can lay branches of fresh rosemary directly on charcoal, or wrap fresh (or dried) rosemary in foil and use just like foil packets of smoker wood.


When Is Lamb Done?
Lamb is best when served at medium-rare (130˚ to 135° F) to medium (140˚ to 145˚F) in doneness. The smoked leg of lamb is done when its internal temperature reaches a temperature 5 degrees under your target done temperature.
The temperature will rise about 5 degrees as the meat rests for 20 minutes (a must-do step) before slicing and serving.


You Are Here: &nbsp

Home

> &nbsp