Smoker's Not Smoking Using Masterbuilt Electric Smoker
Deb C. wrote:
I'm a newbie at this. I received a Masterbuilt electric smoker for Christmas. I did a ham which turned out great, using apple wood chips. I'm doing a brisket with hickory chips but the smoker's not smoking enough.
MASTERBUILT WOOD CHIP LOADER
Is it just because of the difference in wood type or am I doing something wrong? I soaked the chips overnight like the Masterbuilt web site instructed, but now I'm wondering if they're too wet to burn.
Wetting the woodchips can impede smoke production. Using dry woodchips gives much more reliable results.
Comments for Smokers Not Smoking Using Masterbuilt Electric Smoker
Proper Smoke
by: Anonymous
Just bought a Masterbuilt 30 electric and have smoked most everything; folks at work love me!! Here are a couple of ideas for producing proper smoke at all temps:
1. Place a piece or two of regular charcoal in the hopper, let them warm up a bit, then add the chips
2. Don't soak the chips at low temp, I don't soak them at any temp
3. I wanted oak, and the only oak available was in a small disc form made for a particular smoker. I used it anyway, and found that it produced a great smoke. I am going to pick up other wood flavors.
4. Some folks recommend pellets, haven't tried yet, but it makes sense.
5. Just because you can't see the smoke, doesn't mean its not working.
no smoke at low temps on MB 30 inch
by: Palladini
You folks who say The MB 30 produces no smoke, I own one and have solved that problem with small propane torch. I pull my chip loader out, load it up, light the propane torch, put it to the chips, get them lit, then dump them in. I can smoke at 100 degrees, no problem doing that.
Make it smoke
by: Anonymous
I had an older unit without the glass and it smoked up a storm. A couple of notes (1) the old one had a much larger smoker box and (2) the smoker box directly contacted the burner. When I finally needed a new one (ex-wife got the old one) I got the one with the window. No smoke at low temps.
The issue is the burner is 1/4" to 3/8" below the bottom of the smoke box. I found there was a small bracket in the front holding the burner down (one screw). I removed the bracket and then reinstalled it under the burner to hold the burner up. The burner now contacts the smoker box and smokes like it should.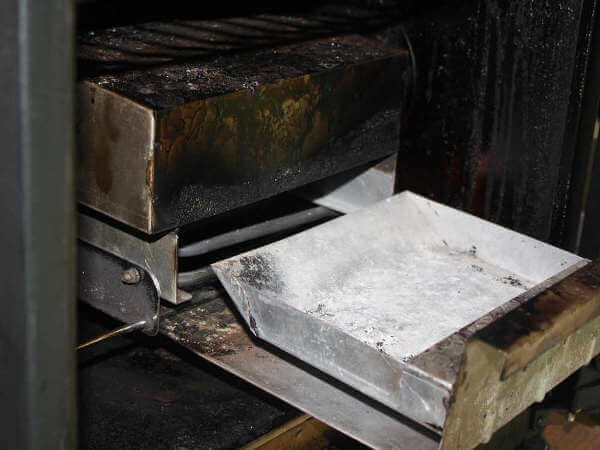 Space Between Heating Element and Wood Chip Tray is Critical
Adjusting The Chip Tray Could Alleviate This Problem
I just wanted to let the people out there struggling with their non-smoking Masterbuilts. I purchased one about 4 months ago and it worked fine. Then it stopped smoking.
The problem is the chip tray needs to rest on the burner element. It is designed to "spring" onto it, but after some use it must loosen and the tray will rise off of the element, which does not allow enough heat to get to the chips. You just need to bend it back in place.
This is a design flaw, and Masterbuilt should provide a fix. As far as adding air or propane, those things are not necessary. Just make sure the tray is relatively clean, and touching or as near to the heating element as possible.
If you want more smoke, open the vent; this will keep the element on longer; the smoker will not smoke unless the element is full on (takes at least 600degF). Hopes this helps.
Smoke it up.
Woodchip Tray Insertion Port
taking too long
by: RKTK
I have used my Masterbuilt electric smoker several times. EVERYTHING I smoke is taking several hours longer than recipes say it should. I have plenty of smoke coming out with the vent open about halfway. What am I doing wrong?
Preheating
by: Anonymous
I preheat my chips at a little higher temp before putting my meat in. I then lower the heat and add chips as needed. By the way I also got rid of the original solid box and made a mesh box the same size out of heavy gauge steel mesh.
Make sure that the steel is clean and suitable for food prep. My smoker works like a champ now. I also do not soak my initial chips but do soak the ones after the others are slightly glowing.
Smoke Generator
by: Anonymous
Get the MasterBuilt electric smoke generator kit. The smoke that it makes enters the smoker thru the hole on the lower side of the box (wood chip tray removed). It works great! I get all the smoke that I want and, along with the smoker's temperature control system, I can smoke/cook at any temperature including cold smoking. I added a double 1/8"x1/8" mesh wire screen over the generators wood chip screen and use wood pellets. I've seen these generator for as low as $50.
smoker
by: Anonymous
My master built works great
You don't soak wood chips on a electric smoker and if more smoke is needed add more chips as smoke slows down.
Masterbuilt 30" electric smoker
by: Kenny
The Masterbuilt 30" analog unit sucks and do not waste your money on this particular MB unit. A smoker is suppose to smoke and this unit does not unless it's cranked up to high. What recipe does anyone have that you cook something on 450 + degrees?
Everything I cook is slow and steady at 200-225 and there is no smoke at these temps. I kick myself now for not spending a little extra money and buying a better unit. This was rated good for the price, but I already have another unit that cooks at the desired temps, it's call an oven. VERY disappointed !
Bought an A-Maze-N pellet burner and was very excited that my problems were solve. Disappointed again because the burner went out 20 min after closing the door on the unit, not enough airflow to keep it lite I'm guessing. After my chickens were done, I lite the A-maz- n again, leaving the door open and it burned all the pellets completely.
Any help is welcome! Where can I modify this unit by drilling vent holes? Any other mods that might help?
Masterbuilt Electric Smoker woes
by: Anonymous
After playing around for a few weeks and wasting a lot of money in ruined salmon and brisket I have decided to send mine back before the 30 day window was up and do so more research.
I already have a propane smoker and besides having to fiddle with the temp a lot and also going through a lot of propane, especially when cooking something like a pork butt, it works great and produces great smoked meat.
The whole reason for trying out electric is that I thought it would require a lot less intervention during the cooking process.
Anyway, so the one I bought is the newer style Masterbuilt 30" Electric Smoker (Model 20070213). The one with the panel in the front.  Here is my experience:
Salmon: Set the unit to 180 degrees. Noticed that the unit actually goes up to around 223 - 225 degrees then shuts off for a long time to cool it back down to 180. Vent is open. No smoke at all.
Took the woodchips out after a while and they looked pretty much the same as when I put them in. So I reluctantly cranked it up to 275 and it did produce smoke, but it also overcooked and ruined the salmon.
Beef Brisket: Set the unit at 225 - again no smoke. After about an hour I cranked it up to 275 and again, too hot for brisket, so it was overcooked and dry.
I am sure this unit would be great for pork butts or anything else that can be cooked at 275 degrees without being ruined. But I do like to smoke fish and beef brisket as well.
So in my experience, this smoke is not designed for smoking at lower temps. And I am not willing to go and buy the pellet tray and spend more money just to make this thing work as advertised.
I boxed it up and sent it back while I still could.
Question for anyone that has the same exact unit (20070213) - Did I get a bad unit? Can you produce smoke at 180 degrees? I have tried dry and wet wood chips. Also put the smallest pieces I could find in the tray. It was hickory wood.
Thanks for any and all advice. If someone tells me with certainty that I got a lemon, I might be willing to try another Masterbuilt since it seemed well constructed.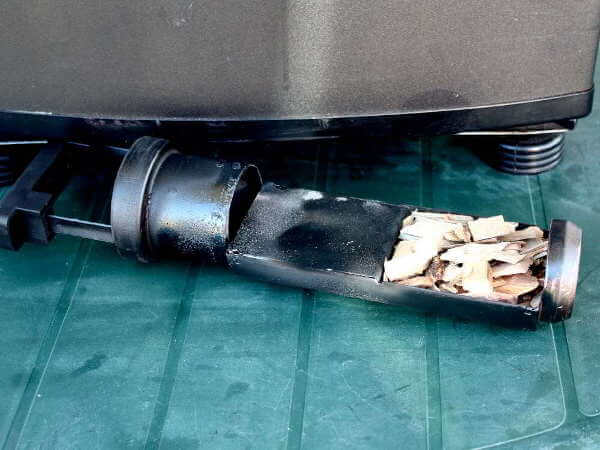 Do not soak wood chips
by: Anonymous
I don't soak my wood chips, all you are doing is getting the outside wet. Wood does not absorb water, hence wooden boats. Depending on the temperature at which you are smoking is what determines how open my vent is. Low temps(175) it's open all the way, high temps (250) it's open about quarter to half way.
I just try to maintain the same amount of smoke at whatever temp I am using. High temps vent open all the way would produce heavy smoke. While low temps and vent open quarter way would rob the chips oxygen and not produce any smoke.
Help ... Hey Anonymous
by: Anonymous
Try this. Open the smoker. Look at the "floor" and work your way up. The first thing you'll see is a cross bar that supports the heating coil. Then you'll see the heating coil. Then above that is the wood chip tray.
Is the wood chip pan resting ON the coil? If not, there's a very simple fix.
Take a smallish piece of aluminum foil and fold it 5 times in half, place it directly on top of the cross bar that supports the coil and sort of partially bend it so that it stays in place.
Slide the rack that holds the wood chip tray all the way in. Is the wood chip tray now resting on the heating element?
If it wasn't resting on it before and it is now, try smoking (chicken is cheap - if it doesn't work, it's not like you're throwing away a $40 prime rib).
However, if the wood chip tray WAS resting on the heating element, you have another problem.
Just because you don't see smoke doesn't mean it's not smoking - wind can dissipate the smoke.
Did you soak your wood chips? If not, they tend to burn and not smolder - burning wood doesn't really smoke. If you did soak the wood chip, how long sis you soak them?
I've heard that soaking overnight is too long - the wood gets too wet and has to at least partially dry out before it starts to smolder ... usually longer than it takes to cook the food.
I hope this helps!
Masterbuilt Electric Smoker
Masterbuilt Smoker Vent
by: Anonymous
Please help!  Do I leave the vent on top of the smoker open or closed ???  Does it matter that we did not season it and just turned the electric smoker on and used it?
Thanx
Ro
Masterbuilt
by: Daniel
On the master built if you preheat the smoker and the vent is closed it holds the eternal temp thus not turning the element on, cause the temp is being held. No element ,no burning of wood chips.
Open the vent until the chips get burning good and then close vents.  Also make sure eternal thermometer is clean. (Little nipple on back inside of smoker. This can give false readings too.
simple fix?
by: Alexander Mundae
Hi neighbor Deb (I'm in Mesa ...)
I just got a variable temp MB electric smoker a few weeks ago, and had a very similar problem - my first smoke (pork butt) was perfect, and my second smoke (brisket) was too - but my third endeavor (whole chicken) didn't get anywhere near the smoke.
I used all hickory, from the same bag, so it wasn't a wood difference, and I had soaked all overnight per MB instructions, so that wasn't the difference either.
For my next smoke I only soaked the chips for 30 minutes based on something I read online, but they didn't get going either so I "cheated" by getting them started with a propane torch.
Today, after looking at the construction of the unit, I realized that the chip tray wasn't touching the heating element at all.
I'm not sure if it's supposed to or not, but it struck me that if the chip tray was touching the element the chip would get hotter.
I simply wadded up a small piece of aluminum foil and placed it between the element and the little supporting rod - the 1/4" height increase lets the chip pan rest directly on the element - and I got consistent smoke in about 45 minutes.
I saw someone's modification on the web where they drilled holes in the unit and made what I would term "major" modifications ... no thanks - MB should have a pretty good idea what they're doing, and drilling holes in a brand new unit wasn't a very good option in my book.
My unit doesn't allow for a larger wood tray either, so that wouldn't be an option either.
Try the foil trick - it doesn't cost more than a dime, takes all of 60 seconds and if it doesn't work you haven't voided your warranty.
Larger smoke tray
by: Joe Canada
If you contact Masterbuilt with your model and serial number they will send you a larger tray. 10 minutes to change and no charge. Newer units all have the larger tray.
Wood chips
by: Anonymous
Mine burns fine at 225, I do pre-heat at a higher temp though just to get everything good and hot since the temp falls off when you open the door.The chips also work better if you pre soak them.
Smoker won't smoke
by: Joe from Tennessee
I have a Masterbuilt electric smoker. It works great. I've found most recipes in the "Dadgum that's good, too" cook book call for a temp. of 225 degrees. At that temp.chips won't get hot enough to smoke. (I only use cured dry wood chips too.)
Am I supposed to preheat at a higher temp. to get the chips to smoke & turn the heat to recommended temp. when I put the meat in the smoker? Or What??
Smoked 16 lb turkey in Masterbuilt 30" electric
by: AJ Wood
First, brine 12 hours and pat dry. fill cavity with onions, grapefruit and oranges. Slide fresh sage and whatever between skin and meat. Spray turkey with Pam grilling spray and rub with olive oil. Heat the MB smoker to 250. Slide turkey in center right on the rack.
Make sure chips are little and spray lightly with apple cider. Open the top vent halfway or better until smoke pours out. Then, adjust them to halfway, turn temp to 225. I just smoked a 16 lb turkey for 9 hours until breast temp reached 165... Best darn turkey we ever had!
I have never had a problem cooking it this way. Never a problem with smoke if you keep the vent 1/2 open and I use 1/2 hickory - 1/2 apple, (little less than a cup) Didn't even baste. Those were the only chips I used. No more. Didn't open the door once, just make sure it keeps a steady temp.
I even used a very short extension cord. (Make sure you dont use a long one or none if possible) If your Masterbuilt smoker is working correctly, trust me guys and gals, this is fool proof!!!
cold smoke unit
by: NORCAL
Hey Folks , I to had the problem with the Masterbuilt not smoking at low temps .Called Masterbuilt and talked with the QC dept we agreed that the new unit that they had put on the market would be my best bet, but they also send me the upgraded smoking unit for my smoker.
Well I must say that everything is great now. I had about 170#s of salmon in my freezer from several fishing trips my twins sons and I were on this year and it works great.
I start out @ 130 degrees with no smoke for about one hour, then raise the temp to 150 with my chips in the attached cold smoke unit turn it on come back in 2hours still smoking very well and pull out the fish the temp of the fish when I pull it out is around 148 to 156 moist and de-lish keep it in longer and for a drier fish.
Let it set for about 30 minutes, turn the fish over skin side up turn on the broiler in the house oven to broil put each rack in for about 4 to 8 minutes and keep an eye on it.
The oil in the skin heats up and drops into the meat. Before putting into broiler drop some pure maple syrup or brown sugar on top for a sweeter finish. I am having a blast with mine. Hope this helps someone.
Full slabs of Ribs
by: TFLB
Do full slabs of ribs fin in the MB analog Smoker? What are the dimensions?
I solved the no smoke issue!
by: Anonymous
I purchased the 30" vertical analog Masterbuilt smoker a couple of months ago, and originally was getting great smoke and delicious results. It was not only coming out of the vent in back, but was also pour out along the front door seal. It was great!
Then about the 4th time I used it, the smoke was minimal at best. I tried dry chips, different types of wood, increasing the temp, longer time before putting the meat on so the chips could get going, but to no avail. But when I opened the front door while cooking, the smoke would begin kicking in.
Then it hit me. The smoker needs oxygen and it can only get that with proper ventilation. As I examined my used smoker, I noticed that the front door and the edge of the smoker that the door comes in contact with were completely covered in soot build-up. This soot build-up eventually creates a seal around the door.... allowing no ventilation.
So with a scouring pad a warm water applied, the problem was solved in minutes. Once again, it's smoking like a chain smoker! If your door seal is still too tight, you can adjust the tightness of the latch by turning it and thus lengthening it's screw.
Oh, and soak your chips for only 15 minutes, and pat dry them in paper towel. You need wet chips.. not a puddle of water in the smoke box. Happy smoking!
Good solution for more smoke and cold smoke (reply)
by: Anonymous
The A_MAZE_N smoker doesn't require any heat from the element. You light one end of it, let it burn for a few minutes, and then blow out the flame. The smoldering embers are self sustaining and slowly burn their way through the maze of wood pellets. It fits nicely on the wire rack to the left of the chip tray.
Good solution for more smoke and cold smoke (reply)
by: MJ
How does this work in a Masterbuilt? Seems like it still would require the element to be on to cause this add-on to generate smoke, right? Where do you place in in the Materbuilt? Thanks
more smoke!
by: Kaleb
I'm adding a Smoke Daddy cold smoke unit to my masterbuilt 30" digital with meat probe. Has anyone had any luck with this or similar side mount smoke canisters?
Make More Smoke
by: Anonymous
In addition to using the metal smoke box I put a handful of soaked chips on a piece of aluminum foil and fold it over the top of the chips and seal the edges.
Poke several holes in the foil and place on the heating element wherever there is room. Best to make the packet as flat as possible so it wont interfere with the smoke box or water pan.
This has worked well for me and hasn't hampered the effectiveness of the heating element.
Inside The Masterbuilt Electric Smoker
Good solution for more smoke and cold smoke
by: Anonymous
I too had complaints about the smoke producing ability of the Masterbuilt Electric Smoker. I finally found an inexpensive and very efficient product that fits inside my smoker at the bottom and generates a generous amount of smoke and adds very little heat.
I was even able to cold smoke some cheese in my Masterbuilt. I won't provide the link, but you can search for it on Google. It is called the A-MAZE-N pellet smoker. Well worth it.
Vent
by: Anonymous
You need to open the vent. The Masterbuilt is insulated so well that if you keep the vent closed the element will not kick on which causes the wood chips to smoke. I typically keep mine opened about halfway.
Masterbuilt smoker
by: Anonymous
Does anybody know if you have to leave the little vent deal on the top of the smoker open when smoking. I don't and have not had a problem. I have a friend who has a brand new Bradley.
He has burned out his element already and Bradley told him it was because he kept the vent closed. Could this be true. Thanks
FYI
by: Anonymous
I own the MasterBuilt model 20070411 smoker. I to had issues with lack of smoke. I smoke Salmon and Lake Trout, which calls for a lower heat (150-degrees) to start with.
As noted in earlier posts, it smokes good until it heats up and then quits and I have to turn up the heat to get more smoke. Basically, if the heating element is not on the chips won't smoke.
I sent an inquiry to MasterBuilt customer support and the following quotes are from MasterBuilt and hopefully they will help others:
"Unfortunately, our units are not designed to cold smoke and will not continue to produce smoke at temperatures below 160-180."
"We are in the process of producing a cold smoking kit which will be an accessory that can be added to the smoker which will allow you to smoke at a lower temperature. It is due to hit the markets around late Spring/ early Summer."
I pressed them on where that was documented that the units "were not designed for cold smoking" and got the following response:
"We do not have an official document available to send showing our smokers aren't designed for cold smoking. It is not stated anywhere in our manual or on the packaging that the unit will cold smoke."
I am a bit annoyed by a manufacture flipping the argument and essentially saying "Well, we don't say it can cold smoke so you should have expected it to".
With that said, I do really like the smoker model I purchased and am able to produce very tasty smoked Salmon and Lake Trout by adjusting my procedures to turn up the heat as necessary to generate smoke.
I plan to get their add-on cold smoking kit when available and hope that will make my experience even better.
Big Smoke
by: MJ
Us Masterbuilt people do not get 350˚ degrees out of our units. We are working with 275˚ tops. I thought this was a Masterbuilt page?
Getting smoke started
by: John n Ky
I have a Smoke Hollow 30" Electric Smoker and before I use it I turn the heat up to about 350 to get my dry chips smoking. It only takes 25 to3 0 minutes to get a big rolling smoke from them.
I only use dry chips through out. Then I back it down to 250 and refill chip box as necessary.
Soaking Chips
by: Anonymous
The instructions I have are to soak the chips for 30 minutes. NOT OVERNIGHT.
Brisket
by: JBC
Hey Dianne,
Thanks for the information. I look forward to trying a brisket this weekend. Sorry for your loss, it is always hard to deal with a loss; however, God has plans that we never understand until we make our visit. Best wishes to you and yours.
My Sympathy
by: MJ
Dianne, I am so sorry to hear of your loss! My prayers are with you at this time. I have not forgotten you (completely!) on the rub I promised you. I just have been distracted by other stuff life wings at us. I will get it to you soon. May God's Grace and Strength be your rock during this time. MJ
Brisket
by: Diane
On the brisket question..MJ and I have spoken about the lack of a lot of smoky flavor and yet I cannot say I am totally disappointed in the Masterbuilt. I like the convenience of being able to smoke a lot of food at one time and then I freeze it in portions.
The last time I smoked, I did put my ribs and brisket on my weber performer using the smokenator 1000 for a couple of hours, and then transferred them to the MB for the rest of the time. I like the convenience of the unit and I think it makes a good product.
I normally take my brisket off after it's absorbed all the smoke it is going to absorb, foil it, and return it to the MB for the remaining time. My husband, who loved the smoked foods, passed away last month. He always pronounced the brisket to be very good, and it was his favorite of all the things we smoked.
I honestly think it's better the second day. I normally let everything cool down overnight in the fridge and then the next morning, I use the ziplock vacuum bags and portion it out for our meals.
When reheating, I put it in a glass baking dish with maybe just a tad bit of water..seal with foil, and reheat in the oven. I like it, and my husband did, also.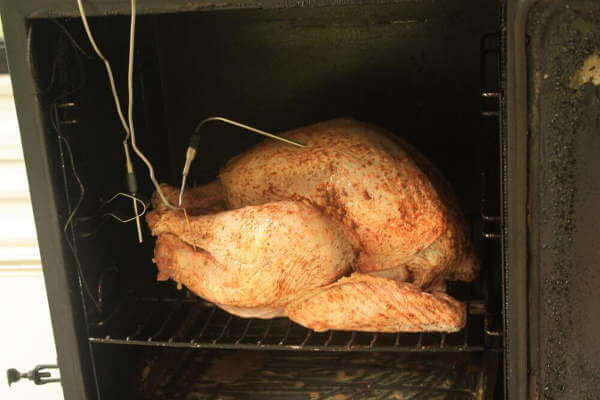 Beef Brisket
by: JBC
Has anyone tried a beef brisket in the Masterbuilt? I have never smoked a brisket before but have done lots of research and really want to try one. Just wondering if the Masterbuilt is worthy.....
Digital temperature
by: Anonymous
Never trust the digital temperature reading, mine is 40 degrees off I have been smoking my meat at 260˚ all this time thinking that I was at 220˚.
pork!
by: mj
Glad that worked good for you. I'm not thrilled with trying to get a decent smoke flavor into pork using the MB. I still find charcoal rules when trying to smoke pork
Retro- Fit Kit
by: JBC
Thanks MJ for the specifics on the retro-fit kit. I do have a charcoal smoker as well, I use it periodically but wanted something that required a little less supervision so I went with the MB. Even though I haven't received the retro yet, I smoked 3 chickens this past weekend.
Every time the smoke died down I would empty the wood chip holder and add more chips. I used about 1/2 of a bag of chips, I mixed apple and hickory. The chickens did have a more intense smokey flavor.
Retrofit kit
by: MJ
The retrofit kit allows more chips at once (same result as loading the tray up prior to starting the unit) but does not increase smoking intensity to the meat - gotta go with the coals, dude!
adequate smoke but lacks smoke flavor
by: JBC
The first few times I smoked, I kept the vent almost completely closed and noticed that more smoke was coming from the chip loader. I changed this strategy and noticed a bit more smokey flavor to the meat; however, still not to the desired level I hoped for.
Contacted Masterbuilt and informed them of the issue, they immediately offered me the Retro-Fit Kit at no charge. The kit is on backorder so I should receive in 30-45 days.
Once I install the kit I will add another post of the results. I hope this helps; I love the convenience of the smoker but kinda disappointed due to the lack of smokey flavor.
Smoke in my master built smoker
by: Ken
I live on the Columbia river just 20 miles from Hood river where they make Little and Big Chief Smokers. Needless to say I have have been smoking fish in a Luhr Jensen smoker for over 25 years, till my smoker just plain fell apart. Those smokers are pretty cold but produce a lot of smoke.
Smoking fish is my priority and I am having a hard time creating smoke with my new smoker, do I have to drill holes for vents? Why do I have to re-engineer a new smoker, I am trying a batch by opening the door frequently and letting it cool enough to heat the chip pan.
Is this smoker made for meat only? Is it a cooker or smoker? I will let everyone know how this works out but I am disappointed.
My experience with Masterbuilt
by: Anonymous
I'm currently on my second Masterbuilt. The first was the 0311 and now the 0411, the one with the window, light and meat temp probe.
The reason I bought the second was because the heating element went out on the first after about 2yrs the day before a party and I needed a replacement right away.
The first model had a larger tray to hold the wood chips and I never had a problem producing smoke at 220˚F, the usual temp I cooked at. With the new model, I need to crank the temperature to 240˚F to produce smoke.
I think this is too high for a low and slow technique. I'm experimenting with cooking at a higher temp for several hours and then decreasing to about 200˚F.
I'll be calling Masterbuilt regarding this modification I read about here. If that doesn't work, I'll try the modification with the drill holes. I don't know if more wood would help, I think it's a problem with getting the heat to the wood.
It's already past the warranty period so I'm not worried about voiding it. I will also ask them about a new heating element for my old unit which I feel worked quite a bit better.
To soak or not to soak......
by: MJ
I see little difference regarding the soaking issue. Smoke is generated, it is just not the same intensity that the charcoal causes when the chips are burned directly on the coals in my humble opinion. I like the smoker for the convenience, but have regressed to doing the actual initial smoking over charcoal and finishing the meat off in the MB.
More smoke
by: Anonymous
DO NOT SOAK THE WOOD. Doesn't matter what the manufacturer says. I have a cheap electric Brinkmann smoker, and when I started using dry wood it worked great.
Smoke
by: Corey=Kansas
This is incredible! I thought I was the only one facing the 'lack of smoke' issue. Thank you everyone for the great posts, looking forward to replying back with an (hopefully positive) update.
Leave vent open
by: Nagel
One thing that I didn't notice anyone mention: Make sure that you're leaving the vent on top fully open for more smoke.
The warmer air leaves the top, causing the coils to stay on more often. The coils being on will generate more smoke.
Charcoal with electric smokers?
by: Anonymous
I read that the red smoke ring on smoked meats only happens when you smoke with charcoal. Is it possible to add small charcoal bits to the wood chips? Has anyone tried that?
Masterbuilt Smoke Issue
by: Diane
Janice - I had this same problem several months ago. I was used to doing my smoking in my weber using a Smokenator 1000 and the smoke flavor was great.
I bought the masterbuilt in order to do more at one time but was disappointed in the lack of smoke flavor in my ribs, even though the ribs were tender and flavorful..they were just lacking a lot of the smoke flavor.
I wrote Masterbuilt and got his customer service person. After corresponding on this issue, she sent me a "retro fit kit". It consisted of a larger wood chip box and I replaced the original according to the directions. I did a big load of ribs, brisket, and pork butt a few weeks ago.
I believe that the food had a greater smoky flavor, but still not to the extent I get in the Weber..however... the food tasted great. I think just using charcoal rather than wood chips has a great effect on the smoke flavor.
So, I intend to do food this summer with my Weber, but am not totally disappointed in the Masterbuilt.
The food it makes is really good. As for your ribs, don't know why they were not done in the middle? Mine are usually good to go in 5-6 hours.
This last time, I also tried a method I learned at a BBQ festival here..after about four hours, I wrapped my pork butt and brisket in double heavy duty foil and let it continue to cook in the Masterbuilt til interior temp was at 195˚.
Both turned out juicy and flavorful, but the ribs were the best. I did not wrap them, but pulled them off when they were at the bone test point.
Good luck.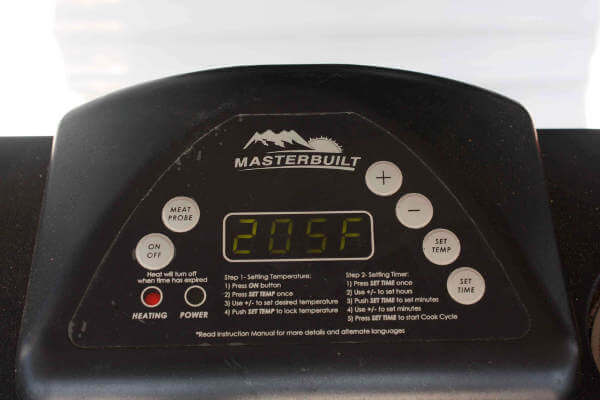 Meat was undercooked......
by: JaniceK
I just purchased a Masterbuilt and followed the directions in the user manual, however, after 5 hours of cooking my ribs @ 225˚ (per the recipe in Dadgum, That's Good) they were still not done in the middle and I had to finish them in the oven.
I used hickory chips (soaked for 30 min.) but they didn't taste smokey either. Does anyone know what I was doing wrong?
Question for Brian
by: Diane
Brian, were you able to achieve smoke ring on your cooked foods after making these modifications? the product I get is very good tasting..just not enough smoke, and no smoke ring. Just wondered and thanks for the very detailed explanation of what you did!
Modification for more smoke
by: Brian N
I drilled about five pea sized hold on the bottom of the heat shield that is located just below the chip pan. The holes allow the direct heat from the coil to heat up the chip pan, this creates tons of smoke at low temperatures.
Remember, the heat coil only comes on for a very short time during low temp cooking. It is important to heat the chips sufficiently to create smoke during that short time the coil is on. (This modification is amazing.)
Second modification was to the smoke box enclosure. This the large box that contains the wood chip pan , wood chip loader. There are already three small holes drilled on one side of this unit, three small holes is insufficient.
I drilled another three pea sized holed next to the existing holes to increase flow and smoke volume. Smoke galore!!!
Upgrade?????
by: MJ
Do you have any details around your post? Where did you hear about the upgrade? thanks
Low smoke
by: Anonymous
I heard there is a free upgrade from Masterbuilt that solves this problem.
Hey rgv !
by: MJ
I also await your response to Dianne. We are looking for a way to input maximum smoke to our meat ASAP in the process. I have tried the 250 deal to get things poppin' smoke wise, but as of yet have not re-created the magic pink ring in the meat!
Smoking Info
by: Diane
Do you mean you are getting plenty of smoke flavor and smoke ring by doing ribs at 250 and using dry chips? Also, I thought the water pan fits, as is, below the very last shelf. Where else is there to put it? So glad you are happy with your Masterbuilt and hope to achieve the same results.
Smoking Info.
by: rgv21350
Started smoking baby back ribs at 250 degree instead of 190 with dry wood chips and don't have a problem with smoke flavor. Put water in the water pan and move it so it sits below the rack it is designed to go in. The ribs come out moist and tender. Wouldn't trade by Masterbuilt for another smoker!
lack of smoke in warm temps
by: Anonymous
I always produce a ton of smoke when I'm smoking in colder outside temps, but when the temps get in the 60's or above the smoke output is cut drastically. Has anyone experienced this as well? Any suggestions how get get more smoke when the outside temperature is warm?
Duh
by: Diane
I began my last post intending to inquire about whether maybe marinating meat in liquid smoke before putting it in the Masterbuilt might help with flavor.
liquid smoke
by: Diane
MJ...so you are saying that basically none of the food you cooked in the Masterbuilt tasted smoky..?? Like I said, these ribs were very good..just not smoky..but then, it defeats the purpose of buying the unit to begin with, I think.
Even with the weber/smokenator, I would take the product off and wrap in foil, bring to 190 or so and then wrap in newspaper and place in a cooler.
What kind of offset smoker do you have and how hard is it to manage? I guess if I am going to put the work into a day of smoking (adjustments, etc), then I will have to look for something that will make greater quantities of food than the Weber can make.
Can you please describe the smokiness you achieved, description of the unit, and if you used a water pan, and what kind of fuels. Many thanks.
charcoal smoker
by: MJ
Dianne - sorry - I see you did read my earlier post. Prior to getting the Masterbuilt, I was using my large heavy offset smoker / grill to at least get things smoked and partially cooked before wrapping in foil and finishing either there or the oven.
My Masterbuilt is way too "used" now to return - hope there is an answer to increase the smokiness........or it will just end up being where I finish things after starting them the old fashioned way!
Then maybe it's the electric itself?
by: Diane
Thanks, MJ, and yes, I did see your previous post. Makes me think it's the electric part of the smoking..like I said, worked well, made very nice and tasty ribs..but I bought it thinking I would get great smoky flavor with the convenience of not having to watch the coals all the time..less maintenance.
Also, I cannot make a ton of food in the Weber at one time, so you shoot a day watching it all..was hoping to make bigger quantities to freeze. How did your pork butt taste? and brisket?
I guess I keep coming back to the fact that a smoker should make things taste smoky, not just taste a bit better than if I had done them in an oven.
Chips vs chunks
by: MJ
Dianne, I only use chips on my charcoal grill and get great results - did you read my post earlier today? Sounds like we have the same issue.
one more thing..
by: Diane
Or, it is THIS electric smoker? When I was using the Weber, I only used chunks - can the chips simply not generate enough smoke to create the ring?
Not only the ring, but the smoked flavor!
by: Diane
Thanks for joining in on this and telling me what results you've had in regard to the smoke ring. I'm in a fix..I loved the convenience of this smoker, but, for $300...do I want to keep it, even IF Sam's would take it back cleaned up as best as I can.
It's not just the smoke ring..while the ribs tasted wonderful as far as ribs go, they were just lacking in smoky flavor! I could taste just a hint of smokiness in the back of my throat. If I had never done smoking in the Weber, I would probably think this was wonderful.
My only other experience smoking has been with the Weber and the Smokenator 1000 unit inside of it. I know from long experience that when you do food in a weber, you get a ring of pink (whether smoking or not)
So I'd like to hear from people who are using a smoker with offset box (the black ones with pipe), not a professional rig, but just something you could find in Home Depot.
Do you get a deep smoky flavor and a smoke ring using charcoal. Maybe it's just using the charcoal that gets this?
Any comments appreciated. Thank you again.
"Smoke-ring less" in La
by: MJ
I agree with this fully regarding the lack of smoky flavor. I have used mine for a few months with various types and quantities of wood and have yet to see the smoke ring I get from my charcoal grill.
This includes ribs, pork butts and brisket. I have tried with and without water in the pan and with different rubs - no real success with expected smokiness....Anyone out there have any suggestions for us "smoke ring seekers" using our Masterbuilt smokers?
one more question
by: Diane
Thanks to those who responded to my question about the smoke issue on the Masterbuilt. Today I used it for the first time. I have to say, it worked well. It heated in good time, I put in a slab of spare ribs and two slabs of baby back ribs..used the water tray..and used hickory wood chips.
I saw almost constant thin bluish grey smoke coming out of the vent at the top, which I kept closed almost all the way. I could not see well into the chamber due to the condensation on the window, but in about 5 hours, I removed the ribs.
They "looked" beautiful. They were perfectly cooked and right at that "tearing" stage..they were even moist. But, and perhaps I was being naive here...I don't think they taste very smoky. I used three loads of chips..took one rib off earlier and tasted and thought it didn't taste too smoky, so I added one more tray of chips.
I used a Weber grill with Smokenator 1000 last year. I don't know what I expected with this electric smoker..I guess I thought the smokiness would come all from the wood. However, as good as they tasted as far as ribs go, there was no smoke ring, and not a lot of smoky taste to them.
I think if I ordered them in a BBQ restaurant my comment would be..nice taste, but not smoky like I expected. And they certainly don't taste as smoky as my old ribs did in the Weber. So anyone out there..have you used both charcoal/chunks and then an electric smoker, and am I wrong to expect the same kind of flavor?
I bought this at Sam's...they say they give 100% satisfaction and I'm tempted to clean it up as well as I can and return this and say I'm not satisfied. My husband thought they were fine, and yes, they were tasty..just not smoky enough..hint of smoke, is what I'd call it, though they were beautiful looking, too.
The unit performed well...I didn't have to add any water...the temp held constant..I was just disappointed in the taste and wonder now if I do a pork butt, will I get a smoke ring?? Any comments would be helpful as I make this decision. Thank you.
Not generating enough or no smoke
by: Anonymous
If you're getting smoke from the loader and not the chimney, then maybe the chimney isn't open or there is something going on in the wood tray. Wood chips should only be soaked for 15-20 minutes. Even wood chunks don't get soaked that long.
For an electric smoker, the longer they soak, the longer it takes to generate smoke. Don't wait for the smoke to stop to reload the tray, reload when smoke starts to thin out. I always generate smoke and I wet smoke, meaning that I fill the water tray, which normally thins out the smoke.
Cherry wood is hard to see, but it's there. Apple is the easiest to smoke.
Little or no smoke in Masterbuilt?
by: Diane
Hi, have been reading all these comments about not getting a lot of smoke. I just set mine up today and I'm going through the process of letting in run for three hours, the last 45 minutes of which I added hickory chips. Now, I did not soak them,  just added them, so maybe that has an impact.
I am used to my Weber with  a Smokenator unit and lots of smoke. With this one, I added the chips and then returned the loader to the load position as instructed. I waited..saw no smoke..then began to smell it and thought it was coming out the top vent..wrong..it was coming out of the loader area?
Is this normal? There was a steady stream of it, and I saw no smoke inside? then I did open the vent a little more and saw some smoke coming out of the unit itself, but again, cannot see anything inside? Is this normal? should any smoke be coming out of the loader area? It appears to be inserted normally and in the correct position after dumping.
Does everyone soak chips for 15 minutes, and, is this smoke simply too thin for me to see IN the unit? I will be doing ribs, butt, and brisket mainly..but would like to know if this is defective or not before the 90 days runs out. Many thanks.
Why you're not generating smoke
by: Rick S
The chips are oversaturated with water. For the electric smoker, just soak the chips in water or beer for 15 min. So far with me and my Masterbuilt I have no problem generating smoke with the following woods, hickory, mesquite, pecan, apple, and alder.
Whenever I use cherry, it looks like it's not generating smoke, but it is. It's just to thin of smoke to be seen unless you get real close, but it's there. Only use chips, not chunks on the Masterbuilt electric.
how to start the smoke
by: Anonymous
Do i have to light the wood chips or does the element start the smoke ?
Smoke Issue
by: MJ
I have just purchased the 20070311 model and have had a problem with getting chips to smoke at 225 degrees. I do get smoke when I raise the temp above 240. Could there be an issue with the "smoking" element and not the "heating" element?
Smoker
by: Anonymous
I have found that if my outside temperature is high (above 50) it will produce much less smoke. This is due to the fact that the heating element is on for less time.
No Smoke
by: Rick S
I received a response from Masterbuilt and they had me exchange the smoker and the new one works great. They also mentioned to only wet the chips for 15 min or so. Even though the instructions say 30 min., they recommended 15 min.
Before when I had a charcoal smoker, I used to smoke with chunks, which take longer to absorb the water, but wood chips absorb quickly. I have already used it a dozen times with hickory, mesquite, cherry, apple, pecan, and alder, and always produce smoke at 225 degrees. If soaking the wood for less time doesn't do it, then take it back and exchange it.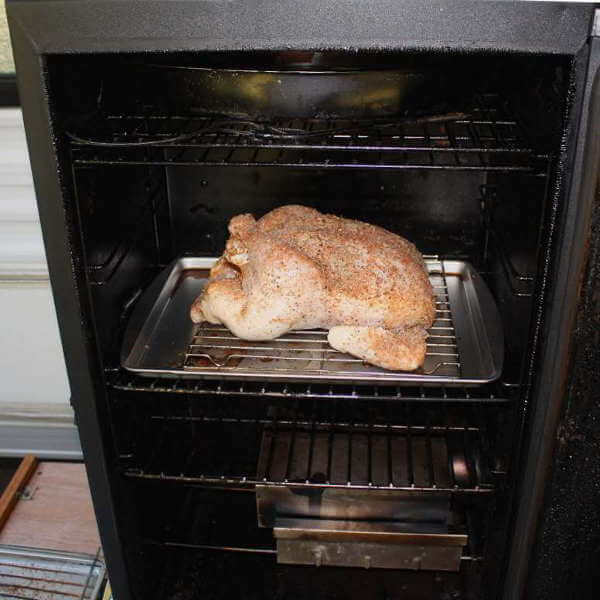 Smoke on Electric Master Built
by: Anonymous
The advantages of electric smokers are maintaining a constant temperature, the ability to cold smoke, and it's possible to load the smoker at noon and go back to work and have your meat ready when you get home. Set it and forget it.
The disadvantage is when smoking below 225 degree the ability to generate a lot of smoke is impeded. I have never soaked my chips, and also, I added a separate smoke generator (there are a couple of people who make them) which generates all kinds of smoke. Works great.
No Smoke
by: Rick S
I just bought a Masterbuilt Electric smoker too. Same thing. I used apple for first smoke and it worked good. I used cherry for second smoke and the only way I can get it to smoke is by raising the temperature to max 275 degrees.
Most meats that I smoke are between 225 and 250. Is this normal? Because even dry wood won't burn at that temperature range. I sent Masterbuilt an email if they answer I'll let you know
Troubleshooting
by: Bill-E
There are a couple of things to check to make sure that it is actually smoking:
1. Check the smoke box and empty out all ashes. Make sure you don't have a build up that impedes heat transfer.
2. Turn on the unit, let it warm up for 1/2 hour and check the temperature of the smoking coil. It should be really hot. Remember that there are two coils, the heating coil and the smoking coil.
3. Are you wet smoking? It will make the smoke effect less coming out of your chimney. Take your hand and hold it above the chimney. Smell your hand afterwards, if it smells like the wood type that you are using then chances are you are getting smoke.
no smoke
by: Anonymous
I just got a smoker for Christmas and moved into a new house so I opened it up last weekend and I was running behind. I let my chips soak about 45 minutes. It produced quite a bit of smoke.
It's a Masterbuilt about the size of a mini fridge. I used mesquite wood in cold water. It was about 20 degrees outside where I had it soaking so you may have soaked it to long. An hour tops should be long enough.
Deb C.
by: popC
I have a Masterbuilt Electric Smoker. Be careful when you side in the smoke box, make sure that the electric heating element is in between the tray holding the chips and the bottom of the smoke box. Let me know!
Masterbuilt Smoker Problem Creating Smoke
by: Bill
If your Masterbuilt smoker produced plenty of smoke using the apple wood chips, then it's most likely that it was due to using a different type of woodchip.
It's possible that the apple didn't absorb as much water as the hickory did, but even then, the hickory should have at least produced smoke after it dried out.
If you notice that sort of problem the first time you use smoker chips out of a new bag, try soaking them in water for less time and see if that makes a difference.
You Are Here: &nbsp

Home

> &nbsp