Smoking Chicken Leg Quarters In a Water Smoker

A Reader Asked:
I will be smoking chicken leg quarters in my water-smoker tomorrow. I'm looking for a recipe with a good bbq flavor, and any tips you have on setting up the smoker for making smoked leg quarters.
Thanks!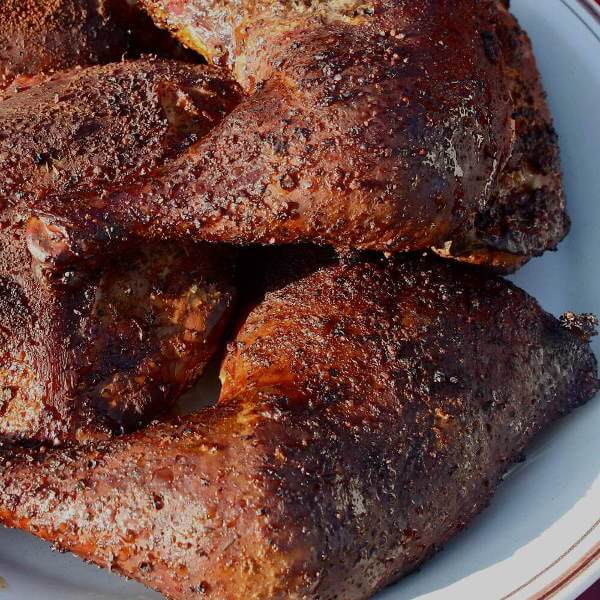 Tips for Smoking Chicken Leg Quarters
Prep The Leg Quarters

This cut of chicken is often sold in 10 pound economy bags, and the quality of the butchering is often not that great. The first step is to go over each of the leg quarters and trim off the extra skin and globs of fat.

Season Simply or With a Flavorful Rub

After trimming, season the leg quarters with a good dry rub, or even just simple salt and pepper. If you plan to slather them with a good bbq sauce before serving they can do without a complex rub.
Doing this will let the flavor of your homemade barbecue sauce shine.
You can season the legs with a store-bought chicken dry rub, or make a rub yourself. I really like an herb and spice mix on the quarters, and this chicken rub really tastes great. It includes oregano, thyme, and several other herbs and seasonings.

Smoking the Chicken Leg Quarters
If you're using a water smoker, fill the water pan of the smoker about half full of hot water. Preheat the smoker and add a few wood chunks or chips. I prefer apple wood for smoking chicken, but use whatever you prefer.
Keep the smoker temperature at or close to 275 degrees Fahrenheit. When smoked at a high temperature, some of the fat will render out of the skin, and it won't be as tough as it would if smoked at a lower temperature.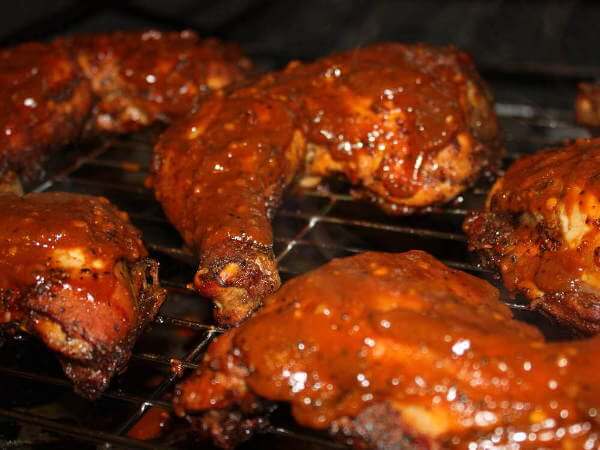 Cook for from 1-1/2 hours to 3 hours, depending on your smoker temp. A leg quarter should easily separate into separate thigh and leg pieces easily when done.
Although all parts of the chicken are safe to eat at 165 degrees, I shoot for an internal temperature of at least 175 degrees, up to 185 degrees. The chicken is more tender that way.

If you want a sauce coating on your leg quarters, coat both sides of the pieces with your favorite barbecue sauce, 10 to 15 minutes before they are done cooking.
Serve the smoked leg quarters with some traditional sides, like cole slaw and baked beans. Smoked macaroni and cheese is always a tasty addition to the meal!

You Are Here: &nbsp

Home

> &nbsp