Smoking Chicken Wings To Perfection

by Craig
(Alabama)
I plan on smoking chicken wings and was wondering at what temperature I should run the smoker. How long I should smoke the wings?
What would you recommend for seasoning the chicken wings before I smoke them? A rub or a marinade? And should they be brined first?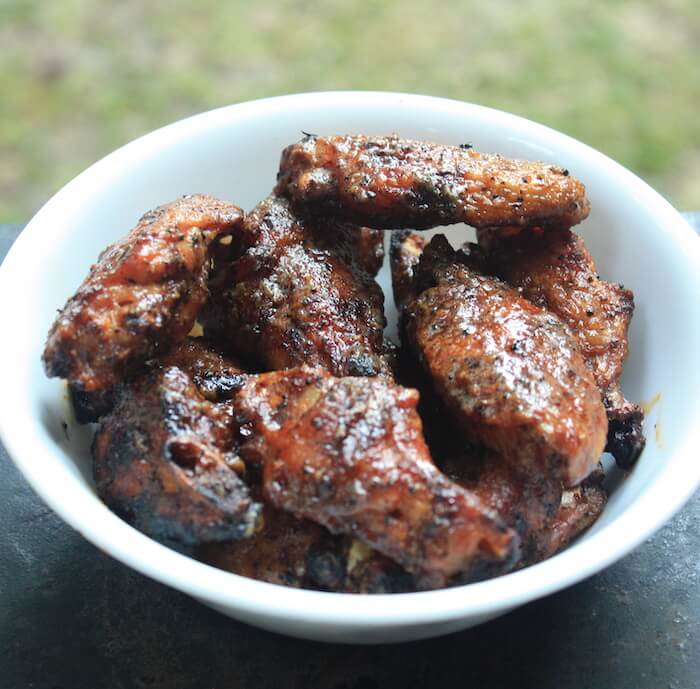 Comments for Smoking Chicken Wings
smoking chicken etc
by: shoe
I'm doing a lot of wings and ribs for The Super Bowl. I have everything rubbed and seasoned over night. For smoke I'm using a mix of hickory and apple wood.
I'm gonna take 'em off about 10 degrees before done and going to finish on the grill with some kicked up Sweet Baby Ray's BBQ sauce and tequila.
Go Giants!
Jim
by: Anonymous
Jim, you can use a smoker with out wood chips so there's no smoke but at that point I'd put them in the oven.
smoked wings
by: keeper
I've smoked wings a couple of times on my electric smoker.
I use a lot of soaked hickory and smoke the wings at 200 for about 4 hours. I don't let it get over 200. Low and slow and they are good.
I am going to put them on my Weber for about 10 minutes to get them crispy.
smoking wings
by: jim moeller
Can you use the smoker to cook the wings without the smoke?
thanks.
Smoked Buffalo Style Chicken Wings Recipe

This is a great appetizer, but these little nuggets of spicy chicken can be a filling main course - if you have enough of them, of course!
You can buy trimmed and separated chicken wings, but I usually buy whole wings and separate the sections myself. I save a little money, plus the wing tips can be used to make soup stock.

Smoking Chicken Wings, Step by Step
Separate whole wings at the two joints. Save the tips for soup or you can even smoke them along with the other pieces.
Season lightly with salt and pepper.
Place the wing sections in a smoker that's preheated to 275 degrees. Turn them a few times and cook until browned and tender.

Remove the wings to a bowl.
Mix up buffalo sauce. Three tablespoons of melted butter combined with two tablespoons of Frank's Red Hot Sauce makes enough Buffalo sauce for one pound of wings.
Pour the sauce over the smoked wings, toss until completely coated and serve. And enjoy!

Making Smoked Chicken Wings
by: Bill
Chicken wings are great smoked. I remove the wing tip section first, since there's not much there, then brine them for an hour in a basic poultry brine.
Season with a mixture black pepper, paprika, onion powder and maybe a touch of cayenne pepper. Smoke them at 275-300 degrees for 1-1/2 to 2 hours.
Brush with barbecue sauce or Frank's Wing Sauce a couple times during the last 30 minutes of cooking. When done, the two wing sections will separate easily at the joint.
You Are Here: &nbsp

Home

> &nbsp