Teriyaki Steak Skewers Are a Quick Cooking, Great Tasting Appetizer

Transform a beef rib eye steak or sirloin steak into a batch of teriyaki steak skewers. Perfect for an appetizer, or a quick snack. Cook enough of them and they'll suffice as a main course. These flavorful beef treats sure hit the spot!
I prefer to use a nice rib eye steak that has plenty of marbling for juiciness and flavor. It's sliced, seasoned, and seared on the grill. Very easy and very tasty, too.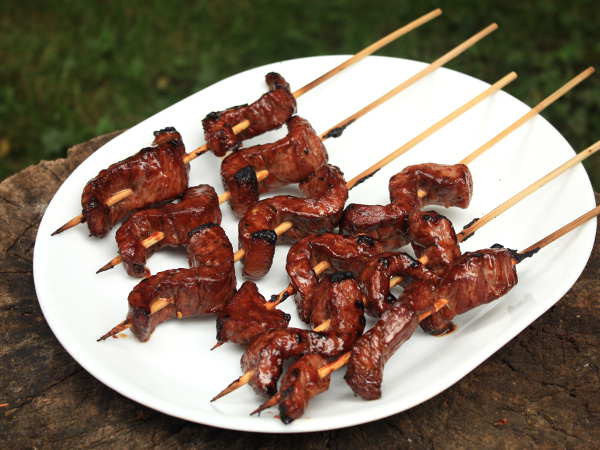 Plate Full of Grilled Teriyaki Steak Skewers
Other cuts of beef steak can be used, too. For a less fatty cut you can use top round. Flank steak is another good choice.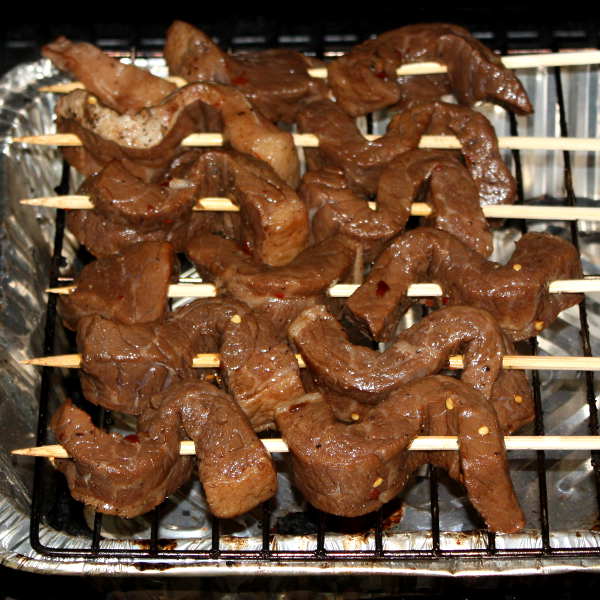 Marinated Steak Strips In Traeger Grill
Teriyaki Steak Skewers Recipe and Cooking Instructions

A couple of nice size steaks will make a lot of these appetizers. Here's what you'll need to make this recipe.
One pound of beef steak, sliced into 1/2 inch thick strips
Bottled Teriyaki Sauce
Bamboo Skewers


MARINADE INGREDIENTS

1/4 cup soy sauce
1 tablespoon Worcestershire sauce
1 tablespoon granulated sugar
1/2 teaspoon garlic powder
1/2 teaspoon ground black pepper
1/4 teaspoon red pepper flakes
Marinating and Grilling Skewered Steak Appetizers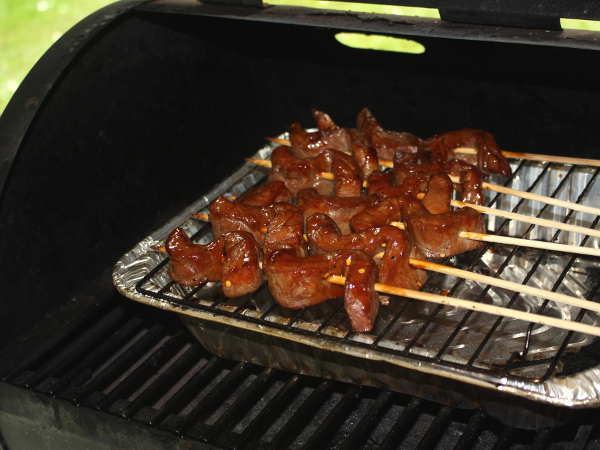 Glaze With Teriyaki Sauce To Finish Grilling
Combine the marinade ingredients and marinate the beef strips for one hour. If you're planning ahead, soak 'em overnight in the refrigerator. The meat will have a lot more flavor that way.
Preheat your grill to around 400 degrees. I've used propane, charcoal, and my Traeger pellet grill for this recipe, and all worked very well.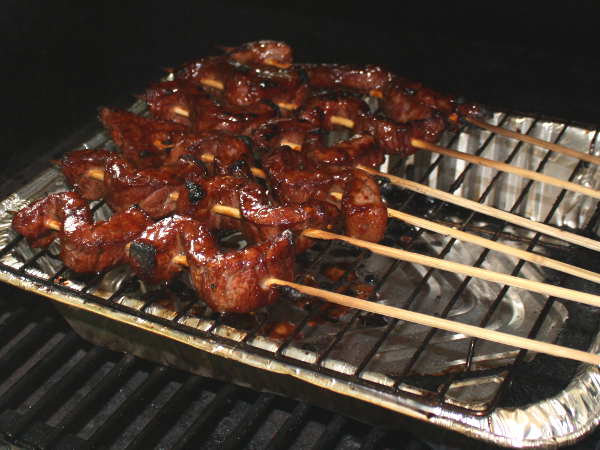 Time To Eat!
Arrange the steak strips on water-soaked bamboo skewers, in an S-Curve orientation. Two strips fit nicely on each skewer.

Place the skewers on the grill grate, over direct heat. Cook on the first side for two or three minutes, then brush the beef on all sides with teriyaki sauce before grilling the other side of the skewers.
Grill for another couple of minutes and the teriyaki steak skewers will be ready to serve. A bit of charring on the beef is desired and adds to that great teriyaki experience!