Smoked Bacon Wrapped Chicken Thighs are Delicious!

Chicken thighs taste great on their own, but when wrapped with bacon and smoked they're downright irresistible! Smoky bacon wrapped chicken thighs have a lot going for them.
They're easy to prepare and don't take a long time to cook. They're economical too - thighs are relatively inexpensive. And have I mentioned that they taste great?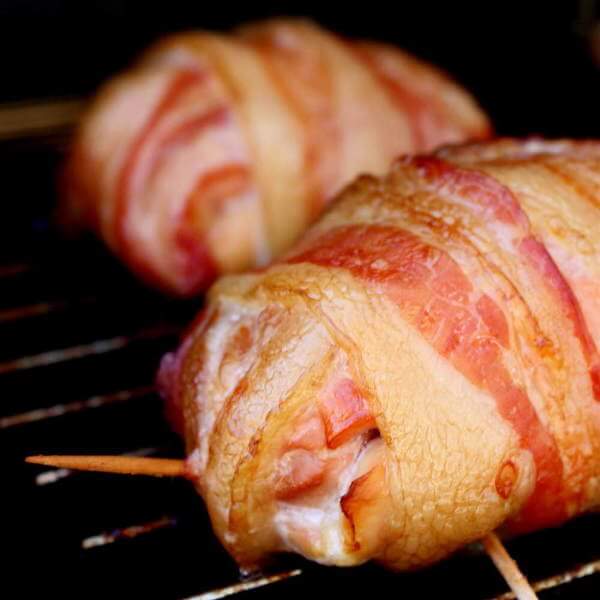 Which Thighs Are Best For This Bacon Wrapped Chicken Thighs Recipe?

Compared to white meat, the dark-meat thighs have more flavor, more juiciness, and of course, a bit more fat. Although they're safely cooked when they reach 165˚F, they have better flavor when the internal temperature reaches 175˚ or more.
Get a package of boneless, skinless chicken thighs and you'll save yourself 10 or 15 minutes of prep time. Or you could buy a package of thighs with bone and skin intact and remove the skin and de-bone them yourself.
You'll save a couple of bucks, plus you'll have the makings for a pot of chicken stock. For even more savings, chicken leg quarters are usually cheaper than thighs alone.
Boning, Skinning and Trimming Thighs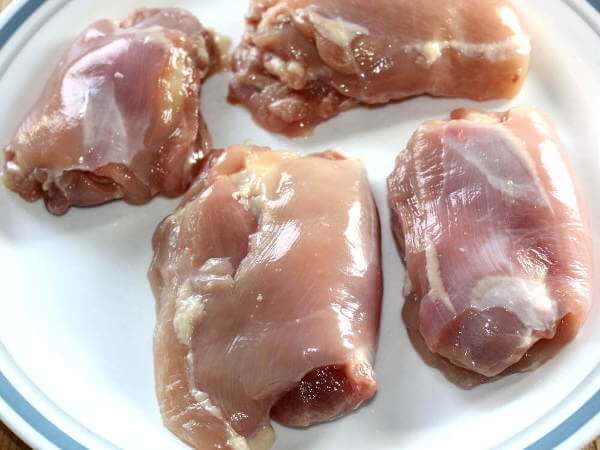 It's not too difficult to remove the bone and skin from a chicken thigh. Lay the thigh on a cutting board skin side down, and make a cut through the meat along the bone.
With the tip of the knife, carefully cut and scrape the meat away from the bone until it's free.
Check for any remaining pieces of gristle and remove them if you find them. Flip the thigh over and peel off the skin, using your knife where it's attached tightly.
Trim away any excess fat and loose flaps of meat and you're all done!
Make Broth From The Thigh Bones, Skin and Fat
And what about the leftover scraps? Put the bones, skin and fat into a saucepan with a few herbs, spices and chopped vegetables, and enough water to cover. Simmer gently for  two hours and strain off the broth.
There are a couple of ways to remove the fat from the broth. Most of it can be skimmed off the top with a spoon, but that doesn't get it all.
My preferred method is to pour the strained broth into a food storage container and refrigerate it for a few hours (or overnight).
The fat hardens when it's chilled and can be easily removed with a spoon. Save some of the fat and use it to fry your morning eggs. It's not as tasty as bacon grease, but it's definitely much better tasting than vegetable oil.
Use your homemade chicken broth in your next soup recipe or as a replacement for the water when you make your next pot of rice or beans.
How to Dry Brine Chicken Thighs
Brining improves the flavor and texture of chicken, and helps it retain more of its juice. You can go the traditional route of wet brining or use the much easier dry brining method, which requires much less salt.
It'll take 1/2  teaspoon of kosher salt or 1/4 teaspoon of table salt to dry brine each pound of chicken. That doesn't sound like much salt, but the bacon will make up for any deficiency in salt flavor.
Distribute the salt evenly onto all sides of the thighs and pop 'em into a food storage container or freezer bag. Refrigerate for at least 4 hours, or preferably overnight, which allows plenty of time for the salt to perform its magic.
Bacon, Bacon, Who's Got The Best Bacon?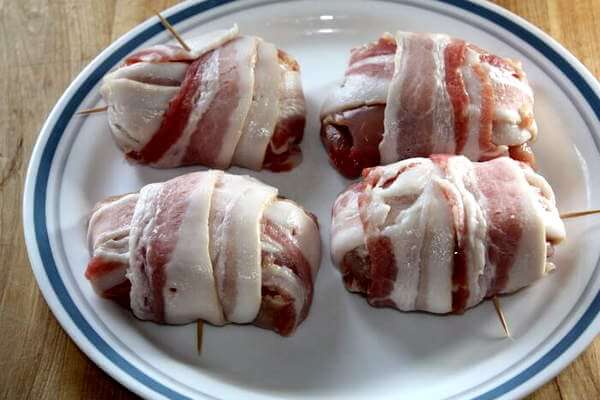 For the best tasting bacon wrapped chicken thighs, use a good quality bacon. You might be tempted to buy a package of bargain-brand bacon, but for this recipe it's worth spending a little more.
You can spend a whole lot more if you decide to go with a premium brand, but I've had consistently good luck using Oscar Mayer Naturally Hardwood Smoked bacon. It has great flavor, the cost is reasonable and it's available in most areas.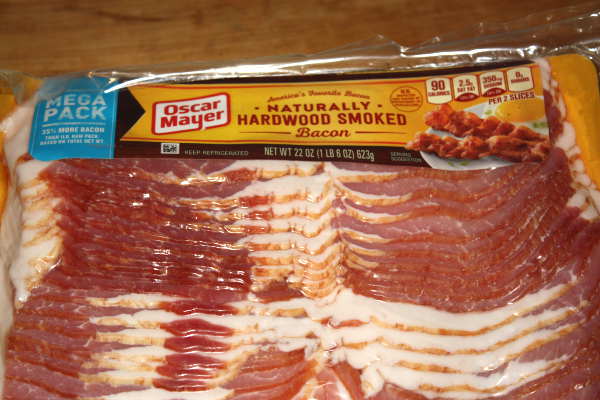 BACON WRAPPED CHICKEN THIGHS - INGREDIENTS

---
Prep Time: 45 minutes
Cooking Time: 1 hour 45 minutes
Yield: 8 servings
Suitable For: Low carb diet

8 boneless chicken thighs

1- 12 ounce package of sliced bacon

1 teaspoon salt

1/2 teaspoon ground black pepper

toothpicks to secure the bacon


* * * * *
PREPARATION FOR SMOKING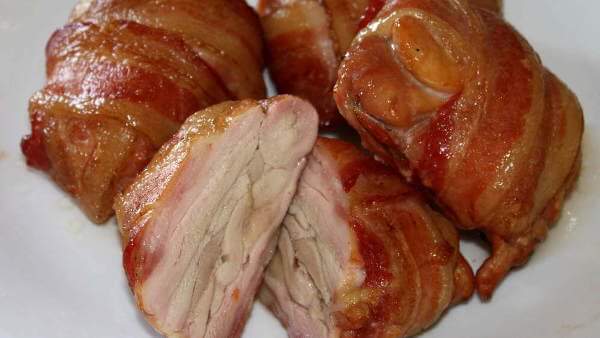 ---
Season the chicken with salt and pepper.


Wrap each thigh with two slices of bacon. The first is wrapped around end-to-end, the other around the middle. Secure each with a toothpick.


Chicken and bacon both cook well at a high temperature. So fire up the smoker, getting the temperature up to around 300° Fahrenheit. This will help in crisping up the bacon.


I prefer apple wood chips for this smoked chicken recipe, but hickory would also be a great choice. Since the bacon is already smoked, one addition of smoker wood at the beginning is plenty. And if it's not, next time, add a second load of chips during smoking.


Smoking the chicken thighs will take approximately one and a half hours. Check the internal temperature after the first hour.


When the center of your bacon wrapped chicken thighs reach 170° it's time to eat!  If you want the bacon more crispy, it's no problem cooking the thighs to 180°. Don't forget to remove those toothpicks!


Serve one or two thighs to each person along with heaps of beans and coleslaw. They can be sliced and used to make some pretty darned good sandwiches, too.

* * * * *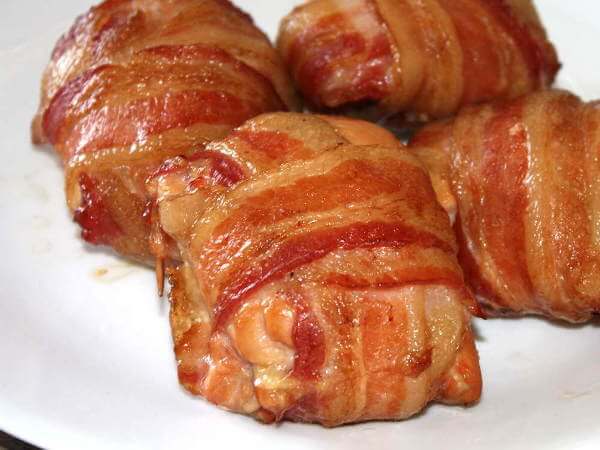 Smoked Bacon Wrapped Chicken Thighs

My Char-Broil gas smoker worked out well once again! I really like the way it can maintain the higher temperature needed for recipes like this one.
Something I noticed was that the outer layer of the chicken meat was showing a bit of a pink smoke ring. My guess is that the curing salts from the bacon were absorbed into the thighs, causing the color change.
Give these smoked bacon wrapped chicken thighs a try. The batch I smoked was juicy and tender, and the added bacon flavor was the icing on the cake.
Bacon Wrapped Chicken Thighs

Category: Entrée
Method: Smoking (Cooking)
Time: 2 Hours, 30 Minutes
Yield: 8 Servings
Suitable For: Low Carb Diet
Source: https://www.smoker-cooking.com

Recipe By: SmokerBill

When encircled with sliced bacon and smoked at a high temperature, chicken thighs become a truly wonderful entrée, and become the star attraction of any meal.
---
Ingredients and Instructions
Season chicken thighs on all sides with salt and pepper.

Wrap each thigh with two slices of bacon.

Use toothpicks to secure the bacon to the thigh meat.

Cook in a 275°F to 300°F smoker, using apple wood chips for smoke.

Check for doneness at 90 minutes. Remove when internal temperature reaches 170°F and bacon is crisped.

Serve immediately.


Feel Free To Share This Recipe File With Friends and Family!