Smokey Bacon Wrapped Chicken Thighs are Delicious!

This smoked bacon wrapped chicken thighs  recipe includes the best parts of the chicken and pork worlds. And when worlds collide, interesting things happen!

Thighs have always been my favorite. When Mom fried up a chicken, I was quick and was always able to grab at least one of them away from my brothers and sister. And you just can't beat bacon. It makes everything better.

Chicken Thighs Are an Economical and Tasty Choice!

You could always purchase boneless thighs, and that would make this recipe a lot quicker start-to-finish. But I took the more difficult path, opting to bone them out myself.
Boning isn't difficult to do - separate the thigh from the drumstick (if you're starting with leg quarters), trim off the skin and excess fat, then cautiously separate the meat from the bone. You'll be left with a nice looking piece of chicken that's great in many recipes
The great thing about thighs is that they are usually inexpensive, and I like cheap eats! The chicken for my recipe came out of a 10 pound bag of leg quarters I bought for 59 cents a pound. What a deal!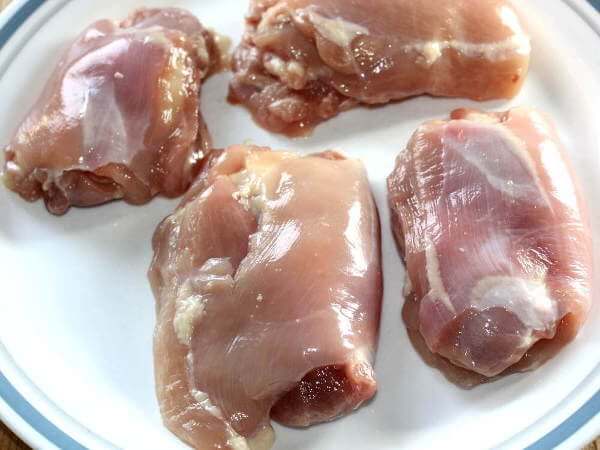 And what about the leftover scraps? Put the bones, skin and fat into a saucepan with a few herbs, spices and chopped vegetables, and enough water to cover. Simmer for an hour or so and strain off the broth.
Use your homemade chicken broth in your next soup recipe or as a replacement for the water when you cook rice.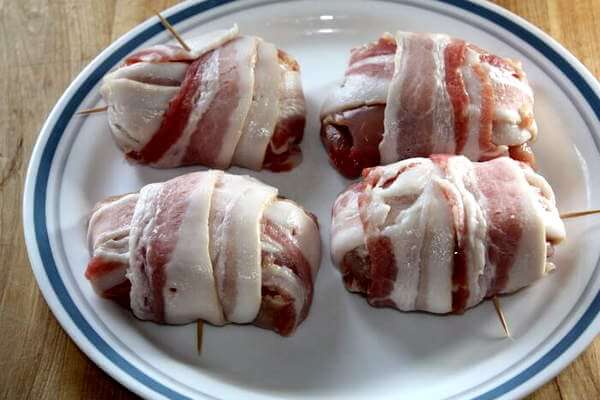 BACON WRAPPED CHICKEN INGREDIENTS

---
8 boneless chicken thighs

1- 12 ounce package of sliced bacon

1 teaspoon salt

1/2 teaspoon ground black pepper

toothpicks to secure the bacon


* * * * *
PREPARATION FOR SMOKING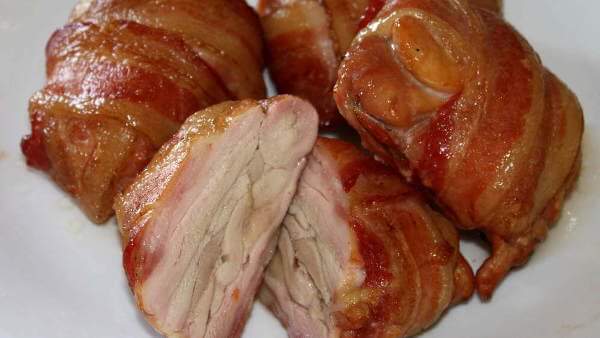 ---
Season the chicken with salt and pepper.


Wrap each thigh with two slices of bacon. The first is wrapped around end-to-end, the other around the middle. Secure each with a toothpick.


Chicken and bacon both cook well at a high temperature. So fire up the smoker, getting the temperature up to around 300° Fahrenheit. This will help in crisping up the bacon.


I prefer apple wood chips for this smoked chicken recipe, but hickory would also be a great choice. Since the bacon is already smoked, one addition of smoker wood at the beginning is plenty. And if it's not, next time, add a second load of chips during smoking.


Smoking the chicken thighs will take approximately one and a half hours. Check the internal temperature after the first hour.


When the center of your bacon wrapped chicken thighs reach 170° it's time to eat!  If you want the bacon more crispy, it's no problem cooking the thighs to 180°. Don't forget to remove those toothpicks!


Serve two or three of these to each person along with heaps of beans and coleslaw. They can be sliced and used to make some pretty darned good sandwiches, too.

* * * * *
Smoked Bacon Wrapped Chicken Thighs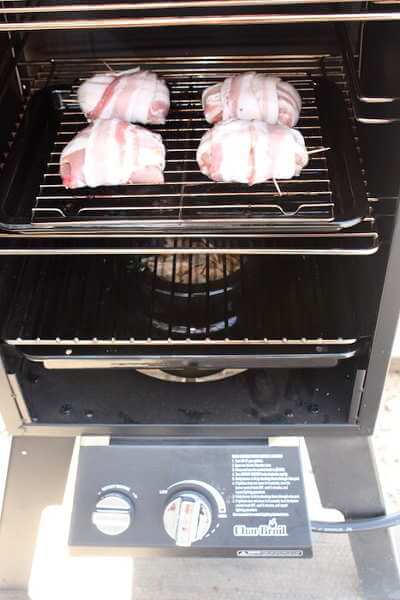 My Char-Broil gas smoker worked out well once again! I really like the way it can maintain the higher temperature needed for recipes like this one.
Something I noticed was that the outer layer of the chicken meat was showing a bit of a pink smoke ring. My guess is that the curing salts from the bacon were absorbed into the thighs, causing the color change.
Give these smoked bacon wrapped chicken thighs a try. The batch I smoked was juicy and tender, and the added bacon flavor was the icing on the cake!
Next time I believe I,ll try wrapping the chicken around a bit of mozzarella cheese before it goes into the bacon blanket. Sounds good, doesn't it?

---