Electric Smoker Recipes For Fish, Fowl, Beef and Pork

Before we get to the electric smoker recipes, we need to go over the different types of electric smokers that are available. There are several different styles, all with different capabilities.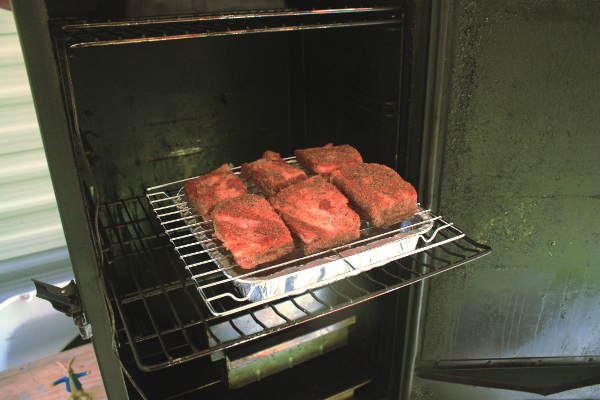 Cooking Beef Short Ribs In a Masterbuilt Electric Smoker
Types of Electric Smokers
Vertical Water Smokers

Cylindrical in shape with a removable dome shaped lid, these are the most common and least expensive. They can do an acceptable job if conditions are good.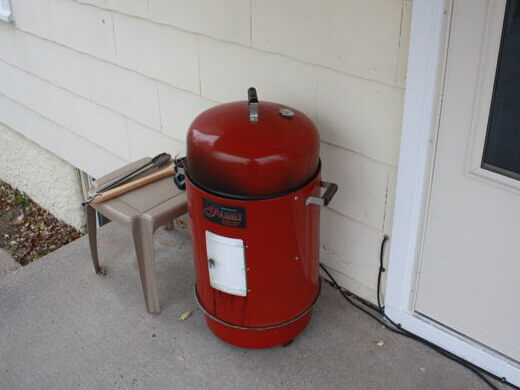 Many have no temperature control, so the temperature of the smoker can be affected greatly by wind and outdoor temperature. These are good for fish and chicken, but can be slow going for large cuts of meat like briskets and pork shoulder.

Cabinet Style Smokers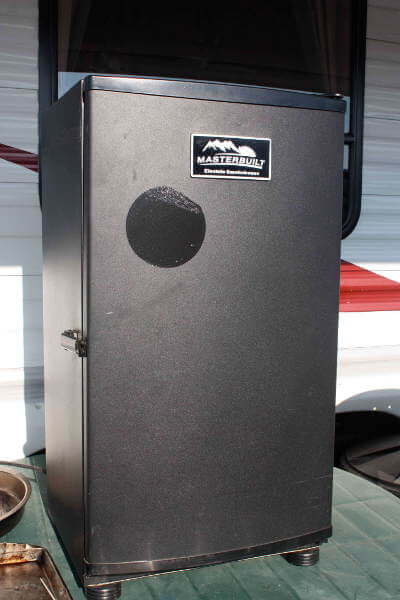 These are similar in size and shape to compact refrigerators, with a door that opens to the front. There are several different types within this category.
Little Chief and Big Chief Smokers

These are made for smoking small amounts of fish or jerky, and for adding smoke flavor to meats to be finished off in the oven. The Chief smokers have a permanently set thermostat that maintains a temperature of about 160 degrees Fahrenheit, which isn't hot enough for most types of smoking, and is too hot for real cold smoking.
Bradley Electric Smokers

The line of Bradley smokers uses a smoke generator to create smoke for the food. The generator can only be used with specific biscuit shaped wood disks, made by Bradley. They all have temperature control, and can be operated at very low to medium high temperatures.
Cookshack Residential and Commercial Smokers

Great for smoking large quantities of meat, these are high quality meat smoking machines. Insulated dual wall sides and top make them efficient.

Masterbuilt Electric Smokers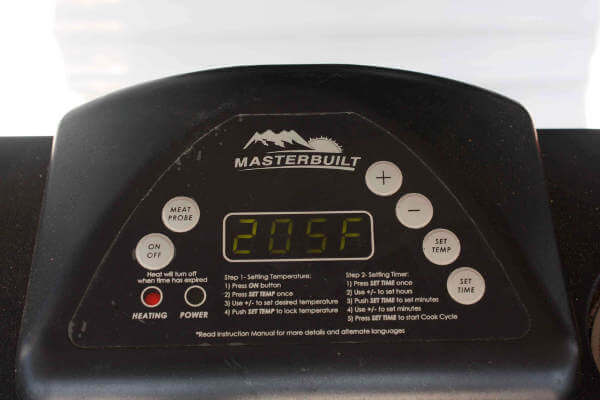 Masterbuilt offers several different digital electric smokers, plus a few analog electric smokers as well. Keeping up with technology, the company even has a Bluetooth Smart Digital smoker that can be monitored and controlled from your hand held device.

Electric Smoker Recipes
Little Chief Smoked Salmon Recipe

INGREDIENTS

3 pounds of salmon fillets
1 cup brown sugar
1/2 cup kosher salt
3 tablespoons dried dill weed
1 tablespoon coarse ground black pepper
Cut the fillets into 4 inch lengths. Rinse, pat dry, then coat all sides evenly with the combined sugar and salt. Place the salmon fillets in a deep dish in the fridge for 2 to 4 hours. Quickly rinse the excess sugar and salt from the salmon, and pat off the excess moisture.
Coat the fish with the dill weed and pepper, then place the fillets on a cooling rack to dry for at least one hour. This step forms the pellicle, which is helps hold moisture in the salmon as it smokes.
Fill the Little Chief smoke wood box with chips, place the fish in the smoker, shut the door and plug the smoker in. Smoke the fish for 2 to 3 hours, or until the salmon reaches 155 degrees internal temperature. Allow to cool before eating.
(adapted recipe from Smokehouseproducts)
Electric Water Smoker Spare Ribs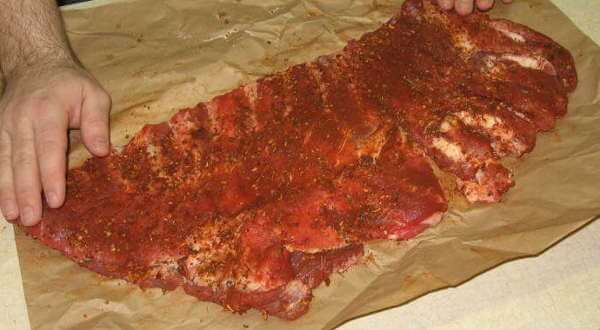 Seasoned Spare Rib Slab
INGREDIENTS

2 slabs, baby back ribs
1/2 cup rib rub
1/2 cup apple juice
1/2 cup water
Coat the baby back slabs on both sides with a generous amount of rib rub. If the rub contains salt, be careful to not add too much. Nothing worse than over-salted ribs!
Place hot water in the water pan and place it in the smoker. Wrap up 2 or 3 chunks of smoke wood in foil, and place one of the packets next to the electric element, but not touching it.
Place the slabs on the top rack of the electric smoker, put the lid on, then plug the smoker in. If there's a temperature control, set it to 225 degrees.
When the first chunk of wood is smoked out, add the second chunk, and the same with the third. Try not to remove the top lid during the first 2 hours of smoking if possible.
After 2 hours of smoking, start basting the ribs every half hour with the combined apple juice and water. Baste both sides. Check the ribs for doneness after 4 hours. The rib meat should pull apart fairly easily when two of the bones are pulled away from each other.
More Electric Smoker Recipes
Bradley Smoker Brisket Recipe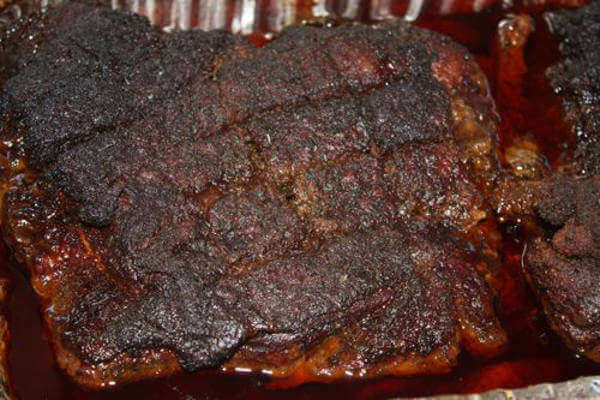 INGREDIENTS

1 trimmed brisket
1/2 cup brown sugar
1/2 cup paprika
2 tablespoons garlic powder
2 tablespoons black pepper
2 tablespoons chilli powder
2 tablespoons salt
1 tablespoon onion powder
1 tablespoon ground coriander
1 tablespoon cayenne pepper
2 cups yellow mustard
Combine the dry spices. Coat the brisket with a generous amount of mustard, then cover the mustard with the spice rub mixture.
Using mesquite bisquettes, smoke the brisket for about 4 hours, then continue cooking for another 6 hours. Run the smoker at 190-200 degrees Fahrenheit with the damper closed.
(adapted recipe from Bradleysmoker)

Masterbuilt Smoked Chicken Wings

INGREDIENTS
4 pounds chicken wings, separated, tip sections discarded
1 bottle Italian salad dressing
2 tablespoons mild dry rub mix
Place the chicken wing sections into a plastic storage container or a gallon food storage bag. Add the bottle of Italian dressing. Refrigerate overnight to marinate the wings, stirring a few times to redistribute the dressing.
When ready to smoke, remove the wings, rinse in water and dry. Season the wings with your dry rub mix. For more kick, use a spicy dry rub containing a bit of cayenne pepper.

Smoke the wings at 300-325 degrees for 60 to 90 minutes. Serve immediately.
(adapted recipe from Masterbuilt)

More Masterbuilt Smoker Recipes

Cooking a chuck roast low and slow ensures that it's tender and juicy.
Read More:

Seasoned with a great tasting dry rub, these ribs are great without sauce!
Read More:

Pork loin is especially tasty when it's smoked with apple wood chips.
Read More:

Cookshack Brandy Smoked Turkey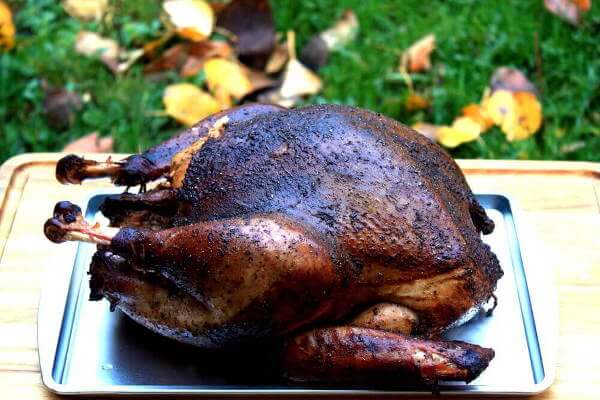 INGREDIENTS

One10-12 pound turkey
1 cup brandy
1 cup honey
1 cup brown sugar
1 teaspoon crushed cloves
1 Tablespoon poultry seasoning
Inject the turkey with 1/2 cup of the brandy. Season the turkey inside and out with the poultry seasoning. Smoke and cook the turkey with hickory or apple wood for 10 to 12 hours.
Combine the remaining brandy with the honey, brown sugar and cloves to make a sweet brandy sauce.
When the internal temperature of the turkey reaches 155 degrees Fahrenheit at the breast and 165 at the thigh, remove from the smoker and let rest for 30 minutes, breast side down. Slice and serve with the brandy sauce.
(adapted recipe from Cookshack Smokers)
Give one or two of these electric smoker recipes a try. Once you get the hang of using your smoker, you'll find that most of the recipes on this site will work well in yours.

You Are Here: &nbsp

Home

> &nbsp