Smoked Pork Loin With Spiced Apple Sauce

In less than three hours time a luscious smoked pork loin can be prepared and served to your hungry guests. Instead of smoking for hours and hours until the pork is falling apart tender, the pork loin is cooked until it reaches an internal temperature of 145 degrees Fahrenheit
A whole pork loin is one of two strips of meat that lie on each side of the porker's backbone. Many folks confuse the loin with the tenderloin
The difference is that the loin is on the outer side of the body cavity...the tenderloin is on the inside. The tenderloin is smaller and more tender than the loin.
However, the loin is still pretty darned tender. And less expensive, too.
Apple Smoked Pork Loin
This recipe begins with a light dry rub seasoning, continues with some apple wood smoke flavor, and ends with a tasty apple-cinnamon sauce.
Begin by removing all of the membrane (silver skin) and excess fat from the outside of the pork loin. Rub the loin with olive oil, then lightly season it with a bit of this dry rub mixture.
1 teaspoon onion powder

1 teaspoon paprika

1 teaspoon salt

1/2 teaspoon white pepper

1/4 teaspoon ground cinnamon

1/4 teaspoon fresh grated nutmeg
After seasoning, wrap the loin in plastic wrap and refrigerate for at least one hour, and up to overnight. By doing this, the dry rub flavors will have time to be absorbed into the meat, providing a richer taste.
When meat is put into the smoker immediately after being seasoned, a lot of the rub flavor drips off with the fat and juices.
Smoke the loin (using apple wood) at 225 degrees Fahrenheit for two to three hours, or until the internal temperature reaches 145 degrees.
Remove the pork loin to a platter, covering lightly with foil and a kitchen towel. Let it rest for fifteen minutes before serving with the apple cinnamon sauce.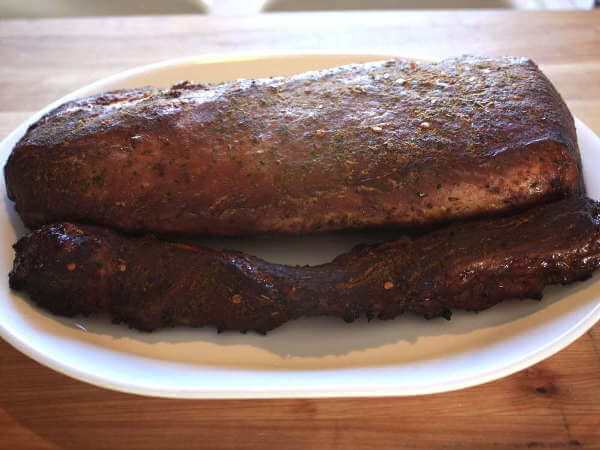 Apple Cinnamon Sauce
Finely chop two large or three medium sweet apples (Fuji or Gala are great varieties for this) and place in a saucepan.
Add one tablespoon sugar, one-half teaspoon each of cinnamon, paprika, salt and white pepper, and two tablespoons rice wine vinegar.
Cover and bring to a boil over medium heat, then lower to a simmer. Cook gently until the apples are tender. Slice the smoked pork loin and top with sauce.