Grilled Banana Peppers Are a Great Appetizer!

If you like ABTs, you'll enjoy these grilled banana peppers just as well. Stuffed with a mixture of two different cheeses then wrapped with smoky bacon, they become the most mouthwatering appetizers you'll ever try.
Another tasty option is to fill these little yellow beauties with fresh sausage. Breakfast sausage, Italian sausage or fresh andouille sausage are great choices.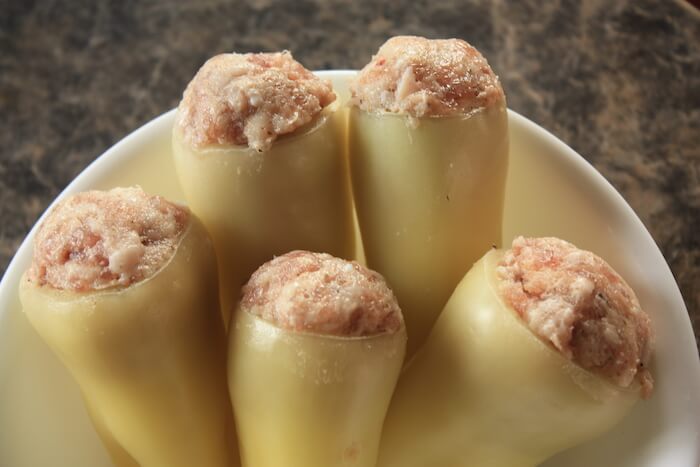 One thing about banana peppers you should know, is that like jalapeno peppers there are hot ones and sweet ones. If you grow your own, great! You know what you have.
But if you buy them, you usually don't know if they're hot or mild until you bite into one of them. So if you're concerned about the heat factor, sneak a bite of one before you buy.
Grilled Banana Peppers Recipe

Cheese Stuffed, Bacon Wrapped Bites of Awesome!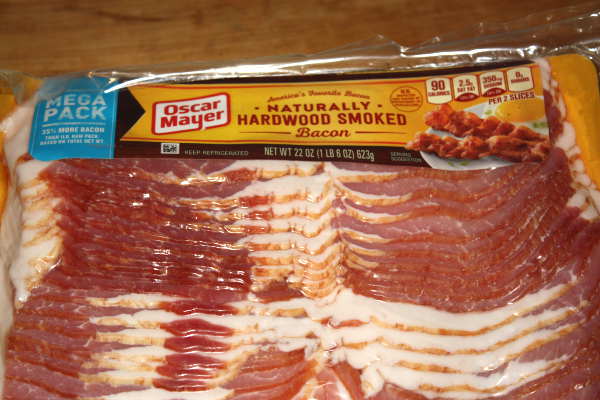 These are pretty easy to put together, and can be grilled to completion in 20 to 30 minutes.

INGREDIENTS
20 yellow banana peppers, hot or sweet

One 8oz block of cream cheese

1 cup shredded cheddar cheese

20 slices of bacon


40 or so wooden toothpicks, soaked in water
Stir the cream cheese and shredded cheddar together. You can use your choice of cheeses, either regular or low fat, but I think the regular stuff just tastes better.
Cut the stem end off of each of the peppers and use a narrow bladed knife or the narrow handle of a teaspoon to remove the seeds.The blade of a vegetable peeler does a great job too.

Using that same teaspoon, scoop in small amounts of the cheese mix, pushing it down to the tip of the pepper the best you can.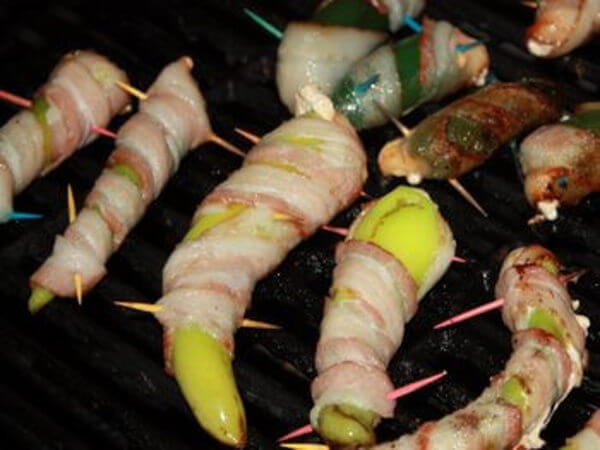 I found that by using a bamboo chopstick you can get the cheese down almost to the end of the longer banana peppers. Use the business end of the spoon to round off the cheese at the open end, just so it's a little overfilled.
To wrap the bacon, cover the cheese dome with one end of the slice, and wrap the rest of the slice spirally around the length of the pepper. Secure with waterlogged toothpicks.
Use the indirect grilling method, medium heat. Cook until the bacon wrapping the grilled banana peppers is just starting to crisp, and the flesh of the pepper is softened.
The visible ends of the toothpicks sometimes burn completely off, leaving a sharp surprise inside the bacon wrapped, cheese stuffed grilled pepper appetizers.
Warn your guests before serving, or better, remove all the toothpicks yourself, and be sure to find all the burned off, hidden ones.
For a touch of variety, grill a combination of these stuffed banana peppers and stuffed jalapenos.  Cook up enough of these beauties and they'll almost be enough for a meal in themselves!