A Great Tasting Smoked Meatloaf Recipe

I have always been a big meatloaf fan. When I finally tried smoked meatloaf, I just couldn't believe the difference. The smoky flavor turns regular meatloaf into something special.
Some meatloaf recipes are all beef, while others combine ground beef with ground pork.  This meatloaf recipe combines ground beef with fresh Italian sausage, and always comes out tasting excellent.  Here's the recipe...
Billy's Smoked Meatloaf
Two pounds lean ground beef
One pound fresh Italian sausage, medium or hot
One cup Kansas City Style BBQ sauce
One cup rolled oats
Two large eggs
One large green pepper, finely chopped
One large onion, finely chopped
One tablespoon olive oil
One teaspoon chopped garlic
One teaspoon salt
One-half teaspoon black pepper
One-quarter teaspoon cayenne pepper(optional)


Fire up your smoker. The temperature needs to be right at 250 degrees Fahrenheit for meatloaf. When smoking ground meat recipes, the internal temperature needs to rise above the danger zone as quickly as possible.
Saute the chopped green pepper, onion and garlic in the olive oil until soft. Spoon the veggies out of the frying pan, and combine with the rest of the ingredients, mixing thoroughly.



---
The best way to mix meatloaf? Use your hand. Just get in there and start squishing...it's very effective, and it feels good too! Mix it up for about five minutes. The texture of the smoked meatloaf will be better if the ingredients are blended well.
---
Smoking Meatloaf In a Traeger Grill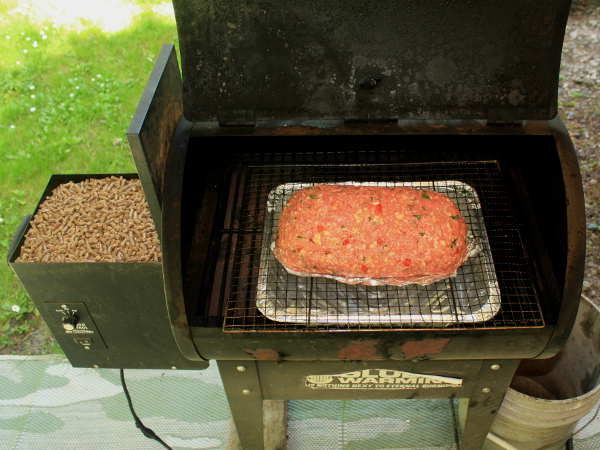 Form the ground meat mixture into one large loaf, or several smaller loaves. I usually divide the meat into four smaller loaves. They cook quicker, and they make nice looking leftovers.
An optional method that adds loads of flavor is to cover the top of the meatloaf with a few slices of bacon. This gives the loaf incredible flavor!

Place the loaf (or loaves) into a shallow baking pan and pop it into the 250˚ F smoker. Use your favorite wood for smoke. When the internal meatloaf temperature reaches 160F, it's done. Smaller loaves may be done in as little as two hours. A full size loaf may take 3 to 4 hours.
If you like, you can top the smoking meatloaf with ketchup or barbecue sauce one-half hour before removing it from the smoker. I like barbecue sauce, myself.
Give the meatloaf at least fifteen minutes to rest before serving so it firms up a little. This smoked meatloaf recipe makes dandy sandwiches for the lunchbox.
And while your eating, go ahead and crank up Paradise By The Dashboard Light...that's a great Meatloaf tune!