Smoked Rib Tips - What They Are And How to Cook 'em

A batch of smoked rib tips makes a tasty appetizer or can be served as the main course. The source of these little morsels of pork is the parts left over after trimming of a whole spare rib slab into a more manageable St. Louis style spare rib rack.
The trimmed off brisket section contains some large pieces of cartilage in one end. When the strip of meat has finished smoking it's easily sliced into finger-food size pieces.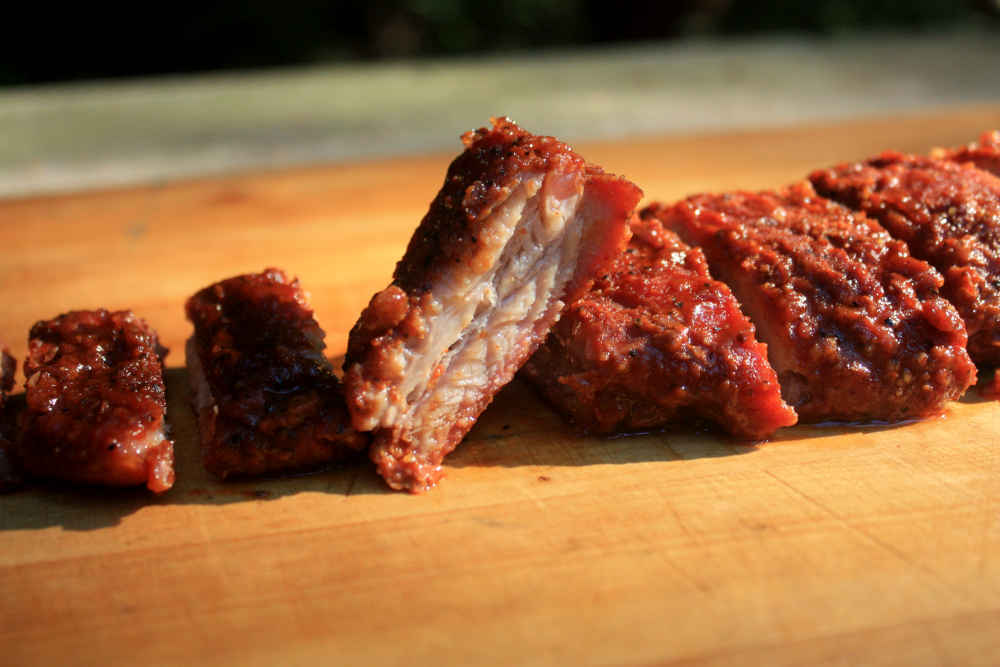 Smoked Rib Tip Section Sliced For Serving
Why Are They Called Rib Tips?

The answer is simple. Looking at a fresh spare rib slab, you can see where the rib bones end.
Past that point is the sternum, where the cartilage connecting rib bones to the breast bone resides. That cartilage makes up the "tips" of the ribs.
Where To Cut When Removing the Spare Rib Brisket

There's a somewhat noticeable line of fat that shows where the cut to remove the brisket is made. It's a rough guideline, but basically, the goal is to trim the ribs to a fairly even rectangular shape.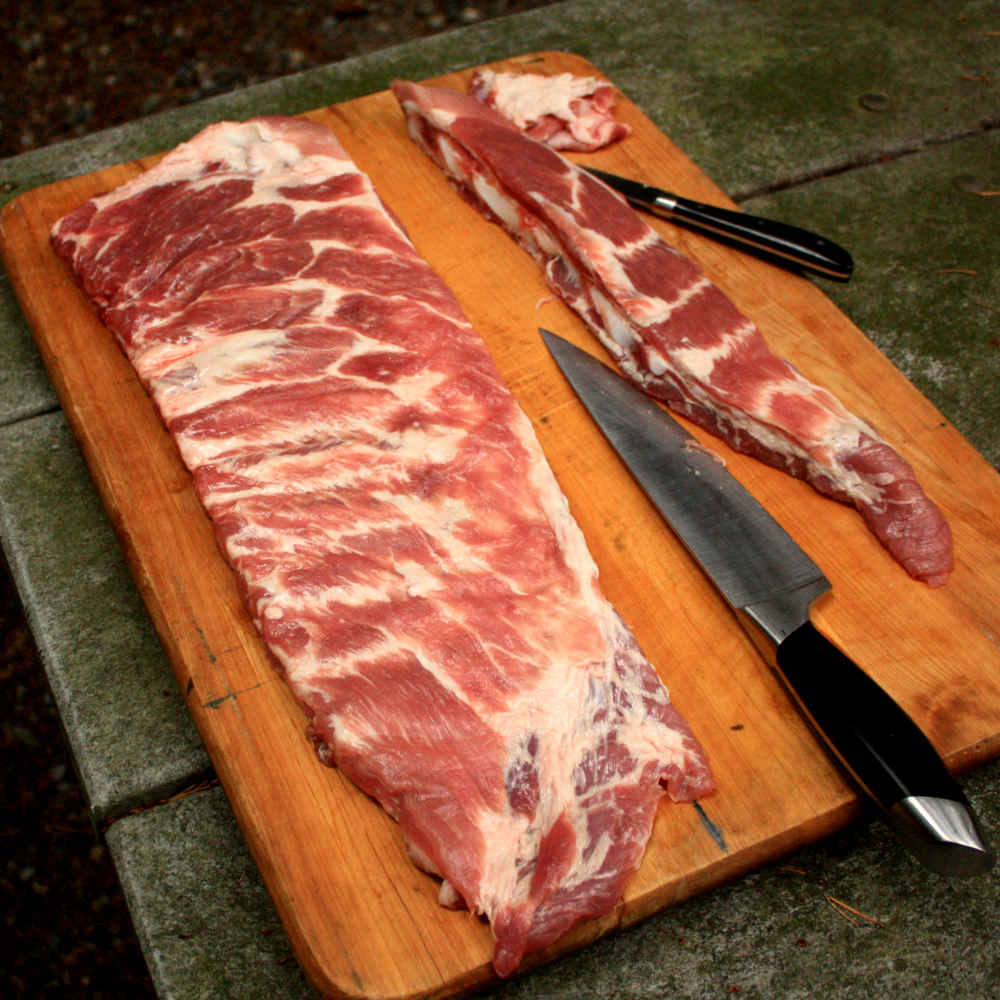 Rib Tip Section Separated From Slab
The cut can be made a bit closer to the rib bone ends if you'd prefer a slab with less cartilage remaining and bigger rib tips for smoking.

At the tail end of the slab, where the rib bones are shortest, is a thin flap of meat that is also trimmed away. Use the last, short rib bone as the cutting location.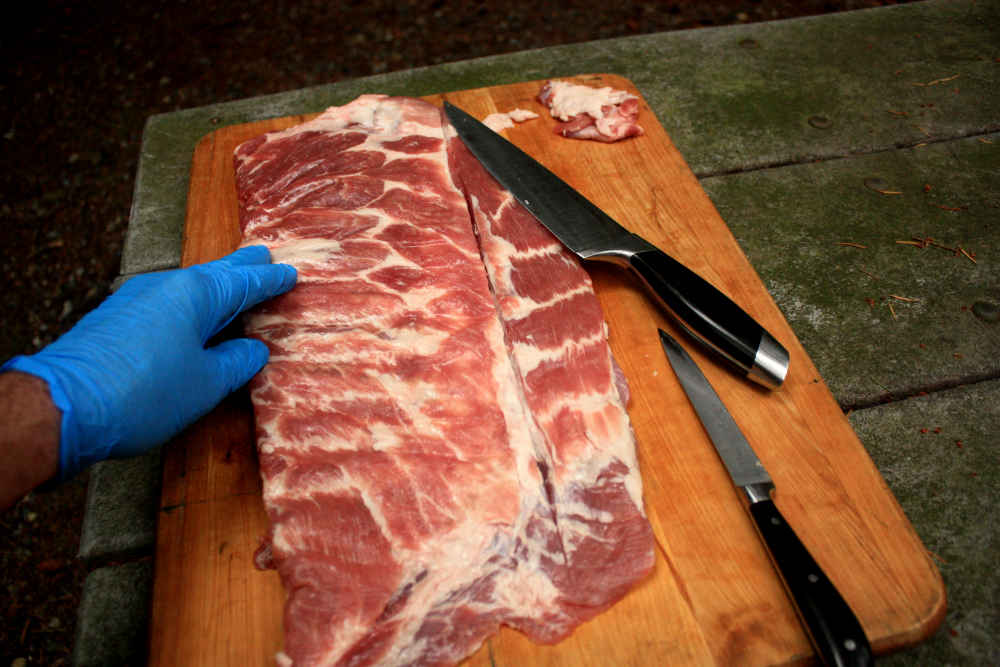 Score Mark Showing Position of Fat Line
When trimming to a Kansas City or St. Louis style slab, the tail section is removed along with the last rib bone, leaving a clean, rectangular shaped rack of ribs of relatively even thickness.
The trimmed slab looks better for presentation, and cooks more evenly due to its consistent thickness.

Season The Rib Tip Strip With a Good Rib Rub
This dry rub mix keeps the flavor mild and mellow. Since there's no salt in this rub the meat needs to be salted before hitting it with this seasoning.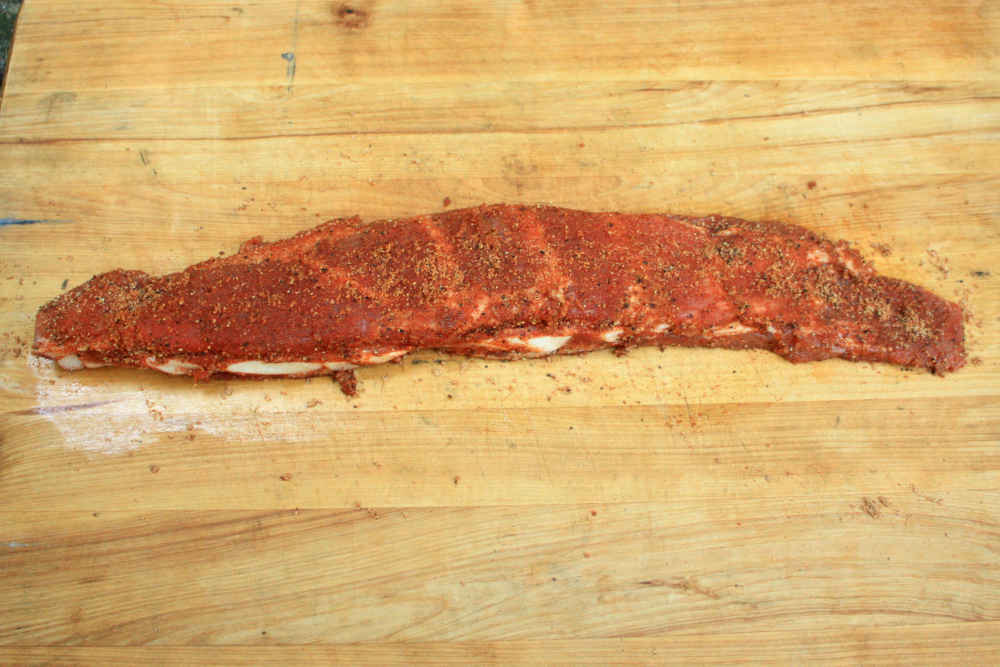 Seasoned Pork Rib Brisket, Destined To Be Rib Tips
INGREDIENTS:
Two tablespoons brown sugar

One tablespoons paprika

One tablespoon onion powder
Two teaspoons garlic powder
One teaspoon ground black pepper
Not added to the rub mix. Season the meat with salt before giving it the spice rub treatment.


Mix up the spices and after salting the meat, coat the pork brisket strip on both sides. Be as generous with the rub as you like.
Another really tasty rub that is perfect for rib tips is my Memphis style rib rub recipe. Use it to season the rib tips just as you would when seasoning spareribs or baby back ribs.

Smoking Your Rib Tips To Their Delicious Finale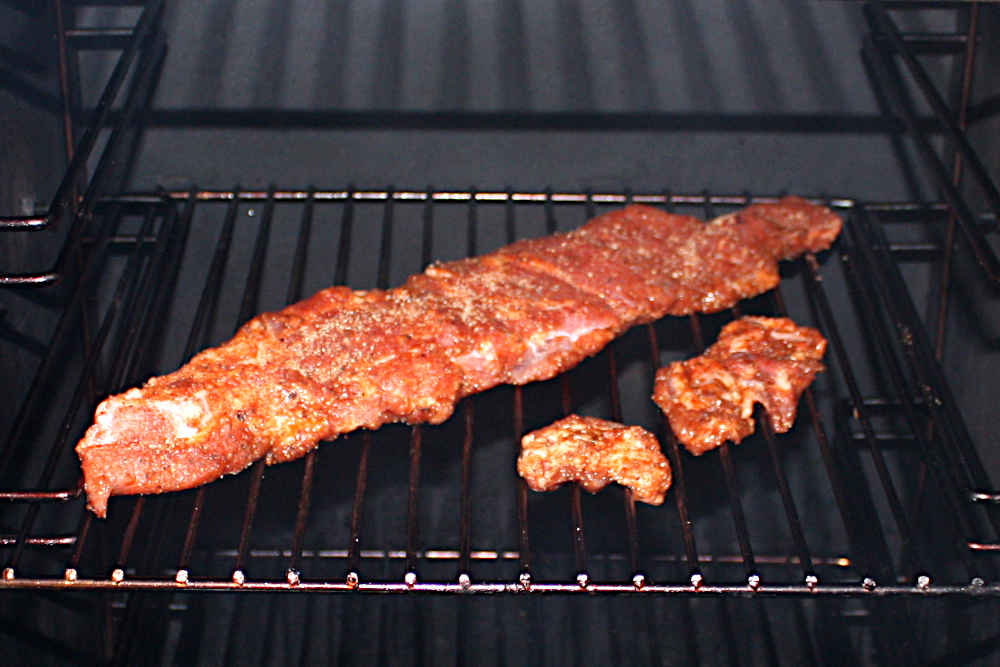 Rib Tip Strip In The Smoker
Now comes beer drinking time! Get that hunk of pork into your smoker, with the cooking temperature set withing the range of 225°F to 250°F.
Hickory is the traditional choice for rib tip smoke flavor, but use whatever type of chips or chunks that make your taste buds happy. Apple is always a good choice.

Use a Wrap of Foil To Speed Cooking and To Keep The Rib Tips Moist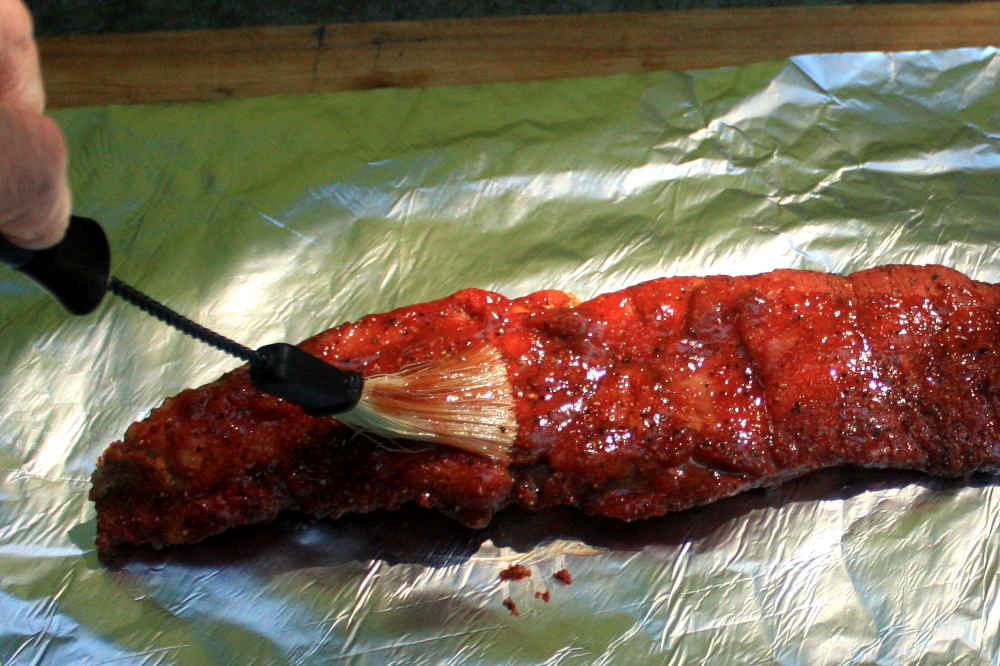 A Little BBQ Sauce Livens Things Up
I cheat when cooking these by wrapping the meat in foil after it's gotten a hit of smoke flavor. The foil shortens the cooking time, and also helps keep the meat moist.
I've been know to brush the rib tips with barbecue sauce before I wrap them up to finish cooking.
Three or so hours of smoke contact is enough to make them tasty. Wrap them with foil at that time and back in the smoker they go - and no need for any more wood chips or chunks now.
After two hours of cooking while wrapped, they can be removed and eaten as-is, or placed back on the grate an cooked for another hour. Doing that will give them a drier and more chewy exterior.
I like 'em both ways myself!

Serve Your Smoked Rib Tips and Enjoy!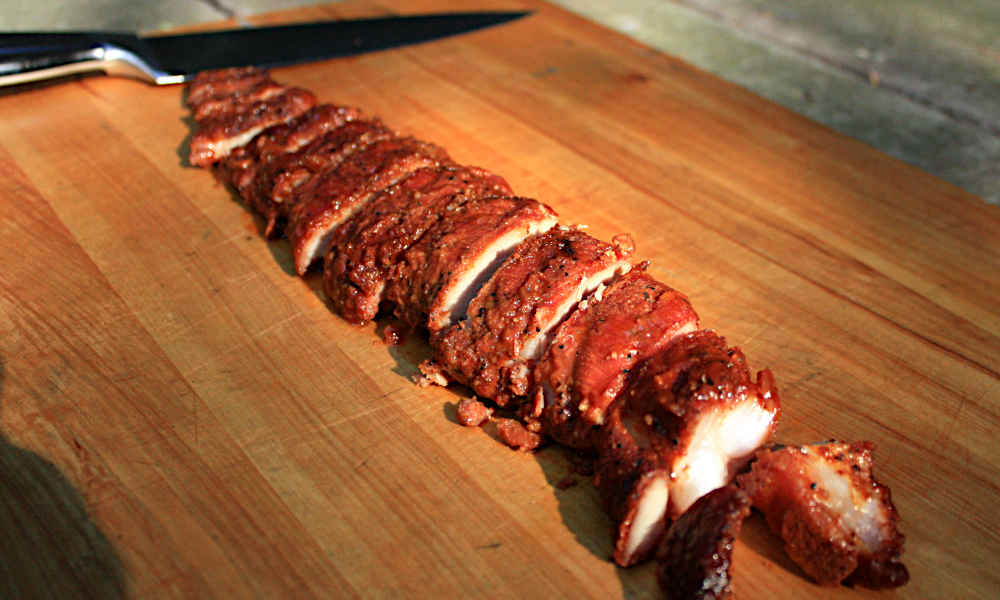 These delicious nuggets of pork can be passed around and eaten as messy finger food. Be sure to provide an abundance of napkins!
Three of four smoked rib tips on a plate with a few side dishes makes a complete meal. Serve with extra sauce if you so desire.

You Are Here: &nbsp

Home

> &nbsp