Stuffed Venison Backstrap Recipe

Venison loin is a great cut of meat. This recipe for grill cooked stuffed venison backstrap is a fantastic way to serve it to your guests and family. The filling includes a mix of vegetables that are completely cooked before being wrapped with the butterflied loin.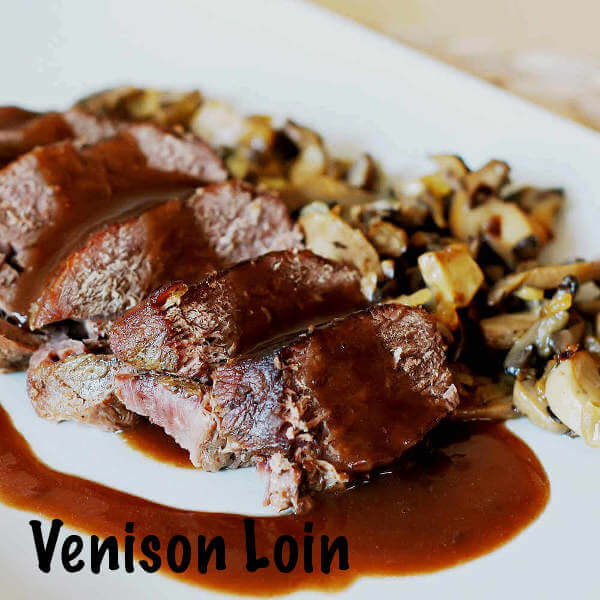 Stuffed Venison Backstrap Cooked On The Grill

The loin will be a fairly thin layer wrapped around the veggies. To accomplish this, the backstrap must be butterflied. To do this, first trim the loin so it's about the same diameter along it's entire length.
Begin cutting the loin lengthwise, as if your were unwrapping a cinnamon roll. Keep the meat about one-half inch thick. Use a tenderizing hammer (or the bottom of a small cast iron skillet) to lightly pound the butterflied meat to an even thickness.


INGREDIENTS
One butterflied venison backstrap
Six slices of bacon
Two large red or Yukon Gold potatoes, chopped
8 ounces of sliced mushrooms
One medium white onion,chopped
Three scallions, or green onions, with tops, chopped
Two tablespoons fresh parsley, chopped
One teaspoon salt
One-half teaspoon black pepper
Vegetable oil
(As these ingredients are cooked, place them in a warm oven to keep warm.)
Fry the bacon until crispy. Remove from the pan, saving the grease to fry the other ingredients. Add the chopped yellow onion and mushrooms and continue cooking until soft.
Remove from the pan, and with more bacon grease, cook the potatoes until they are lightly browned. Remove, then cook the green onions until just beginning to soften, then add the parsley. Cook for a couple more minutes, then remove from the heat.
Place the potatoes in a large mixing bowl and mash them up a little. This will help bind the other ingredients together. Crumble the bacon, and add it and the rest of the cooked ingredients to the potatoes. Salt and pepper, then stir together.
Immediately place the hot filling on the butterflied loin, right down the middle. Roll the meat around the filling, then either secure the edges with bamboo skewers, or tie it off with cotton twine.
Coat the outside of the venison backstrap with vegetable oil and season with salt and pepper. Grill over medium high heat, lightly browning on four sides. When the temperature of the venison reaches 145 degrees remove from the grill and let it rest for 10 minutes before slicing and serving.