Smoked Wild Game Recipes
Wild game is healthful, lean meat. Its low fat content requires that smoked game recipes be designed so that the meat remains moist. The recipes here have been developed to prevent this lean meat from drying as it smokes.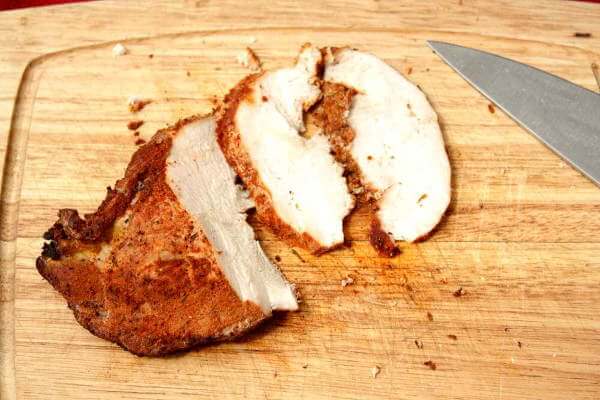 Smoked Wild Turkey Breast
Techniques including basting, brining, and combination cooking can help an otherwise dry cut of game meat turn out more tender and moist than it would be otherwise.
Wild game is highly variable in its quality, so there's no guarantee that these recipes will turn out moist and tender every time.

Wild Game Smoking Tips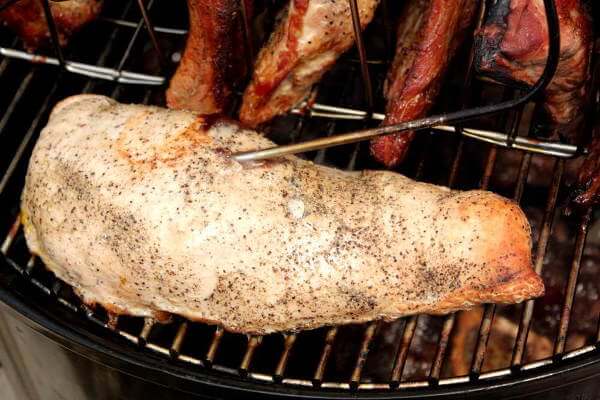 Turkey Breast Temperature is Critical
Here are some recipes that I've used with great success. Combining bacon with venison adds fat that ups the flavor and the moistness of the roast. The pheasant is wrapped in the skin from chicken leg quarters, which works well at keeping the meat from drying.
Marinating and smoking the goose breast turns it into a real treat! I have to give thanks to my neighbor and friend Jeff for the bacon wrapped dove recipe. Thanks, Jeff! The duck and quail recipes will help you turn your birds into some fine eating. I hope you enjoy the recipes!

Smoked Wild Game Recipes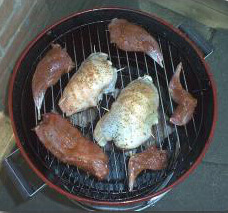 Smoking Pheasant Breasts and Wild Rabbit
Smoked and Grilled Venison Recipes
Stuffed and Smoked Leg of Venison
For smoking a whole deer leg, it can be butterflied out, then stuffed to add flavor and improve its juiciness. And wrapping it with bacon is the extra touch that takes this on over the top!

Venison Backstrap
Filled with a variety of chopped vegetables, the deer loin is tied off, then grilled until its internal temperature reaches 145°F. Cooked to medium rare, venison is both moist and delicious.

Deer Jerky Recipe
After marinating in a mixture of soy sauce, brown sugar and assorted spices, quarter-inch thick strips of deer meat are transformed into great tasting jerky. Perfect for snacking or to get a boost of energy while out on the trail.

Venison Snacks
My brother came up with this idea back when he was nailing deer right and left - Georgia allows the harvest of several each season. After soaking in a flavorful marinade, the chunks of deer meat are wrapped with bacon and grilled.

Venison Medallions
This recipe makes something that would be considered finer dining in most circles. Melt-in-your-mouth venison tenderloin steaks are prepared and cooked in the style of a beef filet mignon.

Wild Fowl Recipes For The Grill and Smoker
Wild Turkey
Wild turkeys are thick as flies on a carcass down in South-Central Kansas. Several have ended up in my smoker!

Quail Recipes
Though small in size, quail are big in flavor. Grilling brings out the best that quail have to offer.

Smoked Pheasant Recipe
Pheasants are lean and mean, but with special treatment then can be juicy and tender when smoked.

Goose Jerky Strips
Shot out of my pop-up blind on a snowy day, this gaggle of geese was transformed into a big batch of goose jerky.

Grilled Dove Appetizers
It takes a skillful shot to bag a limit of speedy mourning doves. If that's you, peel the breast meat from the bone, wrap with bacon and grill 'em.

Duck
A big mallard is pretty tasty when it's smoked, as are some of its smaller cousins. If you miss, store-bought ducks will suffice.