A Smoked Stuffed Peppers Recipe to Remember!

Unlike the ones my mom made, these smoked stuffed peppers are much more flavorful, and because the ground beef is precooked they contain less fat.
The stuffed peppers I grew up eating were made with green peppers exclusively and filled with a mixture of raw hamburger, bread crumbs, eggs, salt and pepper.
Usually baked to death until the pepper was falling-apart soft, they were heavy with grease.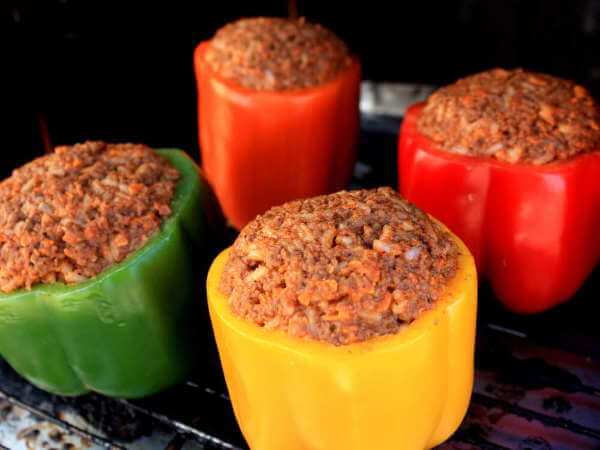 My recipe uses red, yellow, and orange peppers in addition to the green ones and I get a little more creative with the filling.
The seasoned beef and onion mixture is combined with dry oatmeal and cooked rice, which gives it a nice, light texture. Also, these can be baked in the oven, although you'll be missing out on that smokey flavor.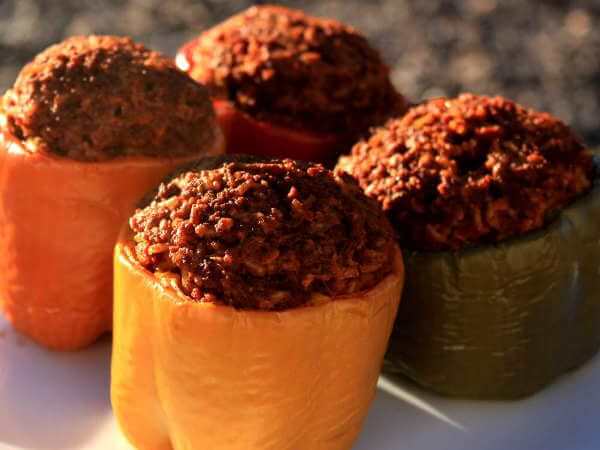 Smoked Stuffed Peppers
How to Choose Perfect Bell Peppers For Stuffing

Look for peppers that are nicely shaped and close to the same size and that will be stable standing on a flat surface. The peppers I used were about 3 inches in diameter, and with four of them I used nearly all of the filling mixture.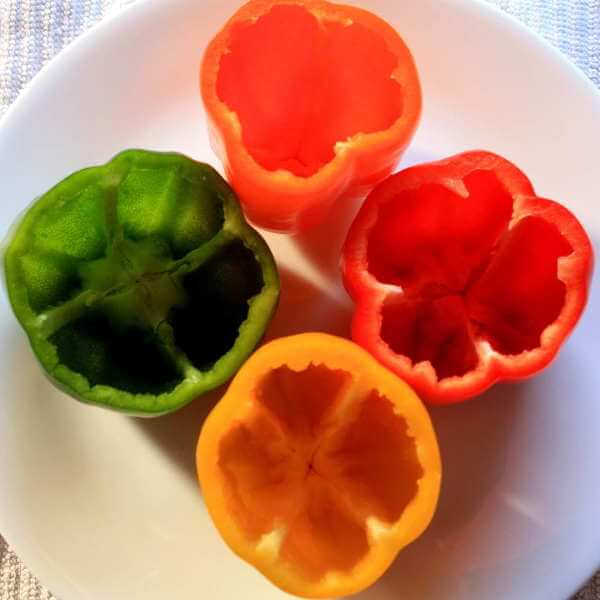 Pick out peppers that are solid and fresh, and feel heavy in relation to their size. Heavier bell peppers have thicker wall that won't split apart when stuffing, and they'll maintain their shape after they're cooked in your smoker.

Color choice isn't really that important, although a variety of colors looks really nice on the platter. Green peppers will have a less-sweet and slightly bitter taste compared to the red, yellow and orange peppers.
In my opinion the red ones have the best flavor and sweetest taste.
Scrumptious and Delicious Smoked Stuffed Peppers Recipe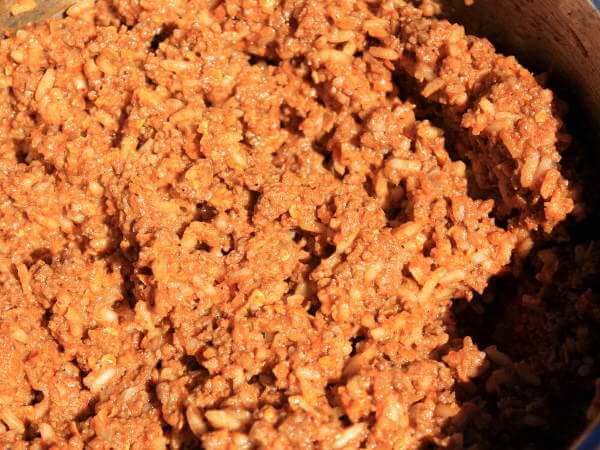 Before combining the eggs with the seasoned beef mixture, make sure that the meat is allowed to cool down until it's slightly warm. If it's too hot, the eggs will cook and not coat everything as they should.
The eggs act as a binder, holding the filling ingredients together as the peppers cook. The rice and oatmeal add texture and lightness.
When the eggs are combined with the meat mixture, the peppers should be immediately filled and put into the smoker or oven.
Even though most of the smoked stuffed pepper filling is precooked, the eggs are still raw and have to be cooked thoroughly.
The filling must reach 160 degrees to be safe. It's rare, but eggs can contain salmonella bacteria which at minimum can cause severe discomfort, and in some people it can cause very serious symptoms.
Overcooking can also be a problem. If the filling heats up beyond 160 degrees, moistness and flavor will suffer.
Be sure to use a food thermometer to measure the stuffing temperature. I used my  ThermoWorks Smoke dual-probe smoker thermometer so I wouldn't have to open the smoker door to monitor the temperature.


SMOKED STUFFED PEPPERS INGREDIENT LIST
---
4 medium to large sweet bell peppers

Filling Ingredients

1 pound ground beef


1/3 cup finely chopped yellow or white onion

1 teaspoon cooking oil (for sauteing chopped onions)


1 teaspoon chili powder or 2 teaspoons for more heat and flavor

1/2 teaspoon ground black pepper

1/2 teaspoon kosher salt

1/4 teaspoon garlic powder

1 cup cooked white rice


1/2 cup dry quick oats

1/4 cup ketchup

2 whole eggs


* * * * *
PREPARATION AND COOKING INSTRUCTIONS

---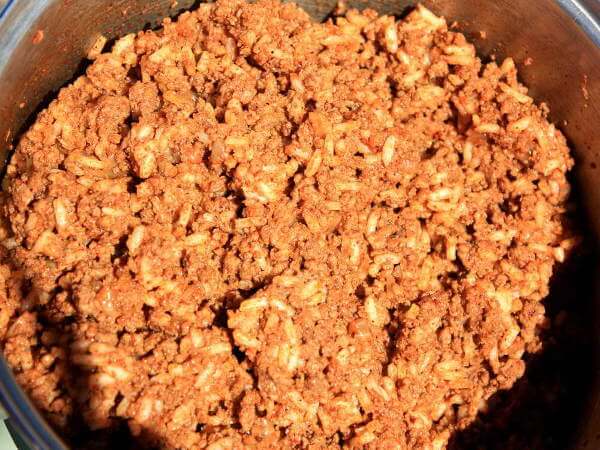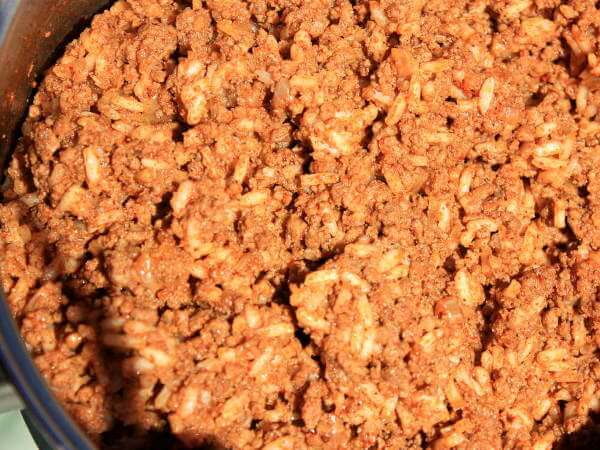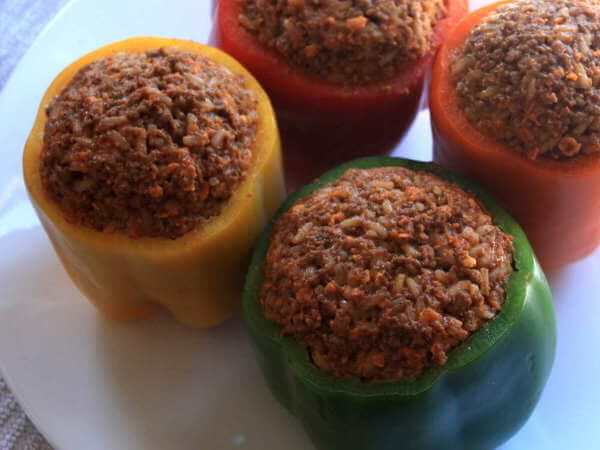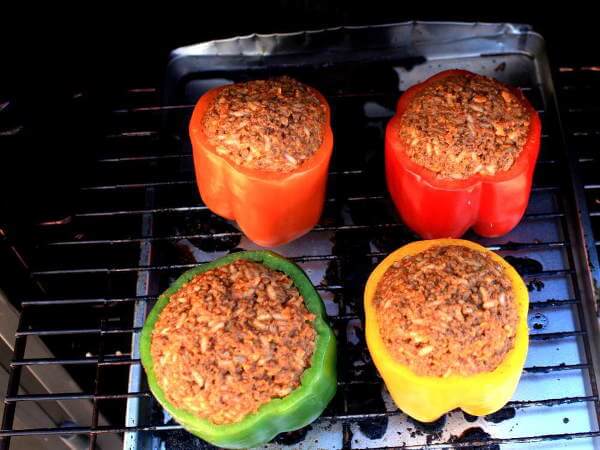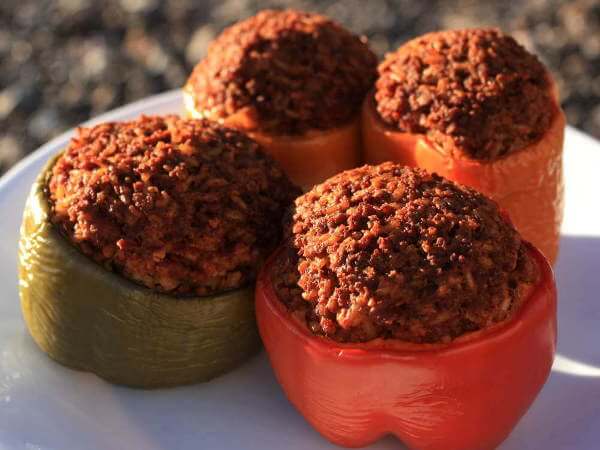 Cook the ground beef in a saucepan on the stove top, breaking it up finely as it browns. Drain off all fat and juice.


Saute the chopped onions in cooking oil until softened. For more flavor you could cook them in a bit of the fat that renders from the ground beef. That's what I did.


Combine the beef, onions and seasonings, mixing well. Stir in the rice and oats. Allow to cool.


Prepare the sweet peppers. Wash and remove the tops and seed cores with a sharp knife. Trim the white ribs from the cavity walls.


When the stuffing mixture has cooled to just-warm, add the eggs and ketchup, mixing together well.


Fill the peppers with the seasoned ground beef mixture, packing it in tightly. Add enough so that the filling is rounded above the tops of the peppers.


Place the stuffed peppers on a rack in the smoker. One cup of water-soaked wood chips added for smoke at the start will give the peppers a light smokey flavor. Use a second addition for more smokiness. Maintain smoker temperature at 275° Fahrenheit.


Cook the peppers in the smoker until the internal temperature of the filling reaches 160° F, which should take from 60 to 90 minutes. Serve immediately when done.


Optional cooking method - Bake in an oven set at 300° for approximately one hour, or until stuffing temperature reaches 160° F.


* * * * *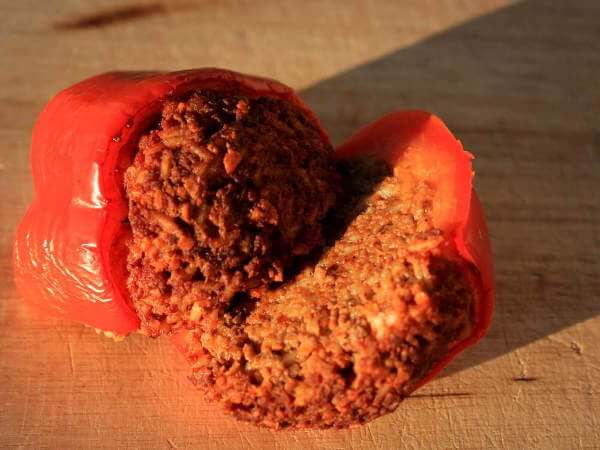 Awesome Applewood Smoked Stuffed Peppers!

This recipe turned out impressively well! I used apple wood chips for adding smoke flavor, but other woods can be used. Fruit woods or nut woods like cherry or pecan would be equally good.

The peppers were cooked just enough to be tender while holding their shape. The stuffing was moist and tender, and left my mouth with just a bit of gentle, lingering heat.
There was no hint of greasiness, and the texture was light and slightly crumbly. I hope you give this recipe a try, even if you bake it in the oven!
Related Recipes

You Are Here: &nbsp

Home

> &nbsp