Save Your Favorite Printable Smoker Recipes

When you're working on a new dish, it's nice to have a printed copy of the recipe at your side. These printable smoker recipes give you access to all available Smoker Cooking recipes that have been upgraded to include printable recipe cards.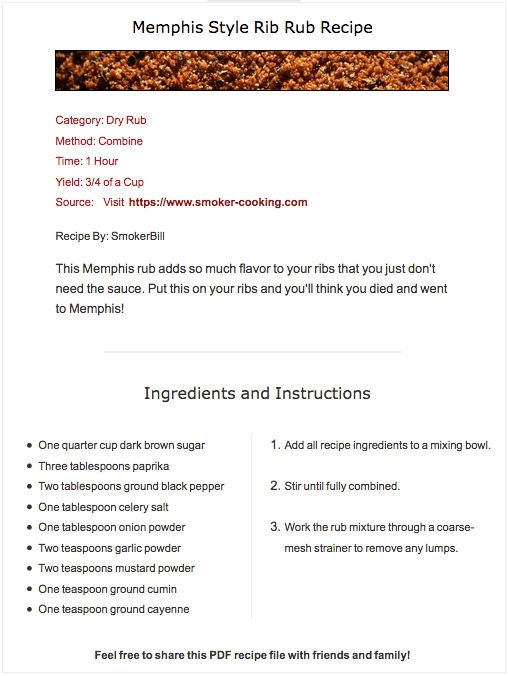 Available in PDF format, these recipe files can be saved to your computer and studied at your convenience. Print them out when you want a copy to use as you're putting together the new recipe.

Printable Smoker Recipes
These PDF recipe cards open in a new window. Just save the file to your computer, then print it out at your convenience.
---
---



Cherry Lime Ham Glaze Recipe Card


A double smoked ham is good as-is but if you want it to be great it needs a little dressing up. Some like cloves and pineapple, but I like cherries. This glaze provides just the right amount of sweetness and tartness, and goes well with the ham's rich and salty flavor.
Visit the ham glaze page

---



This sweet and spicy rub has a lot of flavor, and works well on spare ribs and baby backs. And actually, it's good when used on any cut of pork. With brown sugar, paprika and an assortment of spices, this rub adds so much flavor that the thought of using bbq sauce never comes to mind.
Visit the Memphis rub page

---



Oak Smoked Tri Tip Recipe Card


Beef tri tip is a great cut of meat, especially when it's coated with a tasty dry rub, and kissed with whorls of smoke. Smoked with oak wood and cooked to medium rare, this smoked tri tip will be juicy, tender, and have flavor that just can't be beat!
Visit the tri tip page

---
---
---
---
---
---
Newest Printable Recipe Card!
Grilled Ancho Butter Shrimp Recipe


Category: Appetizer
Cuisine: American
Method: Grilling
Yield: 4 Servings
Prep:  30 Minutes
Cook:  10 Minutes
Time: 40 Minutes


Source: https://www.smoker-cooking.com
Recipe By: SmokerBill

Mild but flavorful ancho chili powder adds loads of great flavor to this shrimp appetizer recipe. The ancho butter sauce can be livened up with a pinch of cayenne pepper.
---
Ingredients and Instructions
One pound shrimp, U-25 or larger

4 ounces salted butter

1 teaspoon Mrs. Dash Garlic Herb seasoning

1 teaspoon dried parsley flakes

1 teaspoon ancho chili powder

1/4 teaspoon ground black pepper

1/4 teaspoon ground cayenne pepper
Combine dry seasoning ingredients.

Begin preheating grill to high.

Melt butter in saucepan, cook over medium until lightly browned.

Combine half of the mixed seasonings with the butter and remove from heat.

Peel shrimp, season with remaining dry seasoning mix.

Skewer shrimp, grill over direct heat 2 minutes per side.

Remove shrimp to bowl and combine with ancho butter sauce.

Serve and enjoy!
Feel Free To Share This Recipe File With Friends and Family!