Lip Smackin' Rib Recipes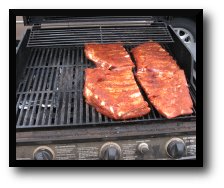 Developing rib recipes is hard work. I gained valuable experience (and several pounds) refining the recipes I'm sharing with you. Hey, it's a tough job, but somebody's gotta do it!
Spareribs, smoked baby back ribs, smoked beef ribs...they're all here. My All About Pork Spare Ribs and Beef Back Ribs tutorials are good places to start. Try out all my recipes...they're lip-smackin' good!


My Favorite Ribs
Here are some of my favorite recipes! I hope you enjoy them as much as I do.



Preparing Spareribs For The Smoker
Check out the Spare Rib Preparation guide. This pictorial journey explains the process of getting that whole sparerib slab shaped up for smoking.
Know Your Meat Smoker
A great recipe is only half the battle of turning out a great tasting slab of ribs. You also need to know your smoking equipment. The page Meat Smokers gives an overview of the different types of smokers available. For information about a specific type of smoker, check out one of the following links.